Last updated on September 18th, 2023
Advertiser Disclosure
close ×
Advertiser Disclosure – BestCards is an independent, Florida-based credit card comparison platform. Many of the card offers that appear on this site are from companies from which BestCards receives compensation. This compensation may impact how and where products appear on this site (including, for example, the order in which they appear). BestCards does not include all card companies or all card offers available in the marketplace.
Editorial Disclosure
close ×
Editorial Disclosure – The opinions expressed on BestCards' reviews, blogs, and all other content on or relating to the website are solely those of the content's author. They are not reflective of any card issuer or financial institution and have not been reviewed or approved by these entities unless otherwise noted. Further, BestCards lists credit card offers that are updated daily with information believed to be accurate to the best of our knowledge.
Bluebird® by American Express
At a Glance
Bluebird® American Express is a prepaid card Amex offers in conjunction with Walmart. The card is similar to a Walmart and Amex prepaid gift card, but it offers far more than any reloadable gift card ever could. The card gives users the flexibility of shopping at any merchant that accepts American Express while also allowing for the withdrawal of cash at ATMs, similar to a debit card.
Best Benefits
Rates & Fees
Why Should You Apply?
Send and receive money, link your debit card to your Account, and add funds via direct deposit

Enjoy American Express cardmember benefits like purchase and fraud protection, as well as roadside assistance, exclusive access to entertainment and sporting events a more

Free (and Flexible) Direct Deposit, no monthly fees and no overdraft fees, and free Bill Pay

Use your card to shop anywhere American Express is accepted
You want a card with virtually no monthly fee, annual fee, minimum balance, or minimum deposit

You don't want a hard pull on your credit history

You aren't sure whether to choose a gift card vs. a prepaid card

You want credit card features (purchase protection, fraud protection, roadside assistance, etc.) without the risk of overspending

You don't have a bank account but want a repository for direct deposits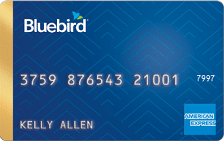 The Bluebird American Express Review
If you're in the midst of rebuilding bad credit, the Bluebird® by American Express is a credit card alternative that combines the convenience of a credit card with the cash withdrawal convenience of debit cards – no credit check required. Prepaid cards function as a debit card but offer several traditional credit card perks such as purchase protection, fraud protection, and Amex Offers through the portal.
One of the standout features from the American Express Bluebird is that there are no fees for carrying out your transactions. There is no annual, monthly, or activation fee, all mobile features can be used at no cost, withdrawals at approved ATMs are free, and cards can be used abroad or replaced for no additional charge.
No Minimum Balance Required
Unlike traditional checking accounts, the Bluebird prepaid card has no minimum balance or deposit requirement. Additionally. cardholders will never be penalized for using the entirety of their prepaid balance.
As a prepaid card, Bluebird does not offer cash advances or balance transfers and funds must be added prior to use – fortunately, the Bluebird card offers multiple ways to do so. Funds can be added to Bluebird via direct deposit, mobile check screenshot technology, or even at Walmart checkout registers.
Free MoneyPass ATM Withdrawals  
If you need to make a withdrawal at an ATM, you can do so for free at specific MoneyPass® locations (there are over 24,000 of them), otherwise, a small fee is incurred at any other automated teller machine. In addition to adding and withdrawing cash, you can send funds through the Bluebird2Walmart Money Transfer service, as well as for free between Bluebird accounts.
When you need to use Bluebird® to make a purchase, you can do so virtually anywhere that accepts American Express cards. That ability also comes with a suite of benefits commonly extended to American Express cardholders: fraud and purchase protection, roadside assistance, and exclusive access to sports and entertainment events.
This prepaid card is a great alternative for those with bad credit who want the protection of a credit card but cannot afford a credit inquiry and has a strong host of benefits that make it more convenient than a traditional debit card.
Is a Secured Card a Better Bet?
The simplicity of the Amex Bluebird, however, is also it's only negative. Because it is a prepaid card, the Bluebird won't help those looking to either boost their credit score or even establish credit for the first time.
For those individuals, a secured credit card provides greater value, as the deposit acts as a line of credit, and not just a pre-loadable balance. Since secured cards are much easier to get than other types of credit cards, they make a great shopping companion for those with bad credit – or new to credit.
For those after a simple, convenient prepaid card, however, the Bluebird from Amex is a great choice. Add to that a Bluebird mobile app, mobile check capture, and the ability to quickly receive your tax refund and you have a winner in the Bluebird from Amex.
Should You Apply for the Bluebird American Express Prepaid Card?
When it comes to prepaid debit cards, there are few options better than the AMEX Bluebird. The card is essentially a reloadable Walmart gift card and prepaid debit card in one unique package.
Reloading funds is simple – and one of the reasons that makes the Bluebird card such a great prepaid option. All you need to do to add money is transfer funds from an existing debit account (or savings accounts), set up a direct deposit or mobile check deposits, or go into any Walmart location and add funds at the customer service counter or at the register. Adding a direct deposit lets you get your money up to two days earlier than with a traditional bank!
The Bluebird is such an exceptional value because it lacks many of the fees that come with a prepaid card. These include activation fees, reloading fees, or a monthly fee. Added with the purchasing power and protection that comes with an American Express credit card, the Bluebird is easily more preferable to a Walmart gift card – and makes it the perfect choice for those who want the purchasing capabilities of a debit or credit card and want to forgo a credit check.
Browse Other Prepaid Debit Card Offers: