Last updated on February 23rd, 2023
Advertiser Disclosure
close ×
Advertiser Disclosure – BestCards is an independent, Florida-based credit card comparison platform. Many of the card offers that appear on this site are from companies from which BestCards receives compensation. This compensation may impact how and where products appear on this site (including, for example, the order in which they appear). BestCards does not include all card companies or all card offers available in the marketplace.
Editorial Disclosure
close ×
Editorial Disclosure – The opinions expressed on BestCards' reviews, blogs, and all other content on or relating to the website are solely those of the content's author. They are not reflective of any card issuer or financial institution and have not been reviewed or approved by these entities unless otherwise noted. Further, BestCards lists credit card offers that are updated daily with information believed to be accurate to the best of our knowledge.
PayPal Prepaid Mastercard®
At a Glance
The PayPal Prepaid Mastercard is a unique debit card in that it blends seamlessly with existing PayPal accounts and offers the chance at a high-yield savings account. The card features easy loading and reloading, a helpful mobile app, and some fees to consider.
Best Benefits
Rates & Fees
Why Should You Apply?
Add money to your card via direct deposit or at any of the 130,000+ NetSpend Reload Network locations nationwide

Refer-A-Friend program allows you and the person you refer to both earn a $20 credit

Stay on top of your account and your money with the PayPal Prepaid mobile app

Receive special offers and Payback Rewards when you shop at qualifying stores
Foreign Transaction Fee: 2.5% of the transaction amount in U.S. dollars
You frequently use PayPal

You want to invite your friends and receive instant credits

You plan on opening a high-yield savings account

You do't mind paying a low monthly fee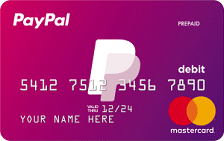 ​
PayPal Prepaid Mastercard Review
The PayPal Prepaid Mastercard is a prepaid debit card that offers significant value to those who love the PayPal ecosystem and those looking to boost their savings through a connected high-yield savings account.
Benefits of a Prepaid Card
Prepaid cards offer one key benefit vs. a traditional credit card. Prepaid cards act like debit cards. This means you can only spend what you have in your account – saving you from potentially going into debt. And while a prepaid debit card will not let you overspend, you can still enjoy the near-global purchasing power of the credit card payment network they are part of – and many of the purchase protections that come with that network.
Worldwide Acceptance Courtesy of PayPal and Mastercard
With the PayPal Prepaid MasterCard, that payment network is – you guessed it – Mastercard.  Mastercard is the second-largest payment network in the world, behind only Visa. Over 200 nations accept Mastercard, meaning users can shop confidently knowing that wherever they shop – their Debit Mastercard is likely accepted.
However, this card's payment reach stretched even further, thanks to the impressive global presence of PayPal.
Easy to Reload
Loading and reloading with the PayPal Prepaid Mastercard are easy and straightforward. The simplest way to reload a prepaid card is through a direct deposit. PayPal allows traditional bank transfers/ deposits, with a turnaround time of up to two days faster than typical bank direct deposits.
Prepaid cardholders can also transfer funds to their PayPal Mastercard through their existing PayPal account – saving them time by instantly loading funds to their debit account. Cardholders can also load cash onto their accounts at more than 130,000 locations in the NetSpend Reload Network.
Receive Bonus Cash for Referring Friends
Cardholders can also receive Payback Rewards – plus special discounts and bonuses – when using their PayPal Prepaid Mastercard at select retailers. They can also earn a $20 card credit when they invite their friends to get the card through PayPal's Refer-A-Friend program. Once their friend orders a new Card, verifies their identity, and loads at least $40 to their account, both parties get $40 in credit – not bad!
Access to a High-Yield Savings Account
Perhaps the nicest perks of the PayPal Prepaid Mastercard is access to high-yield savings account through Bancorp Bank.  According to PayPal's terms and conditions, the savings rate with this account is very impressive – and can provide serious value for cardholders looking to grow their savings:
If the Average Daily Balance is $1,000.00 or less, the interest rate paid on the entire balance will be 4.91%, with an Annual Percentage Yield (APY) of 5.00%.
If the Average Daily Balance is more than $1,000.00, the interest rate paid on the portion of the Average Daily Balance which exceeds $1,000.00 will be 0.49% with an APY of 0.50%, and the interest paid on the portion of the Average Daily Balance which is $1,000.00 or less will be 4.91%. The APY for this tier will range from 5.00% to 0.54%, depending on the balance in the account.
Helpful Mobile App
The card also comes with a helpful mobile app that allows users to seamlessly add funds to their card, check their account balances, or review recent transactions.
Things to Consider
While the PayPal Prepaid Mastercard offers plenty of value-for-money, there are a few things to consider before getting the card. First, the card comes with a monthly account fee of $4.95. For those who plan on taking advantage of the high-yield savings account through Bancorp Bank, that likely won't be an issue.  For everyone else, however, it's something to consider.
Second, the card comes with various other fees for things like ATM withdrawals and balance checks. These fees are as follows:
Domestic ATM balance inquiries: $0.50
Over-The-Counter Withdrawal Fee: $3.00
Over-The-Counter Withdrawal Fee at Netspend Reload Network location: Up to the greater
of 2.75% of the withdrawal amount or $4.00
Domestic ATM withdrawal fee: $2.50
Cash reload fee: Up to $3.95
Related Article:
Should You Get the PayPal Prepaid Mastercard?
Prepaid cards are something of a can't-miss since they rely on your own money for spending. The PayPal Card, however, is something different.
For those who enjoy PayPal but want a card that helps them earn rewards or links to their PayPal account when shopping outside the PayPal ecosystem, the card is excellent. The same applies to those looking to gain access to a high-yield savings account and don't mind a $4.95 monthly fee.
For everyone else, however, other prepaid debit cards have no fees. Those individuals will find better value elsewhere.
Browse Other Card Offers: