Last updated on September 11th, 2023
Advertiser Disclosure
close ×
Advertiser Disclosure – BestCards is an independent, Florida-based credit card comparison platform. Many of the card offers that appear on this site are from companies from which BestCards receives compensation. This compensation may impact how and where products appear on this site (including, for example, the order in which they appear). BestCards does not include all card companies or all card offers available in the marketplace.
Editorial Disclosure
close ×
Editorial Disclosure – The opinions expressed on BestCards' reviews, blogs, and all other content on or relating to the website are solely those of the content's author. They are not reflective of any card issuer or financial institution and have not been reviewed or approved by these entities unless otherwise noted. Further, BestCards lists credit card offers that are updated daily with information believed to be accurate to the best of our knowledge.
At a Glance
The American Express Serve Card is a prepaid debit card from the credit card company, American Express. The card is ideal for anyone who doesn't want the hassle of a traditional credit card but still prefers to customer service and security that comes with such a card. The Serve the card gives users the flexibility of shopping at any merchant that accepts American Express while also allowing for the withdrawal of cash at MoneyPass ATMs, similar to what you can expect from a debit card.
Best Benefits
Rates & Fees
Why Should You Apply?
Get your money up to 2 days faster with early direct deposit

Free withdrawals at over 24,000 MoneyPass ATM locations nationwide

Transfer cash or pay bills online without a hassle

Access and manage your account on the go via your phone
Foreign Transaction Fee: 2.7% on each transaction after conversion to U.S. dollars
You do't want a hard pull on your credit history

You aren't sure whether to choose a gift card vs. a prepaid card

You want credit card features (purchase protection, fraud protection, roadside assistance, etc.) without the risk of overspending or a credit check

You don't have a bank account but want a repository for direct deposits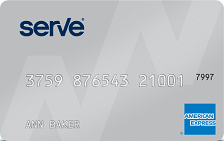 American Express Serve Prepaid Review
The American Express Serve Card is a prepaid card that acts in much the same way as the American Express Bluebird – a prepaid offering from Amex and Walmart. And like with the Bluebird, account management is easy with the American Express Serve: login to the American Express Serve app, and you'll have access to a whole bunch of features that don't come with other prepaid cards – including gift cards and even some debit cards.
One of the best parts of prepaid debit cards is that you can add money at many major retail locations – including Walmart. Just go to the customer service desk and make a Serve cash reload.
Amex Serve Account Benefits
No fee to get the card online
No monthly fee when you receive $500 in direct deposits each month
No transfer fees
Mobile app
Send and receive money transfers via Ria
Receive your direct deposits or tax refund up to two days earlier than normal
Free access to funds at over 30,000 ATMs and 45,000 locations
Get Paid Two Days Early
One of the best features of the American Express Serve is the ability to set up free direct deposits with the card. Direct deposits allow employers, government agencies, or anyone else to add funds to your account automatically. Most direct deposits set up with banks transfer the funds into your account once the money settles in the account, meaning it can take days to receive your funds.
With the Amex Serve, however, the funds are transferred into your account as soon as the deposit instruction is given, meaning you can receive your deposit up to two days sooner than with traditional banks!
American Express Features
Since the Serve is an American Express prepaid card, holders can expect the same level of support, protection, and customer service as an American Express credit cardholder receives. Expect 24/7 dedicated customer support, as well as comprehensive fraud protection, should your card be lost or stolen – all at no additional cost.
Amex prepaid cards also offer no hidden fees, meaning there are no transaction fees. This perk lets cardholders use the card to pay bills (like a checking account through Amex free online bill pay, reload their card free of charge, and shops s they would with any other debit or credit card.
Reloading the Amex Serve is also easy. Simply visit Serve.com, use your Amex Serve card details to login, and reload your card right from the site – it's that easy!
Should You Get the American Express Serve Card?
The Amex Serve is a solid option for anyone looking for a sound, reliable prepaid card. It isn't, however, the best available option from American Express. That honor goes to the Bluebird, which offers many of the same perks as the Serve, but with fewer fees.
That doesn't mean, however, that the Serve is a wrong choice. The possibility of getting American Express customer service and protections in a prepaid card is an enticing prospect – and that makes the Serve so appealing tot hose who either can't qualify for a traditional credit card or don't want the hassles that come with applications of hard inquiries on their credit report.
Browse Other American Express Card Offers: