by Cory Santos | Last updated on September 23rd, 2023
At a Glance
The Crypto.com Visa Card is a prepaid crypto card that offers cash back crypto rewards with every purchase and rebates on subscriptions for lower tiers – and impressive travel perks for ultra-premium tiers. The card, from Crypto.com, requires varying CRO stakes to open but offers up to 8% back with every purchase.
Best Benefits
Rates & Fees
Why Should You Apply?
Earn rewards paid in CRO token

Earn rewards towards rebates with selected merchants

Industry events access

Five card tiers with increasing rewards per tier

Priority customer service
Foreign Transaction Fee: See Terms
Over Limit Penalty Fee: See Terms
Minimum Deposit Required: See Terms
You prefer your rewards as cryptocurrency but don't want to be tied to Bitcoin

You want to earn rebates on your monthly subscription services

You enjoy the Crypto.com ecosphere

You don't want to be tied to a credit card or have an inquiry on your credit report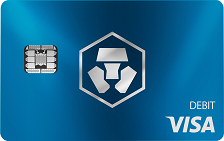 Crypto.com Visa Card Review
The Crypto.com Visa Card is a prepaid debit card that earns crypto rewards on all eligible purchases. The card works like a debit card. Users can make purchases wherever the Visa payment network is accepted but is more akin to a prepaid card in that it requires adding funds via bank transfers, direct deposits, or adding money from other cryptocurrencies wallets, or credit or debit cards.
How to Get the Crypto.com Visa Card
Since the Crypto.com Visa Card isn't a credit card but rather a prepaid card, you don't apply in the same sense as a credit card. Instead you open a card account once meeting the site's minimum requirements.
To get a Crypto.com Visa Card, mobile app users need to stake CRO tokens for a period of 180 days to apply. Once they meet the 180-day minimum, they can select their card tier and place the needed CRO stake, as outlined below.
Crypto.com Reward Tiers
Like other prepaid and debit crypto cards, the Crypto.com Visa earns rewards based on the tier of your account.  Crypto.com currently has five levels, which offer different rewards and feature a unique color (or colors) metallic debit card:

Midnight Blue
Midnight Blue is the base tier of the Crypto.com Rewards program and requires the smallest CRO (crypto assets) stake. The base tier requires a minimum of $0 in CRO and earns 1% cash back on eligible purchases in CRO rewards.
Ruby Steel
The Ruby Steel tier is the second level in the program and requires a higher CRO stake. This tier requires $400 in CRO stake to reach and offers double the rewards of Midnight Blue – 2% back in crypto rewards on all purchases. Ruby members also receive a 100% staking benefit for Spotify Premium subscriptions.
Royal Indigo & Jade Green
The Royal Indigo or Jade Green card tier is the mid-tier of the Crypto.com Visa rewards system and requires a $1,000 in CRO stake to achieve. This medium-tier offers 3% back in crypto with all eligible purchases.
The Royal Indigo and Jade Green tier features include a 100% staking benefit for Spotify Premium subscription and a 100% staking benefit for Netflix subscriptions.
Frosted Rose Gold & Icy White
The first of the premium tiers of the Crpyto.com Visa Card, Frosted Rose Gold requires a significantly larger CRO stake than all the previous tiers combined. To reach Frosted Rose Gold & Icy White tier, Crypto.com members must have a minimum of $40,000 in CRO stake. For this stake, however, they earn an impressive 5% cash back in crypto rewards.
Not only do Frosted Rose Gold & Icy White tier members enjoy 100% staking benefits for Netflix and Spotify Premium, they also enjoy a 100% staking benefit for Amazon prime, plus 10% staking with Expedia.com purchases and more:
LoungeKey airport lounge access for them and one guest
Access to Crypto.com Private) offering OTC block trades, research reports, inheritance assistance, and more)
Bonus interest
An exclusive merchandise welcome pack
Obsidian
Obsidian is the ultimate tier in the Crypto.com rewards program and features the most significant perks – for the largest CRO stakes. The level requires $400,000 in CRO stakes but offers 8% back in crypto rewards with all eligible purchases.
The Obsidian tier also provides all the perks of the previous tiers plus a 10% benefit with Airbnb. Obsidian members also enjoy an exclusive private jet partnership, meaning they can enjoy the ultra-premium perks of cards like the Chase Sapphire Reserve or Platinum Card from American Express, without the credit check – and with the benefit of up to 85 back in crypto.
Redeeming Crypto Rewards
Like other crypto debit and prepaid cards, rewards with the Crypto.com Visa Card are instant and use real-time exchange rates. All card rewards are paid in CRO and deposited into the accountholder's Crypto Wallet in the Crypto.com mobile app. From there, users can cash out their crypto (Bitcoin, Ethereum, Litecoin, Doge, or others, hold on to their rewards or use them to purchase Crypto.com exclusive NFTs or other things.
Rates and Fees
Rates and fees with the card vary depending on the membership tier but include the usual costs associated with prepaid debit cards, such as foreign transaction fees, interbank exchange fees, top-up fees, and more.
Should You Consider Getting a Crypto.com Visa Card?
Overall, the Crypto.com Visa Card is an interesting prepaid and debit crypto card that earns huge rewards – if you meet the steep requirements. The Obsidian tier with the card is among the most impressive earning rates and luxurious benefit profiles of premium credit cards with annual fees in the hundreds of dollars. That tier, however, requires an enormous CRO stake of $400,000 – well outside the means of most crypto investors.
The three basic tiers, however, offer exceptional value for much more modest stakes. For instance, Royal Indigo or Jade Green offers 3% back in crypto for only $1,000 in CRO stake – plus 100% in credits for Netflix and Spotify Premium subscription costs. These perks are excellent for the price point and offer savings tough to beat with many cash back credit cards.
Browse Other Crypto Card Offers
Editorial Disclosure – The opinions expressed on BestCards.com's reviews, articles, and all other content on or relating to the website are solely those of the content's author(s). These opinions do not reflect those of any card issuer or financial institution, and editorial content on our site has not been reviewed or approved by these entities unless noted otherwise. Further, BestCards.com lists credit card offers that are frequently updated with information believed to be accurate to the best of our team's knowledge. However, please review the information provided directly by the credit card issuer or related financial institution for full details.