by Cory Santos | Last updated on October 27th, 2023
Chase Freedom Student Credit Card
19.99% variable based on the Prime Rate

Regular Purchase APR

19.99% variable based on the Prime Rate

Balance Transfer APR

29.99% variable based on the Prime Rate

Cash Advance APR
At a Glance
The Chase Freedom® Student Credit Card is a straightforward student card that helps holders build credit while earning rewards on everyday purchases, from coffee to textbooks. Cardholders can also take advantage of additional perks and discounted services available through Chase partnerships.
Best Benefits
Rates & Fees
Why Should You Apply?
Earn 1% in cash back for all of your purchases

Earn an annual $20 Good Standing Rewards bonus for 5 years when you keep your account in good standing

$50 Bonus earned after first purchase made within the first 3 months from account opening

3 complimentary months of DashPass, then a 50% discount for 9 months when you subscribe before March 31, 2022

Earn 5% cash back on Lyft rides until March 31, 2022

Earn a credit limit increase after making 5 monthly payments on time within 10 months from account opening when meeting credit criteria

Contactless pay and unlimited access to your monthly credit score
Regular Purchase APR: 19.99% variable based on the Prime Rate
Balance Transfer APR: 19.99% variable based on the Prime Rate
Balance Transfer Transaction Fee: Either $5 or 5% of the amount of each transfer, whichever is greater
Cash Advance APR: 29.99% variable based on the Prime Rate
Cash Advance Transaction Fee: Either $10 or 5% of the amount of each transfer, whichever is greater
Penalty APR: Up to 29.99%
Foreign Transaction Fee: 3% of the transaction amount in U.S. dollars
Late Payment Penalty Fee: Up to $40
Return Payment Penalty Fee: Up to $40
You're a student looking to build credit while earning rewards

You'll take advantage of offers from third parties partnered with Chase

You want flexibility on how to redeem their points, including for travel and cash back

You plan to keep the card for at least 5 years to max-out your Good Standing rewards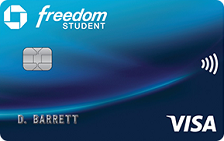 Chase Freedom® Student Credit Card Review
The Chase Freedom® Student credit card offers access to several perks that can be especially valuable if you're in college and looking for your first rewards credit card.
Discounts from major businesses, extra rewards for paying your bill on time and contactless pay are just some of the features to take advantage of when you become a cardholder. You also have plenty of freedom when it comes to how you redeem, so you can make the most of your rewards.
Navigating Your Chase Student Freedom Credit Card Rewards
You won't get the same rewards from this card that you can get with the regular Chase Freedom® Credit Card, but when you're in school, every little bit helps. With the student version, you earn 1% cash back on every dollar you spend, though this does not include:
Balance transfers
Card account checks
Unauthorized or fraudulent transactions
Cash advances
Returns for credit
Traveler's cheques or foreign currency purchases
Lottery tickets
Money orders or wire transfers
Reloading of a prepaid debit or gift cards
Card fees, late fees, or finance charges
Sounds simple, right? Here's where things may get a little confusing: You'll see in the card's terms and conditions that Chase tracks rewards as points, not dollar amounts. To calculate your rewards from points, keep in mind that $1 spent is equal to 1 point.
So, for every 100 points you earn, you can redeem $1 in cash back. While there are more straightforward rewards systems out there, at the end of the day it's still 1% cash back that you can use to boost your bank account. As a bonus, you can earn $50 (5,000 points) after you make your first purchase with the card in the first 3 months.
Ways to Redeem Your Points
With the Chase Freedom® credit card for students, you have the freedom to cash in your points in a number of ways. The most basic option is to turn your points in for statement credits or account deposits to put toward your bills.
On the other hand, when you choose to redeem through Chase Ultimate Rewards® you have a few more fun options that can even earn you bonus points. For example, you can redeem for:
Gift cards from over 150 brands
Travel
Amazon and Apple purchases
Products offered through Ultimate Rewards
Note that points redeemed on Amazon.com are worth 20% less, so 100 points will translate to $.80 rather than $1. Meanwhile, other merchants partnered with Chase may give additional discounts or points when you shop with Ultimate Rewards. These offers are subject to change, so you'll need to log on to see what's available.
Points don't expire as long as your account is open, and you can redeem them at any time unlike some other rewards cards. There's also no annual fee to get in your way. This means you can use your rewards as you like, whether it be for a quick treat-yourself moment or a weekend getaway.
Good Standing Means Extra Rewards
It goes without saying that when you apply for any credit card, you want to make sure you use it responsibly to avoid costly issues. On top of that, Chase offers additional rewards for keeping your Chase Freedom® Student card in good standing.
Specifically, you can earn $20 (2,000 points) each year on your account anniversary for up to 5 years. You just need to regularly pay your statement on time and adhere to the terms in your Cardmember Agreement. Some student credit cards offer statement credits like this for getting good grades, so this card may be a good alternative if you're still working on your GPA.
Increasing the Credit Limit of Your Chase Freedom® Student Credit Card
As with most credit cards, paying your bill on time can also help you increase your credit limit with the bank. When you initially apply for the card, Chase determines your credit limit based on factors like your income and credit history.
If you make at least 5 monthly payments on time within your first 10 months as a cardholder, you'll automatically earn a limit increase. These payments must be for the minimum amount due or more; zero balances don't count, so you need to use the card to qualify. Alternately, any missed payments within this period may disqualify you from a credit increase.
With the Freedom Student, you're also eligible for three complimentary months of DashPass with DoorDash, followed by a 50% discount for 9 months. To get the deal, you'll need to activate your subscription and add your Chase Freedom® Student card as a payment method.
Keep in mind that once the discounted period ends, you will be automatically enrolled in DashPass at the full rate unless you cancel your subscription.
As a student, discounts on Lyft rides and food delivery can be the difference between a good and a great night out. However, other Chase cards offer these deals, as well, so it still helps to shop around.
Like other issuers, Chase offers Zero Liability Protection and fraud alerts to protect you and your wallet. You can also sign up for regular account alerts to remind yourself when your next payment is due. On top of that, this card comes with two other worthwhile features:
Lock ability: This feature allows you to lock and unlock your card at any time, directly from the mobile app. If you temporarily misplace your credit card, you can protect your account and give yourself time to look for it rather than ordering a whole new card right away.
Contactless Pay:This gives you the option to skip the swipe (or chip insert) when paying merchants that offer this service. According to Chase, you get the same level of security with less fuss, so you can grab your coffee quickly and get back to studying.
Chase credit, debit, and banking products are available in all 50 U.S. states plus the District of Columbia.
FAQs About the Chase Freedom Student
Here are some of the most commonly asked questions regarding the Chase Freedom Student Visa, along with the answers:
JP Morgan Chase and Freedom Student Card Ratings
How does the Chase Freedom Student stack up? Here is a selection of expert reviews for the card, as well as an overview of JP Morgan Chase as a bank:
Should You Apply for the Chase Freedom® Student Credit Card?
Whether or not this student card is for you ultimately depends on how you plan to use it. If you plan to make large purchases on textbooks or dorm room supplies, you may want to consider a student card that offers a 0% introductory APR instead. That way, you can pay off your balance over a few months without incurring interest.
For higher rewards, you can find student cards that offer up to 5% cash back on different categories each quarter. Cards like the Bank of America® Cash Rewards Credit Card for Students offer a middle ground, with up to 3% cash back on certain categories and 0% APR for the first 15 months.
Another option is the Sallie Mae Evolve, which offers 1.25% cash back on purchases and a 25% reward boost on your top two spending categories each month. This includes 0% APR for your first 12 months, as well as insurance for your smartphone when you use your card to pay for your plan.
However, these cards don't quite offer the same features, partnership discounts and rewards flexibility that Chase offers. If you're a fan of Chase perks and just want an easy way to build your credit while earning a few rewards, this may be a solid option for you.
Related Article: What Are the Easiest Credit Cards for Bad Credit to Get?
Browse Other Chase Credit Card Offers:
Editorial Disclosure – The opinions expressed on BestCards.com's reviews, articles, and all other content on or relating to the website are solely those of the content's author(s). These opinions do not reflect those of any card issuer or financial institution, and editorial content on our site has not been reviewed or approved by these entities unless noted otherwise. Further, BestCards.com lists credit card offers that are frequently updated with information believed to be accurate to the best of our team's knowledge. However, please review the information provided directly by the credit card issuer or related financial institution for full details.