by Cory Santos | Last updated on October 26th, 2023
California Bank & Trust Reserve Visa® Card
19.49% to 29.49% variable based on creditworthiness and the Prime Rate

Regular Purchase APR

19.49% to 29.49% variable based on creditworthiness and the Prime Rate

Balance Transfer APR

28.49% to 29.49% variable based on the Prime Rate

Cash Advance APR
At a Glance
The California Bank & Trust Reserve Visa Card is a luxury travel rewards card that also feels at home with everyday life. The card benefits from an impressive array of travel perks, earns a remarkable amount of points on every purchase, and enjoys six months interest-free on balance transfers.
Best Benefits
Rates & Fees
Why Should You Apply?
3X points or 3% cash back on travel and dining

2X points or 2% cash back on all other purchases

$250 annual travel credit

No foreign transaction fees
Regular Purchase APR: 19.49% to 29.49% variable based on creditworthiness and the Prime Rate
Intro Balance Transfer APR: 0% for 6 months from account opening date
Balance Transfer APR: 19.49% to 29.49% variable based on creditworthiness and the Prime Rate
Balance Transfer Transaction Fee: Either $5 or 3% of the amount of each balance transfer, whichever is greater
Cash Advance APR: 28.49% to 29.49% variable based on the Prime Rate
Cash Advance Transaction Fee: Either $10 or 5% of the amount of each cash advance, whichever is greater
Annual Fee: $450
Late Payment Penalty Fee: Up to $35
Return Payment Penalty Fee: Up to $35
You plan to use your card every day – but especially on travel and dining

You want lounge access when you travel, but don't feel the need to pay for unlimited access

You want 0% intro APR on balance transfers and a great low rate after that

You have an existing CB&T bank account into which you want to divert cash back rewards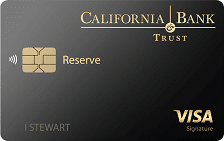 California Bank & Trust Reserve Visa Card Review
The California Bank & Trust Reserve Visa Card is an ultra-premium travel rewards card that packs the points and perks needed to take on cards like the Platinum Card from AMEX or the Chase Sapphire Reserve.
Earn Enhanced Points on Travel and Dining
Ultra-premium travel rewards cards need to earn impressive points; otherwise, they struggle to justify their fancy price tags. In the case of the Reserve that price is a $450 annual fee (plus $50 for each additional authorized card). The Reserve justifies that price tag nicely, earning a very enticing 3X points – or since the redemption values are the same, 3% cash back, – on both travel and dining.
Triple points on travel and dining put the Reserve Visa on equal footing with the Chase Sapphire Reserve, though the CB&T card has an annual fee of $100 lower than the Chase card. The HSBC Premier World Elite Mastercard, another entry in the ultra-premium travel category, earns 3X points on travel, but only 2X on dining. The U.S. Bank Altitude Reserve gets 3X on travel and mobile wallet transactions. And the Platinum Card earns 5X points on hotels and flights, though they must be booked directly through American Express Travel.
As illustrated, the CB&T Reserve Card more than holds its own against these heavy hitters, providing impressive rewards on two of the most critical spending categories luxury travel cardholders expect to use most often.
Earn Double Points on Everything Else
If the triple points (or 3% back) is what places this card on the same level as the Sapphire Reserve and the Platinum Card, the ability to earn 2X points on every other net purchase raises the Reserve Visa to another level when it comes to earning rewards.
Double points as the base-level earning rate is higher than the 1X found on all the other ultra-premium travel cards. This perk makes the CB&T Reserve Visa an excellent option for Californians who travel often but want to earn big rewards on everyday purchases – and that is something the card does effortlessly.
50,000 Points Sign Up Bonus
The Reserve Visa offers an enticing signup bonus for new accounts: 50,000 points – or $500 cash back – after spending $5,000 on purchases within the first 90 days of opening an account. Perhaps "enticing" is the right term, as big bonuses are par for the course with luxury cards.
Fifty-thousand points for a $5,000 spend may sound like a tall order, but if you are the type to spend $450 a year on a luxury travel card, you'll probably have no problem making approximately $1,660 in spending per month for the first three months.
The initial spend requirements also provide ample opportunity to further enhance the number of points earnable in the initial 90 days. Since travel and dining purchases earn triple points, using the card to entertain or book travel worth the entire $5,000 minimum would add up to an additional 15,000 points, or $150 cash back, on top of the 50,000-point bonus.
How to Redeem Rewards
All rewards earned with the California Bank & Trust Reserve Visa Card apply towards the AmaZing Rewards and AmaZing Cash Back programs. The AmaZing Rewards program is the basic rewards system of all banks under the Zions Bancorp umbrella – including California Bank & Trust.
Points have an official value of $0.01 per point, which is the rate at which points are redeemable for statement credits. As with other loyalty programs, however, the precise value of points depends on the cash equivalent of a reward when redeeming points. Points are also applicable towards redemptions on the AmaZing Rewards portal, with a minimum of 2,500 points needed to redeem. Points are also redeemable as cash back, as a statement credit, or a deposit into existing CB&T savings or checking accounts.
The AmaZing Rewards program doesn't offer the value that cardholders would get from similar rewards programs, like Chase or American Express. Those programs, most notably the Chase Ultimate Rewards program, offers exceptional value for money.
In this regard, the Sapphire Reserve outshines the CB&T Visa, as points earned with the Sapphire have a 50% increased redemption value through the Ultimate Rewards portal, which already benefits from being perhaps the most lucrative of the rewards programs.
That said, the CB&T Reserve still offers impressive value, as the combined power of the Zions Bancorp family of banks means California Bank & Trust cardholders can always use their points for booking flights and hotels with all the same major carriers and hoteliers around the world.
Annual Travel Credits
CB&T enhances the travel credentials of the Reserve Visa with a $250 statement credit for additional travel costs each year. This $250 travel credit can apply towards purchases in the following categories:
Airlines
Airport Terminals
Cruise Lines
Global Entry/ TSA Pre-Check
Gogo Inflight Wi-Fi
Rental Cars
Travel Agencies
Since TSA Pre-Check membership also includes Global Entry access and is a once every four years expense of $100, the $250 statement credit offers real value for cardholders. The credits can be applied toward excess baggage fees, last-minute purchases at gift shops (for when you're heading home and remember you need a souvenir for loved ones), or even in-flight Wi-Fi to make the flight just that much more bearable.
The $250 statement credit towards travel also effectively reduces the annual fee of the CB&T Reserve, as it provides a cash value toward costs the cardholder would otherwise have to shoulder themselves. This $250 value, therefore reduces the effective annual fee of the card to $200 per year.
Priority Pass Select Membership
While travel statement credits don't apply towards lounge access, CB&T has that taken care of, as well. The Reserve Card comes with complimentary Priority Pass Select membership for up to four authorized users on the same account.
Priority Pass offers access to over 1,200 airport lounges worldwide, which is nice – as is the extension of access to authorized users. What isn't as nice, however, is that the Select membership limits each user to just five complimentary visits each year, with all other visits costing $27.
The Platinum Card and Sapphire Reserve, while costing $100 more per year in annual fees, come with unlimited lounge access. The Platinum Card also comes with access to the exclusive Centurion Lounge, which is a perk in and of itself.
No Foreign Transaction Fee
No foreign transaction fees in a premium travel card aren't unique, but beyond the Elite, Premier, and Reserve Cards, all other California Bank & Trust credit cards charge a foreign transaction fee of 3% of each transaction in U.S. dollars. The Reserve Card omitting this charge is, therefore, a small, but likable perk that makes this card a global companion.
Introductory Interest-Free Period on Balance Transfers
Having a 0% intro APR offer on balance transfers is usually one of the major attractions of a credit card, but with the CB&T Reserve, it falls under the "nice-to-have" category. The card comes with a 0% intro APR for the first six months on balance transfers, which isn't exceptional for a no annual fee credit card, but with a luxury travel card it's quite a nice benefit.
The interest-free six-month period allows new accounts to pay down existing balances, and the regular APR once that period ends is low enough to reduce the stress of additional interest. The typical APR for balance transfers and purchases with the CB&T Reserve starts below 16%, which is exceedingly low for a card of this caliber. In comparison, the Sapphire Reserve starts in the mid-18% range, while the AMEX Platinum, as a charge card, doesn't allow users to carry a balance over multiple billing periods.
Should You Apply for the California Bank & Trust Reserve Visa Card?
So, is the California Bank & Trust Reserve Visa Card worth the $450 annual fee? For Californians that want an ultra-premium rewards card that provides them with the luxuries they expect for a top-of-the-line travel card but without the additional costs, the answer is likely "yes."
The CB&T Reserve offers impressive points or cash back with every purchase, with the 3X points on travel and dining, and the 2X on everything else, making it a force to be reckoned with. The signup bonus might not be excessive, but it offers real value that is further enhanced by those hefty points on every purchase.
The interest-free six-month period on balance transfers is another feather in the cap of the Reserve, as is the great low APR after that – something other similarly positioned cards simply can't match. These perks make the card useful not only for travel but as an everyday financial tool.
The drawbacks with the card come from the lower than average $250 travel credit and the cap of five free lounge visits through Priority Pass. Cards like the Platinum Card, Sapphire Reserve, U.S. Bank Altitude Reserve, offer better perks here but come at a higher price point.
Ultimately, the California Bank & Trust Reserve Visa Card is a great option to consider if you live in California and want a luxury card that works effortlessly almost everywhere. While the limits on lounge visits might be frustrating, if you plan on using airport lounges fewer than ten times per year, you likely will be perfectly satisfied with the CB&T Card. If luxury is your only worry, however, you may find better value elsewhere, with the Platinum Card or the UBS Visa Infinite, for example.
Does this mean that the 3X points is the equivalent to 3% cash back? If so, I'd make that clear so the reader doesn't think that the card has the ability to earn both points or cash back.
Also a good idea to mention that if you use up the entire $250 credit, you're essentially reducing the annual fee down to $250/year.
Browse Other CB&T Credit Card Offers:
Editorial Disclosure – The opinions expressed on BestCards.com's reviews, articles, and all other content on or relating to the website are solely those of the content's author(s). These opinions do not reflect those of any card issuer or financial institution, and editorial content on our site has not been reviewed or approved by these entities unless noted otherwise. Further, BestCards.com lists credit card offers that are frequently updated with information believed to be accurate to the best of our team's knowledge. However, please review the information provided directly by the credit card issuer or related financial institution for full details.