by Cory Santos | Last updated on November 17th, 2023
UBS Visa Infinite Credit Card
20.24% variable based on the Prime Rate

Regular Purchase APR

20.24% variable based on the Prime Rate

Balance Transfer APR

27.24% variable based on the Prime Rate

Cash Advance APR
At a Glance
Luxurious travel rewards credit cards are a rare creature in the credit card world, and the UBS Visa Infinite Card is an excellent example of the breed. The card earns 3X points on airfare, 2X on gas and groceries, and 1X on everything else. Points aren't what makes this card so impressive, however. The perks, service, and statement credits available with the card are tough to beat and make this card well worth every penny of its $495 annual fee.
Best Benefits
Rates & Fees
Why Should You Apply?
Earn 3x points for commercial air travel, 2x points for gas and groceries, and 1 point for all other eligible purchases

Flexible rewards options including travel, gift cards, merchandise—and your annual fee

$250 credit for any qualifying air travel expenses

Complimentary Priority Pass membership

TSA Pre-check or Global Entry statement credits
Regular Purchase APR: 20.24% variable based on the Prime Rate
Intro Balance Transfer APR: 0% for 12 months on transfers made within 90 days from account opening date
Balance Transfer APR: 20.24% variable based on the Prime Rate
Balance Transfer Transaction Fee: Either $2 to $10 or 2% to 3% of the amount of each transfer, whichever is greater
Cash Advance APR: 27.24% variable based on the Prime Rate
Cash Advance Transaction Fee: Either $2 to $10 or 2% to 3% of the amount of each cash advance, whichever is greater
Penalty APR: 29.99% variable based on the Prime Rate
Annual Fee: $495
Late Payment Penalty Fee: Up to $38
Return Payment Penalty Fee: Up to $38
You're a current UBS Wealth Management customer

You travel often and want perks to make the trip that much more enjoyable

You prefer experiences over points

You have an eye for the more beautiful things in life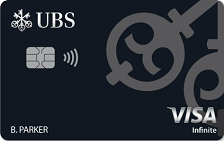 UBS Visa Infinite Credit Card Review
The UBS Visa Infinite Card is one of a rare breed of travel rewards credit cards to exist in the ultra-premium range. It offers exceptional benefits, unparalleled service, and the attention to detail that simply cannot be found with your run-of-the-mill travel card.
Earn Valuable – (But Not Impressive) Points on Every Purchase
The Visa Infinite Card from UBS has the potential to earn a hefty amount of points for those who are likely to apply for and receive the card. Cardholders earn 3X points on commercial airfare and travel, 2X points on gas and groceries, and a single point on all other eligible purchases. Flight purchases booked through sites other than the airline's own website or groceries bout at department stores might not qualify as eligible purchases.
As stated, the points on offer aren't spectacular. However, UBS cards are aimed at current Wealth Management customers with an existing portfolio. The $495 annual fee of the card also precludes it from the average traveler, meaning this is a card that was made to be used for travel expenses. These realities make the average rewards points on offer potential for some serious rewards.
Redeeming Points
The UBS Rewards site offers a variety of options for redeeming points, including flights, hotels, cruises, and more. There is no expiration date on points either, meaning you can save your points for an especially impressive reward.
Points in the UBS Rewards Program have an estimated value of about $0.018 per point (1.8 cents/pt.), making a 50,000-point fight worth about $900.
UBS Concierge and Client Services
Ultra-premium travel cards typically come with access to a dedicated concierge and customer service team, but UBS Takes it a step further with the Visa Infinite. Instead of relying on Visa's team of experts, cardholders have exclusive access to UBS' in-house team of highly-skilled professionals.
The UBS Concierge and Client Services team includes travel professionals that can assist cardholders with everything from flights, cruises, hotel, and dinner reservations. While this is something that can be expected from cards like the American Express Platinum Card, the local expertise and recommendations on offer from UBS' team, as well as the smaller client-base, means UBS Infinite holders get an extremely dedicated concierge service that is very tough to beat.
A Dizzying Array of Flying Perks
When you finally make those travel plans, the UBS Infinite Card really steps up its game, providing the ultimate in travel-based perks.
Airport Lounge Access
Airport lounge access is something synonymous with ultra-premium travel rewards credit cards and the UBS Infinite more than lives up to this requirement. The card offers the typical Priority Pass Select membership that offers complimentary access to over 1,000 airport lounges worldwide.
Priority Pass operates a variety of excellent lounges, but perhaps there is a lounge you had your eye on that isn't included in their network? Well, UBS has that covered, offering up to $500 in credits towards Any Airport Club, meaning you can buy your way into the club of your choosing.
Of course, with every novel feature like Any Airport Club, there is bound to be a catch, and that's definitely the case here. The policy is only available to those whose total card spending was over $50,000 for the current or past calendar year.
Fifty-thousand dollars in spending might seem steep, but this card is an ultra-premium travel card tied to a UBS Wealth Management account, meaning those who are considering applying are likely to have the financial means to handle such a cost (and hopefully the travel needs to necessitate it!)
Private Jet Savings
Maybe you prefer to travel privately and want a card that can help you save when booking private, chartered flights? UBS has the solution here as well, offering cardholders savings on NetJets travel arranged through the UBS Concierge service.
New cardholders receive a 12.5-hour Jet Card, entitling them to 12.5 hours of flight time with the service. That is an impressive perk, offering the equivalent of a round-trip flight from coast-to-coast, just for being a UBS cardholder.
Other NetJets savings include:
A complimentary extra flight hour when purchasing as 25-hour JetCard.
One complimentary round-trip upgrade with NetJets when purchasing a 50-hour NetJets share or lease.
Statement Credits
Like any other ultra-premium credit card, such as the AMEX Platinum or Chase Sapphire Prestige, the Visa Infinite comes with the usual statement credits cardholders have come to expect. There is the typical $100 application fee for either TSA Pre-Check or Global Entry, plus a $250 credit towards qualifying air travel expenses.
While neither of these extras is unique to the card, they are still impressive perks that go a long way to making travel that much more enjoyable – and far less stressful.
Gogo In-Flight Wi-Fi
Airport lounge access gives cardholders access to free Wi-Fi, but when they get on the plane, they'll be set for service thanks to 12 Gogo Wi-Fi coupons for complimentary inflight internet. Again, not a game-changing bonus, but the sum of all the parts with the UBS Card is something extraordinary indeed.
Impressive Hotel Perks
The UBS Visa Infinite Credit Card also benefits from a variety of hotel perks and bonuses, the least of which is the usual access to the hotels that make up the Visa Infinite Luxury Hotel Collection. The major bonus comes with the $700 service credit at Villas of Distinction – a leading private villa rental company.
The service credit applies towards in-stay amenities, such as massages, private chef services, villa provisions, and more. Again, $700 probably isn't the most significant amount of money towards amenities like a luxurious private villa, but it is enough for a few massages at least, which sounds like a nice bonus to us.
Should You Apply for the UBS Visa Infinite Card?
The Visa Infinite Card from UBS isn't a card for everyone. As an ultra-luxurious travel credit card with a dizzying $495 annual fee, it is a card reserved not only for UBS Wealth customers but for those customers who travel often and spend big.
The Visa Infinite must be compared to the cards it shares the same rarefied air with – namely the Chase Sapphire Reserve and the Platinum Card from American Express.
When it comes to points-earning potential, the Platinum Card leads the way, as it earns an impressive 5X points on flights and hotels. This travel, however, must be booked through amextravel.com. The Sapphire Reserve earns 3X points on travel, as well as on dining.
While the Visa Infinite from UBS earns 3X on airfare booked through the airline, it only earns 2X on gas and groceries – and only a single point on dining out. While the points on offer with the card aren't spectacular, but given that the card is tied to UBS Wealth Management account – and that some of the higher-end perks (such as additional airport lounge credits) require significant spending – the points available aren't what sets this card apart; That would be the exceptional bonuses and the unrivaled service.
Access to additional perks, such as Any Airport Club credits, $700 in service credits at Villas of Distinction rentals, and savings on private jet services are the type of perks that set the Infinite apart from the crowd.
That extraordinary streak of perks is further bolstered by the hugely impressive UBS in-house concierge team, which provides personalized recommendations and local expertise for cardholders. Infinite members can even book reservations or score exclusive tickets to events through the team – something not available to this extent from any other card issuer – including Chase or AMEX.
So, who should apply for the Visa Infinite Card from UBS? If you are big on points, there are better options out there. If, however, you prefer your luxury card to be that little bit more luxurious, the UBS Infinite is the perfect companion on your globe-trotting expeditions.
Browse Other UBS Credit Cards:
Editorial Disclosure – The opinions expressed on BestCards.com's reviews, articles, and all other content on or relating to the website are solely those of the content's author(s). These opinions do not reflect those of any card issuer or financial institution, and editorial content on our site has not been reviewed or approved by these entities unless noted otherwise. Further, BestCards.com lists credit card offers that are frequently updated with information believed to be accurate to the best of our team's knowledge. However, please review the information provided directly by the credit card issuer or related financial institution for full details.