Last updated on September 19th, 2023
Advertiser Disclosure
close ×
Advertiser Disclosure – BestCards is an independent, Florida-based credit card comparison platform. Many of the card offers that appear on this site are from companies from which BestCards receives compensation. This compensation may impact how and where products appear on this site (including, for example, the order in which they appear). BestCards does not include all card companies or all card offers available in the marketplace.
Editorial Disclosure
close ×
Editorial Disclosure – The opinions expressed on BestCards' reviews, blogs, and all other content on or relating to the website are solely those of the content's author. They are not reflective of any card issuer or financial institution and have not been reviewed or approved by these entities unless otherwise noted. Further, BestCards lists credit card offers that are updated daily with information believed to be accurate to the best of our knowledge.
Brooks Brothers Platinum Mastercard
29.74% variable based on the Prime Rate

Regular Purchase APR

31.74% variable based on the Prime Rate

Cash Advance APR
At a Glance
The Brooks Brothers Platinum Mastercard from Citibank is a retail and rewards credit card that offers reliable savings with Brooks Brothers. The card earns up to 6X points per dollar spent when used with an existing My Brooks Rewards Program membership and offers special bonuses on birthdays and cardmember anniversaries.
Best Benefits
Rates & Fees
Why Should You Apply?
No annual fee

$50 off Brooks Brothers in-store purchase of $200 or more

$20 anniversary bonus

Earn up to 6X points based on My Brooks Reward Program Status
Regular Purchase APR: 29.74% variable based on the Prime Rate
Cash Advance APR: 31.74% variable based on the Prime Rate
Cash Advance Transaction Fee: Either $10 or 5% of each cash advance, whichever is greater
Foreign Transaction Fee: 3% of the transaction amount in U.S. dollars
Late Payment Penalty Fee: Up to $40
You frequently shop with Brooks Brothers and spend big while doing so

You spend with the understanding that rewards expire quickly

You want simple $20 awards just for being a cardholder and making regular purchases

You don't want to pay an annual fee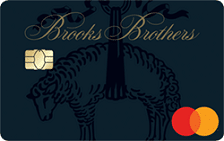 Brooks Brothers Platinum Mastercard Review
Retail cards strive to reward customer loyalty through bonuses, perks, and bountiful reward points. The Brooks Brothers Platinum MasterCard from Citibank is a no annual fee card that tries to hit all of these points, with mixed success.
Receive Perks Right Off the Bat
The Brooks Brothers credit card comes with a decent sign-up bonus of 20% off Brooks Brothers purchases for the first 30 days. Brooks Brothers is a premium brand that charges premium prices, so earning 20% off purchases is a nice perk that can offer real savings to new account holders. Cardholders also receive a $20 reward when making their first purchase with the card.
Cardholders also receive a one-time discount of $50 off an in-store purchase of $200 or more, which is another great perk – especially considering it isn't time-sensitive like the 20% off savings. Additionally, on their cardmember anniversary, cardholders receive a $20 anniversary reward and a $20 birthday reward, provided they make at least one purchase with their Brooks Brothers Mastercard in the previous 12 months.
Earn Points with My Brooks Rewards Membership
Earning points with the Brooks Brothers Platinum Mastercard starts with joining the My Brooks Rewards Program. Joining the program entitles members to the following points per purchase:
Earn Points with Platinum Mastercard Purchases
Brooks Brothers Platinum Mastercard holders earn extra points on top of those they are entitled to through the My Brooks Rewards Program. Every dollar spent on purchases with Brooks Brothers using the card earns an additional 2X points.
So, what do the additional points look like when adding in the three tiers of My Brooks Rewards status?
Insider members earn 4X points (four points per dollar spent on purchases)
Preferred members earn 5X points (five points per dollar spent)
VIP members earn 6X points (six points per dollar spent)
Every dollar spent on purchases outside of Brooks Brothers receives a single point.
My Brooks Points Exclusions
As with any rewards program, Brooks Brothers places limitations on where members can earn points. Points cannot be earned on sales tax, discounts, shipping and handling, returns, or price adjustments. Additionally, members cannot earn points when purchasing an eGift card or when shopping at Brooks Brothers locations within airports.
Redemption options with the Brooks Brothers Platinum Mastercard are limited to purchases with Brooks Brothers (though anyone expecting something else is looking at the wrong card).
Points are redeemable in-store, by phone, online, or through the Brooks Brothers mobile app. All a member needs to do is enter their membership ID number at checkout and their points will be applied towards their purchase.
Rewards points can only be applied to new purchases at Brooks Brothers locations (online or in-person), except at airports. Rewards cannot be applied to previous purchases and cannot be shared or transferred.
The biggest drawback to My Brooks Rewards points is that they expire six months after they are earned. Many rewards programs have no expiration date if the account is active, while others have points expire after three-to-five years. Six months is a very short window, meaning that unless a person is a diligent (and frequent) shopper at Brooks Brothers, their spending with the card may be for naught.
What Are My Brooks Reward Points Worth?
My Brooks Reward points have a cash value of once cent ($0.01 per point), which places them on par with most other retail rewards programs. Rewards are automatically sent to rewards members via email when they reach 1,000 points.
Does the Platinum Mastercard Provide Real Value?
Given that 1,000 points have a cash value of $10, what would a new My Brooks Rewards member need to spend to purchase a typical item from the store?
The initial tier in the membership program is Insider, where Platinum Mastercard holders earn 4X points per dollar spent. To reach the second tier, Preferred, a member would have to make $750 in purchases with the brand, which would accrue 3,000 points (or $30 in rewards). Reaching the next tier, spending the $750 needed to meet the $1,500 spending requirement for VIP status would earn an additional 3,750 points, or $37.50 in rewards (5X points per dollar spent).
Reaching the VIP tier entitles members to free 2-day shipping and 6X points on Brooks Brothers purchases but would also provide enough rewards points for a member to redeem for a $60 item, such as a standard pair of women's denim jeans, or an A-line skirt. These redemption options, however, are on the cheaper end of the Brooks Brothers range, meaning significant spending in necessary to reach even this low-level reward.
Retail cards don't have a great tracker when it comes to offering exceptional interest rates, and the Brooks Brothers Mastercard is no different. The precise rate varies depending on the creditworthiness of the applicant, but even for those with excellent credit scores, the rate never gets below the national average APR. 
Regardless of what APR a successful applicant receives, this is not a card that should be used for carrying balances. While it's never best practice to carry a balance, doing so with a retail card can quickly deplete any of the benefits the card offers. Carrying a balance with such a high interest rate can lead to finance charges that will cost more than the points on offer, effectively making the card a money pit- and not a reward hit.
Other noteworthy features of the Brooks Card include:
No annual fee
3% foreign transaction fees
Access to Citi member deals and Citi Entertainment
The card also offers basic Mastercard protections, including: 
| | | |
| --- | --- | --- |
| Zero Liability Protection | Mastercard Global Services | ID Theft Protection |
How does the Brooks Brothers Card stack up? Here is a selection of expert reviews for the card, as well as an overview of Citi as a bank:
Should You Apply for the Brooks Brothers Platinum Mastercard?
The Brooks Brothers Platinum Mastercard has great potential but is ultimately let down by the short turnaround time with points.
The initial bonuses with the card – namely the 20% discount for the first 30 days and $50 savings on purchases greater than $200 – help take the sting out of some of the pricier items in the Brooks Brothers catalog and offer real value for money.
The points earned through the card (plus the additional points through the various tiers of membership in the My Brooks Rewards program) also offer value, but that value is severely limited by the fact that reward points expire after only six months.
It takes quite a bit of spending to earn even the most basic of reward from the Brooks brothers Mastercard, and the fact that those rewards will be erased in short order is frustrating, to say the least – and unfair to avoid mincing words. It requires more than $750 in spending to even qualify for free shipping – and that doesn't even include two-day shipping, which requires a yearly spend of $1,500.
Ultimately, the card offers exceptional value for those who regularly shop at Brooks Brothers and aren't afraid to splash the cash when they do. For the casual patron, however, the better value may be found with a card like the Citi Custom Cash℠ Card, which earns 5% back purchases in your top eligible spend category each billing cycle, up to the first $500 spent, 1% cash back thereafter.
The information related to Brooks Brothers Platinum Mastercard has been collected by BestCards.com and has not been reviewed or provided by the issuer or provider of this product or service.
Browse Other Citi Credit Card Offers: