by Cory Santos | Last updated on September 11th, 2023
AMSA Customized Cash Rewards Card
17.74% to 27.74%, variable based on creditworthiness and Prime Rate

Regular Purchase APR

17.74% to 27.74%, variable based on creditworthiness and Prime Rate

Balance Transfer APR

20.74% to 29.74% variable based on the Prime Rate

Cash Advance APR

0% for 15 months from account opening date

Intro Purchase APR
At a Glance
The Bank of America® Cash Rewards Credit Card for the American Medical Student Association (AMSA) is a co-branded card that rewards both you and the organization when you spend. If you're looking for an easy way to earn cash back on your everyday purchases while giving back to this student-centric nonprofit, this card is the cure.
Best Benefits
Rates & Fees
Why Should You Apply?
3% cash back on your chosen category: online shopping, dining, gas, travel, or home furnishings and improvement

2% cash back on purchases at grocery stores, bakeries, and wholesale clubs

1% cash back on all other purchases

Introductory 0% APR for the first 15 months from the date your account is opened

Your card use benefits the American Medical Student Association (AMSA)
Intro Purchase APR: 0% for 15 months from account opening date
Regular Purchase APR: 17.74% to 27.74%, variable based on creditworthiness and Prime Rate
Intro Balance Transfer APR: 0% for 15 months on transfers made within 60 days from account opening date
Balance Transfer APR: 17.74% to 27.74%, variable based on creditworthiness and Prime Rate
Balance Transfer Transaction Fee: Either $10 or 3% of the amount of each transfer, whichever is greater
Cash Advance APR: 20.74% to 29.74% variable based on the Prime Rate
Cash Advance Transaction Fee: Either $10 or 3% of the amount of each cash advance, whichever is greater
Penalty APR: Up to 29.99% variable based on creditworthiness and the Prime Rate
Foreign Transaction Fee: 3% of the transaction amount in U.S. dollars
Late Payment Penalty Fee: Up to $40
Return Payment Penalty Fee: Up to $29
You're a current or prospective members of AMSA and want your credit card use to benefit the organization

You're entering medical school and can take advantage of the 0% introductory APR to pay for textbooks or transfer a balance

You want the flexibility to choose your own rewards category each month

You have Preferred Rewards status with Bank of America to maximize rewards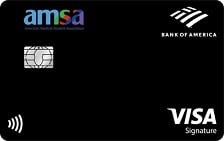 Bank of America® Cash Rewards Review
The Bank of America Cash Rewards credit card for AMSA is one of a few rewards cards partnered up with a nonprofit organization. This partnership allows cardholders to earn cash back on items like gas, groceries, dining and travel, all while showing support for AMSA's mission.
A 0% introductory APR and the ability to choose your rewards category makes this a simple, flexible card worth checking out if you're a current or prospective member of the organization.
How to Earn Bank of America® Cash Back Rewards
When it comes to its rewards structure and other features, the AMSA Bank of America® Cash Rewards card isn't much different than the Bank of America® Cash Rewards World Mastercard®. While the AMSA version is offered by Visa, it still allows you to earn an average amount of cash back on your purchases.
This includes 2% cash back at grocery stores, including supermarkets, bakeries, butchers, and wholesale clubs like Costco. You also earn 3% on your choice of the following:
Online shopping
Gas
Dining
Travel
Home furnishings and improvement
All other purchases made with the card earn 1%. Unlike a prescription, these rewards never expire, so you can use them throughout your college career and into your residency.
Flexible Rewards Categories
While some cash back credit cards have an automatic rotating schedule for cash back categories, this card puts the choice in your hands. This means you can redeem your 3% in the same category every month, or switch to a new category as your financial diagnosis changes.
Note that you can only switch up your category once a month. Moreover, there is a $2,500 limit for combined earnings in the 3% and 2% categories each quarter. After that, even these categories earn 1%. If you do decide to rotate your categories a bit, you can earn a little more than 1% on each throughout the quarter despite the limit.
How to Maximize Your Rewards and Redeem Cash Back
Redeeming rewards from your AMSA Bank of America® Cash Rewards Visa Signature® card is about as straightforward as it gets. Depending on your preference, you can cash in your cash back in any of the following ways:
Statement credits toward your bill
Deposits into your Bank of America checking or savings account
Credits toward eligible Merrill investment accounts
Checks
If you're a Preferred Rewards member with Bank of America, you can increase your rewards anywhere from 25 to 75%. That translates to a maximum of 5.25% on your choice category, 3.5% on groceries and 1.75% on all other purchases.
Preferred Rewards membership is available to those with Bank of America or Merrill accounts. To qualify for one of the three tiers, you'll need to maintain an average combined balance of $20,000 minimum for 3 months.
Introductory Bonus and 0% APR
Like the lollipop kids look forward to at the end of a doctor appointment, the AMSA card also offers introductory perks to sweeten the deal. If you're able to spend $1,000 in the first 90 days from opening the card, you get a $200 bonus.
While this is a small boost compared to other cash back cards, the spending requirements are considerably easier to meet. There's also no annual fee, so you can save your rewards for what you need most.
On top of that, you get an introductory APR of 0% for the first 15 months, which includes balance transfers. As a med student, this deal can be especially valuable at the beginning of the semester when you're navigating the high costs of textbooks and supplies. However, you'll still want to keep a pulse on your payments in order to avoid the penalty APR and late fees for missed payments.
Support AMSA Initiatives When You Spend
The America Medical Student Association is a student-led nonprofit that was founded in 1950. Since then, its mission has been to provide resources for physicians-in-training, including:
Mentorships
Fellowships
Study tools
Discounts
Leadership opportunities
AMSA programs and events allow med students to explore niche areas of the field, network with industry professionals and find ways to advocate for healthcare.
Membership is open to students enrolled in a medical degree program or on the premed track, physicians, and professionals with proven dedication to the AMSA mission. Applying for the AMSA credit card is an additional way to show your support and give back to this community.
Should You Apply for the Bank of America® Cash Rewards for AMSA?
Ultimately, this is a decent Bank of America rewards credit card for students seeking medical degrees, physicians and other professionals who support the AMSA mission. As far as rewards go, the card offers fairly average cash back amounts with the added perk of selecting your own category each month.
The introductory bonus is also on the smaller side, so if you're looking for higher rewards, you might consider a different card. The Discover it® Student Cash Back card, for example, allows you to earn 5% cash back on rotating categories and matches your rewards at the end of the first year. Another excellent option is the Citi Custom Cash℠ Card – also offering up to 5% back. 
However, AMSA doesn't currently partner with any other credit cards. As such, this is your best bet if you want to benefit the organization while earning rewards.
The information related to Citi Custom Cash Card has been collected by BestCards.com and has not been reviewed or provided by the issuer or provider of this product or service.
Browse Other Bank of America Credit Card Offers:
Editorial Disclosure – The opinions expressed on BestCards.com's reviews, articles, and all other content on or relating to the website are solely those of the content's author(s). These opinions do not reflect those of any card issuer or financial institution, and editorial content on our site has not been reviewed or approved by these entities unless noted otherwise. Further, BestCards.com lists credit card offers that are frequently updated with information believed to be accurate to the best of our team's knowledge. However, please review the information provided directly by the credit card issuer or related financial institution for full details.