Last updated on September 7th, 2023
Advertiser Disclosure
close ×
Advertiser Disclosure – BestCards is an independent, Florida-based credit card comparison platform. Many of the card offers that appear on this site are from companies from which BestCards receives compensation. This compensation may impact how and where products appear on this site (including, for example, the order in which they appear). BestCards does not include all card companies or all card offers available in the marketplace.
Editorial Disclosure
close ×
Editorial Disclosure – The opinions expressed on BestCards' reviews, blogs, and all other content on or relating to the website are solely those of the content's author. They are not reflective of any card issuer or financial institution and have not been reviewed or approved by these entities unless otherwise noted. Further, BestCards lists credit card offers that are updated daily with information believed to be accurate to the best of our knowledge.
At a Glance
The Accepted Platinum Card is a merchandise card and line of credit that can be used exclusively at MyUnique Outlet Shopping Club. Cardholders enjoy a $1,000 unsecured line of credit at the shopping portal, with 0% financing on purchases and low monthly payments starting at $14.95/month.
Best Benefits
Rates & Fees
Why Should You Apply?
$1000 credit limit for use at MyUniqueOutlet.com

No credit or employment checks

Instant Approval

o% financing on purchases
Late Payment Penalty Fee: Up to $10
Return Payment Penalty Fee: Up to $30
You have a hard time finding a regular credit card for their credit profile

You do't have the available cash for a security deposit for a secured credit card

Want a significant credit line to purchase brand-name merchandise and electronics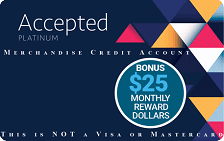 Accepted Platinum Card Review
Accepted Platinum is a merchandise card and line of credit that works exclusively at MyUniqueOutler.com. The line of credit is designed for those looking to build or rebuild their damaged credit, and no interest on purchases.
$1,000 Unsecured Credit with No Credit or Employment Checks
Upon successful application (Unique Card Services and Accepted seek to provide an instant approval), new Accepted Platinum Card members enjoy a $1,000 unsecured line of credit for use at the Unique Outlet. MyUnique Outlet is an online shopping portal that offers a wide variety of brand-name products, including electronics, fragrances, and supplies for the home and kitchen.
The $1,000 credit line with the Accepted Card is the same as its sibling, the Unique Platinum Card. Other cards, like the various Horizon Services cards, or the Fingerhut Card, offer lower credit lines.
And like the Unique Platinum Card, the Accepted Platinum features no credit or employment checks. It is best suited for someone with little to no credit history. According to the company, you will not be denied due to a bad FICO score or limited credit history.
Because the Accepted Card is a merchandise card and line of credit, it does not work outside the MyUnique Shopping Outlet. In this regard, the card is akin to a closed-loop store card, lowering the credit requirements and providing credit access to those usually underserved.
Fees and (0%) Interest Charges
Merchandise cards are a quality option for building credit because they don't feature any interest charges on purchases (0% APR on purchases). Unique may charge a monthly membership fee, but for applicants looking to build credit through purchases, the $14.95 price is much more preferable to sky-high interest rates.
This charge is the monthly maintenance fee, and it is auto-debited monthly. The charge will appear on your bank statements as "UNIQUE CARD SERVICES™ Membership Fee."
This membership plan offers access to members-only discounts and Roadside Assistance, savings and discounts on prescriptions, and legal assistance (free and discounted). Cardholders also enjoy $25 in monthly rewards, helping them reach for better items all while building credit.
Keep in mind, however, that you'll need to make your payments as dictated by Unique Card Services' payment chart:
Account Balance
Minimum Monthly Payment
From
To
$0.00
$24.99
100% of account balance
$25.00
$166.73
$25
$166.74
$1,500
15% of account abalnce
Other fees to remember are the shipping and processing fees, which must be paid in full before items ship. Shipping and processing fees are non-refundable.
FAQs About the Accepted Platinum Card
Here are answers to some commonly-asked questions about the Accepted Platinum from Unique Card Services:
Per Unique, for your protection, all standard size orders are shipped UPS. Thus, the company cannot allow you to utilize a P.O. box as your shipping address. Oversized items are shipped via Freight Company. When you select an oversized item, the website will prompt you to contact the Member Services Department to place an order and receive additional information on shipment.
Billing statements are sent once per month. Statements will only be mailed if there is a balance due. Payment due date is the date in which your payment must be received 
Your Unique Card Services Shopping Card will be active for 12 months from the date of issue, unless Unique Card Services cancels the account due to delinquent payment, or the Unique Card Services Cardholder requests the account be closed. Prior to expiration, you may be contacted with further account options.
Should You Apply for the Accepted Platinum Card?
The Accepted Platinum Card is a solid option for anyone struggling to find a traditional credit card to help them build credit. Although it does not function as a conventional credit card, it does provide the credit building platform users need – in addition to a $1,000 credit line at MyUnique Outlet.
That outlet has a smaller number of products than the Horizon Outlet. However, the MyUnique store items are of a higher-end quality – including leading names in electronics, fragrances, and more.
There are no credit checks or employment checks. You will not see a hard inquiry hit your credit report after applying for the Accepted merchandise card. Cardholders only need to pay for their purchases with their Platinum Card.
Overall, there is a lot to love about the Accepted Platinum Card from Unique Card Services. The card provides a robust platform for building credit and graduating to open-looped rewards credit cards in the future.
Browse Other Card Offers: