Last updated on August 31st, 2023
Believe it or not, there are debit cards that can help you build credit. Deemed a rarity, debit cards with credit-building power can be beneficial, especially for anyone who starts on the path to building credit. Check out these few but mighty debit cards that can fuel the beginning of your credit journey.
Debit Cards That Can Help Build Credit
Credit cards are an excellent financial tool for building credit, earning rewards, and financing purchases. The best credit card for you depends on your needs. For this reason, there are credit-building credit cards like the Merrick Bank Double Your Line® Secured Credit Card or the Surge® Platinum Mastercard®. However, there are a few distinctive debit card options with credit-building capabilities too. These credit-building debit cards are the unicorns in the world of card payments. Here are three unique cards to help you build credit – debit card edition.
At a Glance
The Extra Debit Card* is a credit builder debit card that offers rewards and more. The card is ideal for anyone newer to credit that doesn't want the negative impact from a hard credit inquiry but still wants to earn rewards.
Best Benefits
Rates & Fees
Why Should You Apply?
Every purchase can help build your credit1. At the end of every month, purchases made with the Extra Debit Card are tallied up and reported to credit bureaus • 0% interest • Connects with your bank account2 • Earn rewards points everywhere. Earn up to 1% in points for everyday purchases like rideshares, coffees and your phone bills • Current pricing is $20/month or $149/year for Credit Building. $25/month or $199/year for Credit Building + Rewards
Annual Fee: See Terms
Foreign Transaction Fee: See Terms
Late Payment Penalty Fee: See Terms
Minimum Deposit Required: See Terms
You don't want a credit check when looking for a new card

You want a debit card that reports to Experian and Equifax every month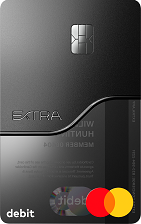 The Extra Debit Card is a newer way to build credit. It's a debit card that builds credit. Again, this is not a common feature of debit cards. Extra is one of the few debit cards with credit-building abilities, a reward points system, and zero interest. With that being said, you might be asking yourself, does this card require a credit check? The answer is no.
As a result, you can start building credit whether you have a good score or not. That's the beauty of the Extra Debit Card. It's a tool that can be used by anyone as long as they have an existing Plaid-compatible bank account that can be linked to fund the Extra Debit Card. It's a clever tool for someone who may be starting on their credit journey or anyone who finds it challenging to qualify for an unsecured credit card.
It's necessary to have a good credit score because, with it, you spend less money on the purchases made in your lifetime (assuming you are not filthy rich already.) Think, of lower car loan interest rates for fewer payments, lower credit card APRs, and lower interest rates on the more expensive things in life, such as buying a house. Getting the best interest rates available is due to having excellent credit. In the long run, it can save you thousands of dollars when you take out any loan like a car note or a mortgage.
How Does The Extra Card Work?
It's common to see credit cards with annual fees. However, debit card with annual fees is not so typical. The Extra program requires a monthly cost depending on what needs you have for it. There's a $20 monthly fee for the credit-building program. If you want both credit building and reward earning potential, the monthly is $25. You get a better deal if you pay the yearly cost – $149 a year (credit building) and $199 (credit building + rewards.) Learn more here.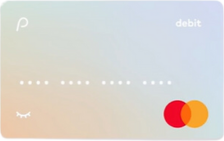 Build Credit While in College

Monthly Reporting to Major Credit Bureaus
The Path Debit Card is issued by Patriot Bank, Member FDIC. This debit card is not just for anyone. It is a debit card that builds credit for college students. Like the Extra Debit Card, it also earns rewards and is set up via a linked bank account. It was created to help students in college build credit with funds they already have as not to spend beyond their means with a regular credit card.
The card can be used anywhere Mastercard is accepted and has three main benefits. One – as mentioned previously, overspending is not an option with the Path Debit Card. In other words, the card balance is dependent on the linked bank account balance. If the linked bank account has zero funds, then there are zero funds to spend on the Path Card.
Secondly, the card features automatic repayments to ensure no accrued debt. When a payment is made with the Path Debit Card, Path funds the transaction and instantly pays itself back by dipping into the linked bank account. At the end of the month, all purchases get reported to the credit bureaus. And like magic, the students' credit score starts taking shape with even the smallest of investments, like the must-have iced coffee in the morning or a heftier buy like college textbooks.
Lastly, there is no interest to pay because there is no overspending. It's the equivalent of paying off a credit card balance in full at the end of the pay period with no interest charges in sight. Additionally, you get 10% cash back on everything. To get the Path card, there is an $8/month subscription, which includes all the features mentioned and more.
Sesame Cash Credit Builder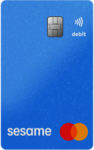 No Fees, No APR, No Credit Check!
Build Credit with a Prepaid Debit Card

Monthly Reporting to all 3 Major Credit Bureaus
The Sesame Cash Credit Builder is a prepaid debit card issued by Community Federal Savings Bank. Similar to our previous mentions, the card charges no interest and does not require a credit check. In contrast, the Sesame Cash Credit Builder debit card is a virtual Mastercard and not a physical plastic card.
Unlike the Extra Debit Card and the Path Card, the Sesame Credit Builder card has no fees, not even a monthly subscription fee. It's 100% free. The Sesame Cash account is more comparable to a secured credit card because although it is linked to an external bank account, you, as the cardholder, get to choose a security deposit amount. In return, it will act as your line of credit.
The card has features to help you build credit responsibly. For example, Sesame Credit Builder focuses on credit utilization. It allows the user to set a credit utilization limit. Experts recommend your credit utilization ratio should not exceed 30%. However, you can change the limit at your preference anytime. Sesame will report your purchases to the credit bureaus. As you shop with the Sesame Cash account throughout the month, Sesame will add your purchases to the credit builder to create a credit balance. Never miss a payment by setting up auto-pay.
Sesame Cash can also be used to earn cash back with their affiliated merchant offers. In addition, users have the option to set up a direct deposit and get paid up to two days earlier. Through the Credit Builder app, you can also check your credit score daily to keep track of your progress.
Related Article: Smart Ways To Manage Your Credit Card
Featured image by yacobchuk/ Getty Images