Last updated on June 17th, 2021
The Truth in Lending Act provides various safeguards for consumers and makes credit cards an excellent option for making purchases. One of those protections is something known as "chargebacks". But what is a chargeback, and when should you consider using one? Here's what you need to know:
What Are Chargebacks?
A chargeback is an essential consumer protection that makes using a credit card a better option than cash. A chargeback is a form of refund where the card issuer refunds the purchase price to a cardholder at the cardholder's request. Unlike a merchant-initiated refund, chargebacks allow credit cardholders to regain their money from an unscrupulous or dishonest merchant.
Requesting a chargeback from your bank or card issuer is a great way to combat a seller who did not provide the goods or services you expected and does not comply with their rules on returns or refunds – or even the law. The consumer's right to a chargeback is protected by the Truth in Lending Act.
When to Consider a Chargeback
Chargebacks are a good idea in the event of:
Account hacking, resulting in fraudulent charges
Merchants ignoring refund requests
Online purchases in which the item did not arrive
A business not providing contact information for refunds
The Chargeback Process
The first step in initiating a payment reversal is exhausting all avenues of getting a refund from the merchant. Contact their customer service numbers, send an email, or visit in person to request your money back. Failing this, your best bet is to contact the card issuer and begin a chargeback.
Cardholders have a set period in which they can request a chargeback. This period is known as the chargeback period and is the time frame available to dispute a transaction. Most card issuers offer a 120-day window for cardholders to dispute purchases or charges, but this may vary. Here are the payment reversal deadlines for the four major card issuers:
According to the merchant rights site, Chargeback911, the necessary process for a consumer to charge back a purchase is as follows: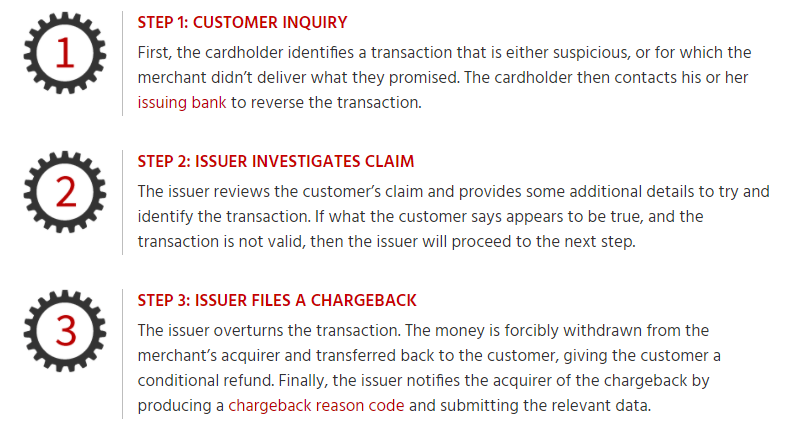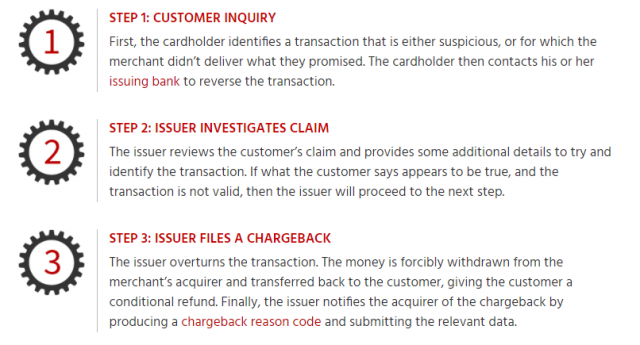 As you can see, the process is straightforward. First, the cardholder identifies a fraudulent, erroneous, or suspect charge. Second, they contact their bank or card issuer and begin the charging back process. Finally, the issuer investigates and either returns the funds to the cardholder's account or denies the request.
For issuers and merchants, however, the chargeback process can involve up to 14 steps. Fortunately, the first three only concern the initial claim and refund, though the subsequent actions might result in serious legal difficulties – especially if the chargeback claim is fraudulent.
Things to Consider Before Requesting a Chargeback
Before requesting a chargeback from your credit card issuer, carefully consider the following:
Is the request legitimate?
If a chargeback is due to a merchant acting in poor faith, then it is justifiable. If not, however, the cardholder making the request is essentially shoplifting. If you wrongly request a purchase charged back, and this is proven, you may be subject to fraud charges.
Merchants are usually charged a penalty fee for a chargeback, meaning those subject to these claims are likely to pursue actions they deem fraudulent.
Is it worth the hassle?
While requesting a chargeback might seem like a simple process, in reality, the entire claims procedure is long and complicated. For the cardholder, funds might be returned to their account within a matter of days or weeks, but the merchant appeal process can continue for months.
Conclusion
A chargeback is a basic consumer protection enshrined in the Truth in Lending Act. This process provides a legal remedy for credit cardholders who fall victim to unscrupulous or negligent merchants. These protections, however, are also easily used for fraudulent purposes.
Before you consider a chargeback, always act in good faith with the retailer. Request a refund or speak with customer service personnel regarding a replacement (if applicable). If this is not possible, begin the chargeback process within the period your bank or card issuer stipulates in their cardmember agreement.
Related Article: Can Your Credit Card Company Reverse Payments?
Featured photo by Matthew Henry / Burst