Advertiser Disclosure
close ×
Advertiser Disclosure – BestCards is an independent, Florida-based credit card comparison platform. Many of the card offers that appear on this site are from companies from which BestCards receives compensation. This compensation may impact how and where products appear on this site (including, for example, the order in which they appear). BestCards does not include all card companies or all card offers available in the marketplace.
Editorial Disclosure
close ×
Editorial Disclosure – The opinions expressed on BestCards' reviews, blogs, and all other content on or relating to the website are solely those of the content's author. They are not reflective of any card issuer or financial institution and have not been reviewed or approved by these entities unless otherwise noted. Further, BestCards lists credit card offers that are updated daily with information believed to be accurate to the best of our knowledge.
Last updated on May 13th, 2022
Annual Fee

None. $5.94 monthly fee

Credit NeededBestCards.com uses a variation of FICO Score 8, which is one of many different types of credit scores. A financial institution may use a different score when deciding whether to approve you for a credit card.

No Credit Required

Processing Network

Mastercard
Waive your monthly fee when you direct deposit $500+ in previous monthly period. Otherwise, $5.94 a month.*

Earn 3% cash back at Walmart.com, 2% cash back at Walmart fuel stations, & 1% cash back at Walmart stores, up to $75 each year.*

Earn 2% interest rate on up to $1,000 balance in your savings account. Plus, get chances to win cash prizes each month!*

Get peace of mind with three coverage levels, up to $200, for purchase transactions with opt-in & eligible direct deposit.*

*Please see site for full terms and conditions.
Annual Fee: None. $5.94 monthly fee
Foreign Transaction Fee: 3% of the transaction amount in U.S. dollars
Minimum Deposit Required: See Terms
Browse these credit card deals and thousands of other offers by becoming a Bestcards Member.
Join today!
The Walmart MoneyCard® is a debit card from Walmart that offers cash back rewards on select purchases, access to a full selection of checking and savings features, and more.
Frequently shop at Walmart
Frequently purchase gasoline at eligible Walmart stores
Get their groceries delivered from Walmart
Want a small savings account that earns up to 2% APY
Plan to add accounts for family members
Walmart MoneyCard® Review
The Walmart MoneyCard® is an innovative checking and debit program from Walmart – one of nation's largest retailers. The card program offers a full suite of banking features, including overdraft protection, up to 2% APY on savings of up to a $1,000 balance, and cash back rewards – all for no monthly fees when meeting direct deposit requirements.
The card is issued by Green Dot Bank, one of the premier debit card issuers in the United States. Green Dot also issues the GO2bank™ Visa® Debit Card.
How to Get the Walmart MoneyCard®
Getting your hands on a Walmart MoneyCard® is fairly easy. The card is available both online and in-store at Walmart locations nationwide. Purchasing the card in-store at Walmart involves going to the customer service desk, buying a card (with a one-time $1 purchase price), and loading the card with at least $20 in cash.
Ordering a card online is even easier. Simply click the "apply now" button on this page, provide your identifying information, and open an account. The application requires the following information:
Name
Date of birth
Address
Contact information (phone number, email)
Social Security Number (SNN)
IRS tax form W-9 (for finance verification)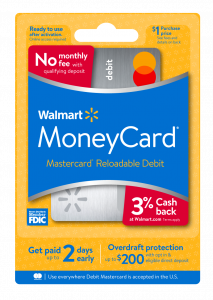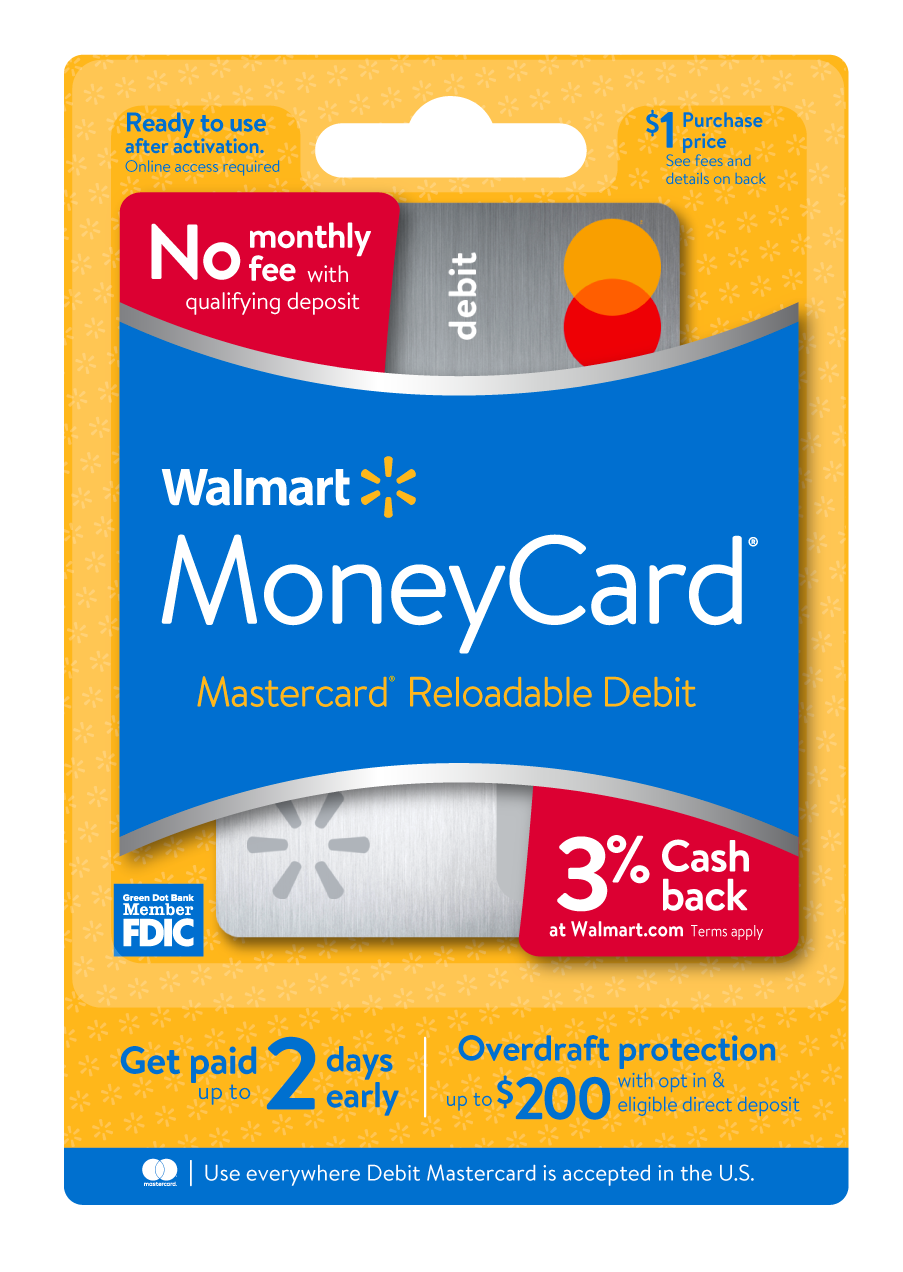 Earn Cash Back at Walmart
One of the great features of the Walmart MoneyCard® is the ability to earn up to 3% cash back rewards on purchases. Cardholders earn the rewards for the following purchases made at Walmart locations:
3% back at Walmart.com
2% back at Walmart fuel stations
1% back in-store at Walmart locations
Even though Walmart caps the cash back rewards to $75 per year, the Walmart MoneyCard® compares favorably to the Capital One® Walmart Rewards™ credit card from Capital One. That card earns an unlimited 5% back at Walmart.com, 2% in-store at Walmart, plus at Murphy USA fuel stations and Walmart fuel stations, and 2% back on dining and travel.
Capital One's Walmart credit card also comes with a hard inquiry and might be out of reach for many, making the Walmart MoneyCard® a great option for the frequent Walmart shopper that wants to save on grocery deliveries, in-store purchases, and even gas – but doesn't want the hassle of a credit card.
The card also offers access to Early Direct Deposit. This feature allows account holders receive their paychecks up to two days early and benefits up to four days early. This feature isn't unique to the card, but it is a nice feature for those who like the flexibility to get paid early.
The card also offers overdraft protection of up to $200, an excellent feature for a debit account. Note, though, the overdraft protection applies to purchases, not other transactions.
High-Yield Savings Account
As mentioned, the Walmart MoneyCard® is more than just a debit card. The card offers a full suite of banking options – including a high-yield savings account. Cardholders can use the savings account in the Walmart MoneyCard® mobile app to stash cash for safekeeping, emergencies, or future purchases.
Cardholders can also earn 2% APY on up to $1,000 in their savings account. This savings rate is exceptional – with the average APY on a savings account currently 0.06% APY. If the limit of $1,000 seems frustrating, keep in mind that this might be a great way to save a small emergency fund for unforeseen circumstances.
The card account also comes with the possibility of a $1,000 prize each month. Every month account holders are automatically entered for chances to win one of 1,000 cash rewards through Walmart's Prize Savings Sweepstakes (NO PURCHASE OR MONEY TRANSFER NECESSARY. 12 separate monthly entry periods. Open to legal 50 US/DC/PR res., 18/age of majority + only. For Rules, visit www.WalmartMoneyCard.com/prizesavings, including how to enter w/out MoneyCard Vault transfer & entry period deadlines. Void where prohibited. Sponsor: Green Dot Corporation).
To be eligible for the promotion, you simply need to use the savings account feature and either transfer funds from the Walmart MoneyCard® account to the in-app Walmart MoneyCard® Savings Account or send a mail-in entry to the following address: PO Box 251328 West Bloomfield, MI 48325. The Prize Savings Sweepstakes ends on April 30, 2022.
No Monthly Fees – for Some
Prepaid debit and banking accounts typically feature some form of fees, but with the Walmart MoneyCard® there are no monthly maintenance or service fees when meeting minimum requirements. With the MoneyCard® , those requirements are direct depositing at least $500 to the account in the previous month.
That $500 deposit requirement is very modest – and can easily be accomplished by having at least one paycheck or benefits payment made to the account. This, in turn, provides access to the high-yield savings account, cash back rewards, and more.
The monthly service fee for the Walmart MoneyCard® is $5.94 for those not meeting deposit requirements. This fee, however, is pretty reasonable – especially when considering that the card provides additional accounts for up to four approved members ages 13+, in the app, with the activated, personalized card.
Other notable features of the Walmart MoneyCard® include the purchase protections that come from a Mastercard debit card. These perks and protections include:
Mastercard Zero Fraud Liability protection
Mastercard Global Service customer support
ID Theft Protection
Mastercard Airport Concierge access (additional charges may apply)
Here are some frequently asked questions about the Walmart MoneyCard® program, as well as the answers:
The Walmart MoneyCard® program is available in all 50 U.S. states and the District of Columbia.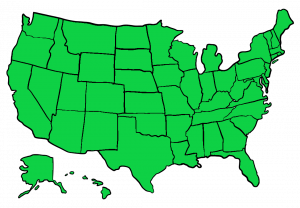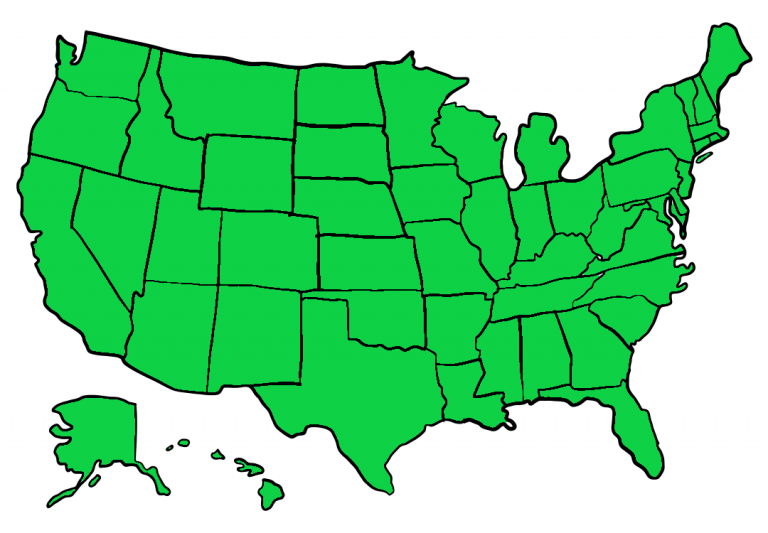 Walmart MoneyCard® Expert Ratings
How does the Walmart MoneyCard® stack up? Here are a selection of expert reviews for the card and Green Dot Bank – the card's issuer:
What is the MoneyCard® from Walmart like to live with? Before deciding if the card is right for you, here's what our readers and members think about the card and company: Tiffany
MoneyCard user
"I like my Walmart MoneyCard. It really is great. I love it. I like that I don't have to have a bank account. I use their online app and I like that I can check my transactions and that the transactions show up right away. I've been very satisfied." Debi
MoneyCard user
"Everything's working very well with my Walmart MoneyCard. I like that I can't go over. The only money available to me is the money that I put on there. I like it's not a national bank. "
Should You Consider Getting the Walmart MoneyCard®?
Overall, the Walmart MoneyCard® account has plenty to offer – and comes with no charge for those who plan to take advantage of those features. The card features up to 3% back at Walmart and 2% APY on savings – a one-two punch that is sure to entice applicants. Add to that Mastercard protections, overdraft coverage for up to $200, and more, and you have the versatility to earn – and save – all in one convenient card.
Browse Other Card Offers:
[1] High yield savings account interest is paid annually on each enrollment anniversary based on the average daily balance of the prior 365 days, up to a maximum balance of $1,000, if the account is in good standing and has a positive balance. 2.00% Annual Percentage Yield may change at any time before or after account is opened. Annual Percentage Yields are accurate as of 7/23/21.
[2] Family Accounts: Activated, personalized card required. Other fees apply to the additional account. Family members age 13 years and over are eligible. Limit 4 cards per account. See Deposit Account Agreement for details.
[3] Cash Back: Cash back, up to $75 per year, is credited to card balance at end of reward year and is subject to successful activation and other eligibility requirements. Redeem rewards using our website or app. You will earn cash back of three percent (3%) on qualifying purchases made at Walmart.com and in the Walmart app using your card or your card number, two percent (2.00%) at Walmart fuel stations, and one percent (1%) on qualifying purchases at Walmart stores in the United States (less returns and credits) posted to your Card during each reward year. Grocery delivery and pickup purchases made on Walmart.com or the Walmart app earn 1%. For the purposes of cash back rewards, a "reward year" is twelve (12) monthly periods in which you have paid your monthly fee or had it waived. See account agreement for details.​
[4] Opt-in required. $15 fee may apply to each eligible purchase transaction that brings your account negative. Balance must be brought to at least $0 within 24 hours of authorization of the first transaction that overdraws your account to avoid the fee. We require immediate payment of each overdraft and overdraft fee. Overdrafts paid at our discretion, and we do not guarantee that we will authorize and pay any transaction. Learn more about overdraft protection.