Last updated on August 4th, 2022
Getting into shape is one of the most common New Year's resolutions in the United States. Millions of Americans make the pledge to lose weight, tone up, and eat right every year – but many fail in their attempts. The coronavirus pandemic has many people cooped up inside and feeling restless. Maybe this is the year in which more Americans than ever stick to their resolutions and reach their fitness goals. Saving money by picking the right credit card can go a long way in motivating even the most unwilling of consumers. Here are BestCards.com's top picks for best credit cards for fitness equipment and gym memberships of 2021:
Best Credit Cards for Gym Memberships
Here are two of the best credit cards for fitness and gym memberships for 2021:
The ABOC Platinum Rewards Mastercard® is like other cash back cards that offer 5% back in rotating, quarterly categories. In this vein, the ABOC Mastercard is strikingly like Discover It Cash Back and the previously-available Chase Freedom Card.
What makes the ABOC Platinum Mastercard such a great gym membership option is earning 5X points in that category for Q1 2021. From January 1 through March 31, purchases at qualifying grocery stores, fitness clubs, hospitals, and pharmacies earn 5X points per dollar – equal to 5% cash back.
The following fitness-related merchant codes (MCCs) are eligible for 5X points:
Fitness clubs: 7997
Beauty/ health spas: 7298
Other related MCCs for health, fitness, and exercise include:
Pharmacy: 5912
Vitamins: 5499
Medical Providers and supplies: 8011, 8021, 5047, 8099
Chiropractors: 8041
The U.S. Bank Cash+™ Visa Signature® Card earns 5% cash back on the first $2,000 in eligible purchases per quarter on the two categories of the holder's choosing. Those 5% back categories include ground transportation, select clothing stores, electronics stores, department stores, and more. 
U.S. Bank also offers gyms and fitness centers as a 5% cash back category, with cardholders saving at select fitness centers, including:
24 Hour Fitness®
Anytime Fitness®
Crunch Fitness
Equinox
Genesis Health Clubs
LA Fitness®
Life Time Fitness
Orangetheory® Fitness
Planet Fitness
Pure Barre®
Snap Fitness™
SoulCycle
Weight Watchers
XSport® Fitness
ZUMBA® Fitness
And more
However, keep in mind that purchases at recreational facilities that don't require membership, like driving ranges, batting cages, and ski slopes, do not qualify for 5% back. Also, purchases made at fitness centers outside of membership fees, like personal training or fitness classes, might not be eligible.
Best Credit Cards for Purchasing Fitness Equipment and Clothing
What if you are looking for savings on fitness items, rather than gym memberships? There are several great credit cards for buying fitness or gym tools, including clothing, footwear, weights, and accessories:
The Amazon Prime Rewards Card is an excellent retail credit card for those who love to shop through Amazon and have an existing Amazon Prime membership. The card earns a simple 5% back on all purchases made at Amazon.com, making it perfect for anyone looking to stock up on fitness supplies for their New Year's resolution.
Amazon is a one-stop shop for almost anything you can imagine, including footwear, fitness clothing, resistance bands, kettlebells, foam rollers, or a pull-up bar. The addition of an Amazon gift card instantly upon approval also means you can save big on fitness without even spending a penny!
The Prime Rewards Card also earns 5% back at Whole Foods. Part of getting in shape involves eating right, so getting impressive savings at all Whole Foods Supermarket locations is an excellent addition to any 2021 fitness goals.
The Capital One® Walmart Rewards™ Card is another reliable option for those looking to stock up on fitness equipment and gym clothes. The card, issued through Capital One, offers 5% back on purchases made online at Walmart.com and 2% back in-store.
While the Walmart Rewards Card's earning rate isn't as impressive as the Amazon Prime Card from Chase, it also doesn't require any memberships to receive. Applicants don't need a Walmart+ membership (unlike the Prime Card, which requires a valid Amazon Prime membership – a cost of approximately $9.99 per month), which means they stand to save more over time than with the Amazon Card.
Honorable Mentions
Want some more gym membership and fitness credit card options to consider? Here are two cards that just missed out on our top spots: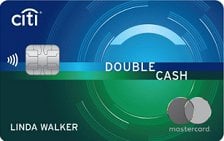 The Double Cash from Citi is a perennial favorite. The card's greatness comes from its simplicity: as long as you pay back what you purchase on time, you'll earn 2% cash back on everything. What's more, there are no category restrictions. Earning 2% cash back on all your fitness purchases (including gym memberships) isn't industry-leading, but the lack of categories and confusing MCC codes means saving is as easy as it can get – which also saves you headaches. Plus, there is no annual fee and a host of other great perks, like 0% intro APR on balance transfers for 18 months, access to Citi Entertainment, and more.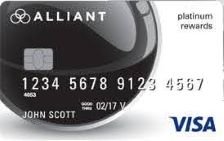 The Alliant Visa Platinum Rewards Card earns 2X points on all eligible purchases. This rewards rate is equal to the Citi Double Cash Card – a feat even more impressive given that Alliant Rewards Card is available to those with average credit scores. While Alliant Credit Union requires you to be a member to apply for their credit cards, joining is simple – and won't cost you a thing. Belonging to one of the union's partner organizations, such as the Freelancer's Union (which is free to join) or becoming a member of the Foster Care to Success (FC2S) organization, entitles you to membership. Even better, if you join FC2S, Alliant will pay the $5 membership fee for you.