Choosing a credit card when you have bad credit or are new to building credit can be challenging. There are dozens of subprime credit cards on the market – and that's before you even begin to factor in secured credit cards.
The Milestone Mastercard and Indigo Mastercard are two popular credit builder options. Both cards are issued through Genesis Financial Services and provide a reliable platform for demonstrating financial maturity and improving credit. But because the two cards are very similar it can be tough to pick the right card for your needs.
Before you apply for your next credit card, check out this helpful guide that breaks down both the Milestone and Indigo Mastercard, their strengths, weaknesses, and the finer points that can help you make an informed decision.
Do Credit Builder Credit Cards Work?
First off, do credit builder cards like Indigo actually work? The simple fact is that credit repair credit cards, like the Milestone Mastercard, serve a vital role in establishing a positive credit history. And this is a role in which these credit cards for bad credit have been successful.
The growth of the US consumer credit card market in the 21st century is impressive. The total number of credit cardholders in the United States is expected to top 193 million by 2023. That number increased around 17% from 2000 when approximately 160 million Americans held credit cards.
| Year | Average Credit Score |
| --- | --- |
| 2012 | 690 |
| 2013 | 691 |
| 2014 | 692 |
| 2015 | 695 |
| 2016 | 699 |
| 2017 | 700 |
| 2018 | 704 |
| 2019 | 706 |
| 2020 | 710 |
| 2021 | 716 |
| 2022 | 714 |
The credit score trend rose upward during that period, with exceptional growth over the last decade (as seen in the charts above and below). This shows that Americans have been making better choices with their credit card, despite more cards in circulation.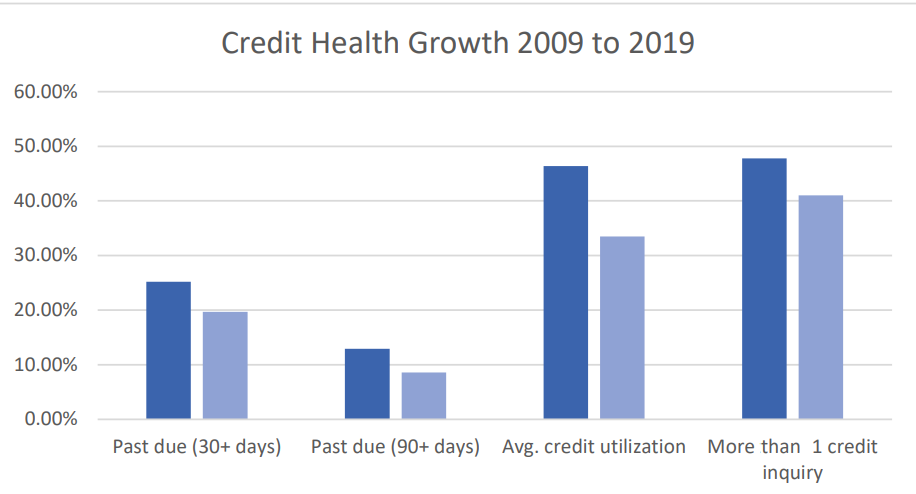 While credit builder credit cards aren't entirely to thank for the improved credit score of the average American, their role cannot be understated. These cards:
Provide credit access to millions of Americans otherwise unserved
Offer the chance to establish, build, or repair credit
Provide entry to more lucrative rewards many would otherwise miss out on
Milestone Mastercard or Indigo Mastercard: Which Is Right for You?
Now that you understand the positive impacts of subprime credit cards on consumer finances, which options are best for you? Both Indigo Mastercard and Milestone Mastercard enjoy popularity among credit-building Americans – but which is best? Here is the breakdown of the cards over key credit categories:
Pre-Qualification Before Applying
Applying for a credit card requires a credit check. Often, these credit checks (or credit inquiries) are known as "hard inquiries," meaning the bank pulls your full credit report before approving (or denying) your credit card application. If you apply for a credit card and are declined, your credit score will likely take a small hit.
One way to avoid a negative impact on your credit score before getting a new credit card is by pre-qualifying before you apply. Though they may sound similar, pre-qualification and pre-approval are not the same things.  
A pre-approval means that a lender has analyzed your credit profile based on existing credit information it holds, offering a product you will likely be approved for. On the other hand, pre-qualification means the lender has reviewed financial information from a credit profile and believes you may be a good fit for the credit card product. Pre-qualifications are also known as "soft inquiries," as they have no impact on your credit score.
Do the Milestone and Indigo Cards Offer Pre-Qualification?
Both the Indigo Card and the Milestone Card offer a quick pre-qualification for potential applicants. This feature makes both cards versatile offers for anyone looking to boost their credit score but afraid they may not qualify due to late payments, bankruptcies, or other negative financial events.
Because both cards are designed for those building or repairing credit, the typical FICO credit score for an applicant for the Milestone and Indigo Cards is around 600 to 640. Both credit cards are available for applicants with credit scores ranging from 300 to 850.
Annual fees with credit repair cards vary significantly. Cardholders can expect a higher annual fee the lower their starting FICO or VantageScore credit score. As a general rule, expect to pay a yearly fee of up to $100 for a credit card of this type, with some charging significantly higher fees and no annual fees.
The Milestone Mastercard features a variable annual fee of between $35 and $99. Again, these yearly fees will vary depending on your offer. Like Milestone, Indigo also features a variable annual fee. Unlike Milestone, however, some Indigo Card applicants may qualify for a card with no annual fee. Other applicants may receive an annual fee rising as high as $99 per year.
The Milestone Mastercard has a $300 credit limit. Because Milestone charges the annual fee immediately, the starting credit limit will vary between $201 and $265. Once the annual fee is paid, the credit limit will return to $300.
The Indigo Mastercard has a $300 credit limit to start. This actual credit available may vary depending on the annual fee, however. Like the Milestone Card, Genesis Financial charges the annual fee upon card activation, meaning the starting credit limit runs between $201 and $300.
Neither Indigo nor Milestone offers cash back rewards or points. There are no 0% intro APR periods or sign-up bonuses.
Here is a quick recap of all the features of both cards:
Things to Consider Before Applying for a Bad Credit Credit Card
Before deciding on any credit card, take the time to think about all aspects of the cards under consideration. Weigh the rates and fees against each other to see if your spending patterns match the card's profile.
Here are a few issues to consider before choosing a credit repair credit card:
One of the key metrics many credit card applicants consider before applying is the card's APR – or interest rate on purchases. However, for cards like the Milestone and Indigo Mastercards, interest rates are secondary to annual fees, credit reporting to the major bureaus, and credit limit increases.
Instead of focusing on the card's APR, focus on keeping your credit use low and repaying your full balance before the statement period ends. These steps will have a much greater impact on your credit health and negate the high APR.
Annual Fee Vs. Security Deposit
In many cases, secured credit cards feature lower annual fees than unsecured credit cards for bad credit. This lower annual fee is due to the requirement of a security deposit (usually around $200) that acts as collateral for the credit loan – and the credit limit.
Because of this deposit requirement, secured cards may be more cost-prohibitive for new applicants than cards like Milestone, Indigo, Surge Platinum , or countless others. Before deciding on the right credit repair card for you, consider the upfront costs associated with each option. In some cases, an unsecured card might offer greater flexibility that can help offset emergencies.
Featured image by Gam-Ol /PixaBay
Editorial Disclosure – The opinions expressed on BestCards.com's reviews, articles, and all other content on or relating to the website are solely those of the content's author(s). These opinions do not reflect those of any card issuer or financial institution, and editorial content on our site has not been reviewed or approved by these entities unless noted otherwise. Further, BestCards.com lists credit card offers that are frequently updated with information believed to be accurate to the best of our team's knowledge. However, please review the information provided directly by the credit card issuer or related financial institution for full details.