Last updated on February 27th, 2023
Advertiser Disclosure
close ×
Advertiser Disclosure – BestCards is an independent, Florida-based credit card comparison platform. Many of the card offers that appear on this site are from companies from which BestCards receives compensation. This compensation may impact how and where products appear on this site (including, for example, the order in which they appear). BestCards does not include all card companies or all card offers available in the marketplace.
Editorial Disclosure
close ×
Editorial Disclosure – The opinions expressed on BestCards' reviews, blogs, and all other content on or relating to the website are solely those of the content's author. They are not reflective of any card issuer or financial institution and have not been reviewed or approved by these entities unless otherwise noted. Further, BestCards lists credit card offers that are updated daily with information believed to be accurate to the best of our knowledge.
Y-12 Visa Secured Credit Card
17.99% variable based on the Prime Rate

Regular Purchase APR

17.99% variable based on the Prime Rate

Balance Transfer APR

17.99% variable based on the Prime Rate

Cash Advance APR
At a Glance
Rebuild your credit with the Y-12 Visa Secured Credit Card and enjoy no annual fee or balance transfer fee –perfect for those looking to consolidate their debt. Minimum security deposit is $500 and cardholders will have the potential to be upgraded to the unsecured Y-12 Gold or Signature Visa card.
Best Benefits
Rates & Fees
Why Should You Apply?
No annual fee

No balance transfer fee

Visa Credit Card benefits and protections

Make payments with online or mobile banking
Regular Purchase APR: 17.99% variable based on the Prime Rate
Balance Transfer APR: 17.99% variable based on the Prime Rate
Cash Advance APR: 17.99% variable based on the Prime Rate
Late Payment Penalty Fee: Up to $25
Return Payment Penalty Fee: Up to $29
Minimum Deposit Required: $500
You want to rebuild a poor credit score

You may need to carry over a balance or have difficulty paying in full each month

You have used payday advances or other short-term loans

You want the option to start earning credit card rewards within a year

You're a member of Y-12 Federal Credit Unio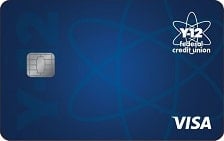 Y-12 Visa Secured Credit Card Review
The Y-12 Visa Secured Credit Card is one of three credit cards offered by Y-12Federal Credit Union. It's available for those in the Eastern Tennessee area and is their best option for those who are looking to either establish or rebuild their credit score. Typically, cards for poor credit tend to be barren of any notable perks – but the Y-12 secured card has several that makes it a compelling card, even when compared to major card issuers.
Aside from being devoid of several types of fees, the card has a low fixed APR (a must-have if you won't be able to pay your balance in full every month), no balance transfer fee (consolidate your debt), as well as travel accident insurance – an unexpected perk. However, the most exciting feature of the Y-12 secured card is that it has the potential to be updated to a point-earning, unsecured card in as little as 6 months.
Related Article: What Are the Easiest Credit Cards for Bad Credit to Get?
Great for Paying off Pre-Existing Debt
The structure of the card makes it useful as more than just a credit-building tool, but also has a vehicle for becoming more financially sound. There is no annual fee, balance transfer fee, or foreign transaction fee for any Y-12 credit cards – but it's likely the balance transfer abilities that will provide the most value to secured card applicants.
In addition to bringing over debt from other sources at no cost, cardholders will enjoy the same low fixed APR they have for purchases. No matter where you acquire your loans from, you'll always have a safety net with this card.
That low APR also applies to cash advances – another secured card rarity – making this card a wonderful alternative to payday or other short-term loans. If you have irregular income or have all your bill due dates fall on the same day of the month (before your paycheck arrives), this card would save you a considerate amount if you use your secured card to tide you over rather than a paycheck advance.
Upgrade to an Unsecured Credit Card
The card's most appealing feature is that pending responsible repayment behavior, the secured card could be upgraded to the Visa Gold or Visa Signature rewards cards in as little as 6 months to a year. Not only would cardholders be able to earn Loyalty Rewards points – a privilege rarely afforded to those with poor credit – but you could potentially enjoy a boosted credit limit as well.
The one caveat of this otherwise phenomenal perk is that switching from a secured card to an unsecured card will result in the closure of your original account – potentially dinging your average age of credit and costing your credit score a few points.
Other Card Perks
The Y-12 Visa Secured Credit Card doesn't offer any rewards directly for purchases and only one of the benefits and protections that you commonly find with Visa credit cards.: $200,000 worth of travel accident insurance.
Y-12 Secured Card Minimum Deposit
Secured credit cards do not require a credit score and instead, rely on a security deposit used to open a line of credit. Your credit limit will be directly tied to your deposit amount – add more money and your credit line will automatically increase.
The minimum deposit required for this card is as refundable $500, which will be returned in full once you close the account. Prior to submitting your application, the funds will need to be deposited into a Y-12 savings account (which can be done online or in-person).
Should You Apply for the Y-12 Visa Secured Credit Card?
The Y-12 Visa Secured Credit Card may not be the prettiest credit card at the ball, but it is a solid tool for rebuilding credit that has more to offer than the average secured card. If you are based in Eastern Tennessee and want a credit card to build credit with a lender that rewards your good judgment and decisions, this may be the perfect card for your wallet.
Related Article: What Are the Best Secured Cards for Rebuilding Credit?
Other Credit Card Offers: