by BestCards Team | Last updated on October 27th, 2023
Y-12 Visa Traditional Credit Card
13.99% to 18.00% variable based on creditworthiness and the Prime Rate

Regular Purchase APR

13.99% to 18.00% variable based on creditworthiness and the Prime Rate

Balance Transfer APR

13.99% to 18.00% variable based on creditworthiness and the Prime Rate

Cash Advance APR
At a Glance
The Y-12 Visa Gold Credit Card is a reliable balance transfer credit card that keeps interest rates and fees to a minimum while also earning rewards. Cardholders will receive a modest 1X points per dollar, making the card best suited towards low spenders or rewards card beginners.
Best Benefits
Rates & Fees
Why Should You Apply?
No annual fee

No foreign transaction fees

No balance transfer fee

Make payments with online or mobile banking
Regular Purchase APR: 13.99% to 18.00% variable based on creditworthiness and the Prime Rate
Balance Transfer APR: 13.99% to 18.00% variable based on creditworthiness and the Prime Rate
Cash Advance APR: 13.99% to 18.00% variable based on creditworthiness and the Prime Rate
Late Payment Penalty Fee: Up to $25
Return Payment Penalty Fee: Up to $29
You want to earn decent rewards for your every purchase

You don't want to pay an annual fee

You're a member of the Y-12 FCU or live in Eastern Tennessee

You plan on carrying a balance or want to pay down an existing credit card debt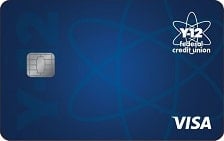 Y-12 Visa Traditional Credit Card Review
TheY-12 Visa Traditional Credit Card is the mid-tier rewards credit card from Y-12 Federal Credit Union, one of their three consumer credit cards that are available. However, the earning rate of this card is so insignificant that this card should really only be considered for its low APR and lack of fees – less glamorous than rewards but far more useful.
If you only use your credit card for the odd expense that's a few hundred dollars or less, this card would likely be the best fit out of Y-12's. The low APR means that you can feel comfortable taking a few months to pay for your unexpected purchases while earning moderate rewards while you do so.
Competitive APR and Few Fees
The Y-12 Visa Traditional Credit Card also benefits from a very competitive typical APR. Federal credit union cards are known for having lower interest rates than many cards from big bank lenders, and the Y-12 Visa Gold Credit Card is no different. For those with excellent credit scores, they can expect interest rates well below the national average for purchases, balance transfers, and cash advances – although the exact APR will vary based on both creditworthiness and the Prime Rate.
If you want a credit card with as few fees as possible, the Y-12 does a phenomenal job; there are no annual fees, foreign transaction fees, and most importantly, no balance transfer fees. The reason why this is the most compelling feature about the card is that since cardholders will also have a low interest rate on balance transfers, the Y-12 Visa Traditional Credit Card is a powerful balance transfer card that can be used over and over again to manage any pre-existing (or newly accumulated) debt.
Earning and Redeeming Rewards
The card earns 1 point per dollar spent, which be redeemed for gift cards, merchandise, or cash through the CU Rewards program. Despite the sub-par earning rates, Y-12 credit card points have the standard industry value of 1¢ each when redeemed for cash (otherwise the redemption amount can vary depending on the product).
It would require 2,500 points to earn a $25 statement credit – however, because of the lack of bonus categories, would require spending a hefty $2,500 for this relatively small reward. To make matters even more challenging, points expire after 3 years from the month that they were earned which could make it even more difficult for a low spending to accumulate enough points to redeem for anything.
Other Credit Card Perks
As with other offerings from Visa, the Y-12 Visa Traditional Credit Card also offers comprehensive protections and benefits from Visa. These protections include roadside assurance and collisional accident waiver insurance should a rental car be damaged after it was paid for with the Y-12 Visa Gold Credit Card. Cardholders also enjoy $500,000 in travel accident insurance, as well as comprehensive fraud protections, lost luggage reimbursement, extended warranty protection, and more.
Card Weaknesses
Aside from the card's weak earning potential, the lack of an introductory APR or even a signup bonus puts it at a severe disadvantage. New cardholders will not get the benefit of using a new credit card to absorb the shock of a larger purchase, which raises another glaring flaw in the card's offerings.
The Y-12 Card has a credit limit that is capped at $4,999.99, plan on making any larger purchases and you'll need to apply for the Y-12 Visa Signature – which has identical credit requirements.
The rewards rate is so low (a meager 1 point per dollar) that earning rewards should be an afterthought. The amount needed to earn a single reward far outweighs the value, and therefore should not the primary reason a potential cardholder applies for the Y-12 Traditional card.
Should You Apply for the Y-12 Visa Traditional Credit Card?
Ultimately, this is an unremarkable rewards card that fails to present a strong enough incentive to apply. It has a near-identical APR range to the Y-12 Visa Signature Rewards card but has a significantly lower credit limit (a maximum of only $4,999) even though they both have no annual fee. For those trying to decide between the Y-12 Traditional and the Visa Signature, it's definitely worth opting for the slightly higher APR of the Visa Signature and be ensured at least a $5,000 credit limit (whether you intend on utilizing it or not).
If you have the Good or Excellent credit needed to be approved, you certainly would have no difficulty finding more lucrative credit card offers elsewhere. However, if you have little interest in rewards and are merely looking for a financial tool to help manage your existing debt, the Y-12 Traditional Card could be worthwhile for an existing Y-12 Federal Credit Union customer.
Other Y-12 CU Card Offers:
Editorial Disclosure – The opinions expressed on BestCards.com's reviews, articles, and all other content on or relating to the website are solely those of the content's author(s). These opinions do not reflect those of any card issuer or financial institution, and editorial content on our site has not been reviewed or approved by these entities unless noted otherwise. Further, BestCards.com lists credit card offers that are frequently updated with information believed to be accurate to the best of our team's knowledge. However, please review the information provided directly by the credit card issuer or related financial institution for full details.