Last updated on February 24th, 2023
Advertiser Disclosure
close ×
Advertiser Disclosure – BestCards is an independent, Florida-based credit card comparison platform. Many of the card offers that appear on this site are from companies from which BestCards receives compensation. This compensation may impact how and where products appear on this site (including, for example, the order in which they appear). BestCards does not include all card companies or all card offers available in the marketplace.
Editorial Disclosure
close ×
Editorial Disclosure – The opinions expressed on BestCards' reviews, blogs, and all other content on or relating to the website are solely those of the content's author. They are not reflective of any card issuer or financial institution and have not been reviewed or approved by these entities unless otherwise noted. Further, BestCards lists credit card offers that are updated daily with information believed to be accurate to the best of our knowledge.
UNIFY Variable-Rate Visa® Gold Credit Card
14.49% to 17.99% variable based on creditworthiness and the Prime Rate

Regular Purchase APR

14.49% to 17.99% variable based on creditworthiness and the Prime Rate

Balance Transfer APR

14.49% to 17.99% variable based on creditworthiness and the Prime Rate

Cash Advance APR
At a Glance
The UNIFY Variable-Rate Visa® Gold Credit Card offers cardholders a variety of attractive benefits that save cardholders money. From the card's low interest rates to its lack of annual fees and cash advance fees, UNIFY's Gold Card can be one of the best tools in your wallet. Cardholders also benefit from Visa® cardmember services, like emergency travel assistance. Continue reading for more information on the features of this credit card.
Best Benefits
Rates & Fees
Why Should You Apply?
No annual fee

No balance transfer or cash advance fees

Low Variable APR

Optional Debt Protection
Regular Purchase APR: 14.49% to 17.99% variable based on creditworthiness and the Prime Rate
Balance Transfer APR: 14.49% to 17.99% variable based on creditworthiness and the Prime Rate
Cash Advance APR: 14.49% to 17.99% variable based on creditworthiness and the Prime Rate
Late Payment Penalty Fee: Up to $25
Return Payment Penalty Fee: Up to $25
You prefer a lower interest rate that changes rather than a higher fixed rate

You don't want to pay an annual fee

You don't want to pay fees on cash advances, balance transfers, and foreign transactions

You need a moderately high credit limit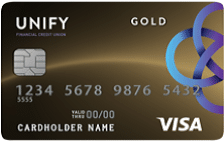 UNIFY Variable-Rate Visa® Gold Credit Card Review
UNIFY Financial Credit Union's UNIFY Variable-Rate Visa® Gold card offers an appealing collection of great perks. The most notable feature of this card is its lack of fees that are present in many other credit cards from other issuers. Cardholders don't have to pay an annual fee, and UNIFY does away with fees for balance transfers, cash advances, or foreign transactions. Additionally, cardholders benefit from a low APR on all transactions.
Low Variable Interest Rates
The Variable-Rate Visa Gold card offers competitive interest rates on pretty much anything a cardholder pays for with his or her credit card. What's great about this card is that the same APR applies to almost all transactions, which is a distinguishing feature of this card. By contrast, many other credit cards may charge you a different interest rate for cash advances or balance transfers.  If you're not familiar with how a variable-rate credit card works, it's actually simpler than it sounds. Instead of having one APR that stays the same for as long as you have a credit card account, a variable-rate APR will fluctuate with the economy and Prime Rate. It's important to note that UNIFY won't necessarily inform the cardholder of these changes, so it's your responsibility as a consumer to be on top of changes in the market to know what your interest rate will be. If that sounds like a daunting task, you can always contact UNIFY for an update on your credit card's interest rate.  The interest rates on UNIFY's variable-rate cards are around two percentage points lower than on the fixed-rate cards, on average. This may not seem like a big deal for small purchases, but this difference in interest rate can add up to a lot of money if you have a large balance on your card.
How Much Credit Do You Get?
The UNIFY Variable-Rate Visa® Gold card is UNIFY's mid-range credit card, as far as credit limits go. The maximum credit a cardholder can have on this card is $14,999. This is $10,000 more than the UNIFY Classic Visa but nearly $45,000 less than the Platinum card. That being said, this is a good standard credit card for making regular everyday purchases that you intend to pay off quickly.  Keep in mind that this maximum credit limit represents the highest amount of credit that UNIFY can extend to a cardholder once they are approved. It's not a guarantee of how much credit you will actually get. Your exact credit limit will vary and is based on your creditworthiness at the time that you apply for this card.
Don't Throw Away Your Money on Fees
One of the most attractive features of the UNIFY Variable-Rate Visa® is its lack of fees. UNIFY never charges an annual fee for its credit cards, and that includes the variable-rate Visa. Additionally, cardholders don't need to worry about any added fees for taking out cash advances or transferring balances from another card to their UNIFY Visa Gold card.  If you love traveling to other countries, you'll be glad to know that you can use your credit card freely wherever Visa cards are accepted without having to worry about foreign transaction fees. In short, UNIFY tries its best not to penalize you for using your credit card.  Do be aware, however, that there are fees for late payments and returned payments. So, make sure to use your card responsibly and always be sure to make your monthly payments on time.
Some Additional UNIFY Variable-Rate Visa® Cardholder Perks
There are some extra Visa Gold card benefits that UNIFY offers all its cardholders, regardless of which credit card they apply for. These include an optional debt protection program and an overdraft protection feature.  UNIFY's overdraft protection is an optional service that lets the credit union transfer funds from your gold card to your checking account in the event that your account is overdrawn. You will need to have a checking account with UNIFY in order to take advantage of this program. You should also note that this overdraft protection feature is essentially a cash advance and will accrue interest.  On top of these UNIFY perks, cardholders also have access to some Visa cardholder benefits. These include a warranty manager service, which can help facilitate warranty extensions for some of your more significant purchases, like appliances and electronics.  The Visa perks come in handy when you are traveling, too. Cardholders have access to travel and emergency assistance through a complimentary 24-7 hotline. Dedicated representatives can assist you in contacting loved ones back home and refer you to medical and legal services wherever you are. Cardholders can also take advantage of travel accident insurance and get reimbursed for any canceled travel plans.
Should You Apply for the UNIFY Variable-Rate Visa® Gold Credit Card?
The UNIFY Variable-Rate Gold card is an ideal card for your average consumer who already has experience with credit cards. The low variable interest rates make more sense on this card than with the Classic Card. There is only a difference of two percentage points between the fixed-rate and variable-rate credit cards, and you will be able to feel those savings more with a higher credit limit.  No annual fees, no balance transfer fees, and no cash advance fees are some of the most attractive features of this card. However, this is a signature feature on all of UNIFY's credit cards. The one-two punch of no foreign transaction fees and Visa's travel services make this card particularly appealing to international travelers. Overall, this is a great card to have in your wallet for everyday purchases.
Browse Other UNIFY Credit Card Offers: