Last updated on August 18th, 2023
Advertiser Disclosure
close ×
Advertiser Disclosure – BestCards is an independent, Florida-based credit card comparison platform. Many of the card offers that appear on this site are from companies from which BestCards receives compensation. This compensation may impact how and where products appear on this site (including, for example, the order in which they appear). BestCards does not include all card companies or all card offers available in the marketplace.
Editorial Disclosure
close ×
Editorial Disclosure – The opinions expressed on BestCards' reviews, blogs, and all other content on or relating to the website are solely those of the content's author. They are not reflective of any card issuer or financial institution and have not been reviewed or approved by these entities unless otherwise noted. Further, BestCards lists credit card offers that are updated daily with information believed to be accurate to the best of our knowledge.
29.99%, compounded daily

Regular Purchase APR

29.99%

Cash Advance APR
At a Glance
The Total Select Card is designed for those with less-than-perfect credit who want a convenient payment card without a high barrier of entry. Ideal for building or rebuilding credit, this offer can give you the boost you need to level up your credit standing.
Best Benefits
Rates & Fees
Why Should You Apply?
Total Select cardholders get FREE access to Credit Monitoring powered by TransUnion. Enroll Today!

$300 Credit limit

Chip-enabled card for added security

Credit limit increase possible after 12 months

Reports monthly to major credit bureaus

Quick and easy approval process
Regular Purchase APR: 29.99%, compounded daily
Cash Advance APR: 29.99%
Cash Advance Transaction Fee: $10 or 3% of the amount of each cash advance, whichever is greater
Annual Fee: $75 the first year ($48 after that)
Late Payment Penalty Fee: Up to $41
Return Payment Penalty Fee: Up to $41
You're want to build or rebuild your credit and are looking for a Visa card that doesn't require perfect history

You prefer a credit card that doesn't charge a program fee or require a security deposit

You want convenience to manage your account via the card issuer's own mobile app

You want a card that works extra and reports your payment history to the three major credit bureaus and also provides free credit monitoring tools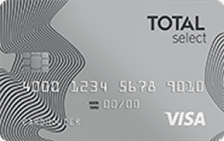 Total Select Credit Card Review
The Total Select Visa Credit Card is an unsecured credit card for people with damaged credit or limited credit history. The card, issued by the Bank of Missouri, features a significantly lower APR than its sibling, the Total Visa Card, no program setup fee, and the chance at credit limit increase in as few as 12 months.
Perfect Credit Not Required
Working your way up to a high credit score can be daunting, but it is possible. Establishing (or re-establishing) a positive credit history takes time, determination, planning, and a credit-building tool; this is where the Total Select comes in. Total's Visa credit card program is designed for those who don't have perfect credit but still want a second chance at a brighter credit future. Applying for a card requires a checking account, but the process itself takes only minutes and usually you can expect a decision right away.
Setting up a new Select Visa Card account is even more straightforward. Beyond a quick and easy approval process, you'll gain access to your new unsecured credit card without needing an additional program fee. This fee reduction is one of the best perks of being pre-selected for the Total Select Visa, as the program fee is typically $89.
With that said, Total does assess the card's annual fee upfront for the first year. This will bring down your initial $300 credit line until you make your first Total Select Visa card payment. Each year thereafter, you'll pay a lower annual fee and a monthly account servicing fee. All this adds up, although the total amount is slightly lower for each year thereafter.
Build Credit with On-Time Payments
Credit cards for sub-prime credit scores aren't designed for much else besides being a credit-building tool. That's because these types of cards tend to feature high interest rates (APRs). The Total Select Visa tries to address this problem with a significantly lower regular APR than the regular version of the card, but still, it's advisable that you do not carry a balance from month to month – and if you do, be sure to pay it off quickly.
Total and the Bank of Missouri report account activity monthly to the major credit bureaus. Those bureaus – Experian, TransUnion, and Equifax – regularly collect data from banks and issuers to update your credit reports. With regular payments to and low usage of your Total Select, your credit health may improve, and you may qualify for a credit limit increase.
Credit Limit Increase Possible After 12 Months
Many unsecured credit cards for subprime credit have a short lifespan, meaning chances aren't high for a credit line increase or other convenient benefits, and you are stuck with your initial credit limit indefinitely. Fortunately, Total isn't like that and offers the prospect of a credit limit increase as early as 12 months after opening an account.
Keep in mind that a credit limit increase is not guaranteed. Additionally, after a credit limit increase with the Total Select, there is a fee of 25% of the amount of any increase in your credit limit, with this amount charged to your next statement as a "Credit Limit Increase Fee." Total provides the following example: If your credit limit is increased by $100, a $25 Credit Limit Increase Fee will be assessed, resulting in additional available credit of $75 on your Account.
For the sake of comparison, here are three other unsecured credit cards that may offer credit limit increases:
Monitor Your Credit, Free of Charge
One of the great features of the Total Select Card is complimentary access to quality credit monitoring tools. You can take advantage of free access to Credit Monitoring powered by TransUnion simply by being a Total Select cardholder.
TransUnion's Credit Monitoring provides unlimited updates to your TransUnion Credit Report, instant alerts if TransUnion finds out someone's applied for credit in your name, a Score Simulator to see how specific choices can impact your score, toll-free access to ID theft specialists, and other useful tools.
Other Card Features
Other notable features of the Total Select Visa Card include:
No cash advance fees for the first year
A choice of 3 free card designs, with premium designs available at $9.95
A chip-enabled card for added security
Total Card Ratings
How does the Total Visa stack up? Here is a selection of expert reviews for the card:
Should You Apply for the Total Select Credit Card?
The Total Select Visa is a credit repair or building option that improves on some the downsides of the traditional Total Visa Card. These improvements include lower fees, reduced interest rates, and a streamlined route towards a credit limit increase in just a year.
However, keep in mind that the card can have its challenges because of its high fees and low initial credit limit. This is a credit repair card you must handle carefully and with a set action plan. It's not necessarily built for carrying balances, so you'll want to have the right payment strategy in mind to wield this tool effectively. This means keeping credit use below 30% and making your payments on time every month. With that in place, you'll be set up for the next step up in your credit journey.