Last updated on September 21st, 2023
Advertiser Disclosure
close ×
Advertiser Disclosure – BestCards is an independent, Florida-based credit card comparison platform. Many of the card offers that appear on this site are from companies from which BestCards receives compensation. This compensation may impact how and where products appear on this site (including, for example, the order in which they appear). BestCards does not include all card companies or all card offers available in the marketplace.
Editorial Disclosure
close ×
Editorial Disclosure – The opinions expressed on BestCards' reviews, blogs, and all other content on or relating to the website are solely those of the content's author. They are not reflective of any card issuer or financial institution and have not been reviewed or approved by these entities unless otherwise noted. Further, BestCards lists credit card offers that are updated daily with information believed to be accurate to the best of our knowledge.
9.90%

Regular Purchase APR

9.90%

Balance Transfer APR

9.90%

Cash Advance APR
At a Glance
Rebuilding credit is never easy. Fortunately, the PEFCU Visa Secured Credit Card makes building credit a breeze thanks to no annual fee and a fixed APR among the lowest in the nation.
Best Benefits
Rates & Fees
Why Should You Apply?
No annual fee

Build credit with financial responsibility

Enjoy Visa cardholder protections
Regular Purchase APR: 9.90%
Balance Transfer APR: 9.90%
Cash Advance APR: 9.90%
Cash Advance Transaction Fee: See terms
Foreign Transaction Fee: 1% of the transaction amount in U.S. dollars
Late Payment Penalty Fee: Up to $20
Return Payment Penalty Fee: See terms
Minimum Deposit Required: See terms
You're an existing Publix employee or qualify for PEFCU membership

You have an imperfect credit history and need a secured card that makes carry a balance less difficult

You can afford a minimum deposit of at least $300

You don't want to pay an annual fee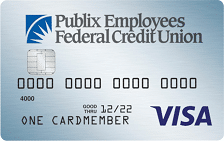 PEFCU Visa Secured Credit Card Review
Publix Employees Federal Credit Union (PEFCU) serves Publix employees and other associates with excellent service and low rates. The PEFCU Visa Secured Card looks to further this commitment, offering the change to establish a positive credit history with every purchase.
Who Can Join Publix Employees Federal Credit Union?
The Publix Employees Federal Credit Union is open to a variety of individuals. Beyond present – and retired – Publix employees and their families, this list includes the associates of the following groups and their families:
Bartow Ford
City of Lakeland, Florida
Lakeland Automall
Larry Greenwald Insurance
Lone Palm
Regal Automotive of Lakeland
United Hoist Equipment, Inc.
Wilde Honda of Sarasota
Higher-Than-Average Minimum Deposit
Secured credit cards are names as such because they require a refundable security deposit. That deposit acts as collateral to ensure banks are safe should the accountholder fail to pay their balances. The security deposit also serves as the credit limit, with additional deposits required for credit increases.
The PEFCU Visa Secured Card requires a minimum deposit that is noticeably higher than other comparable cards from larger issuers. The deposit requirement starts at $300, which is $100 more than Discover asks for their Discover it Secured. It is also $100 more than Capital One asks for their Capital One Secured Mastercard.
An increase of $100 may not sound significant, but for those rebuilding their credit, it might be the difference between receiving a secured card or not. Security deposits require available capital to fund the account. For those coming off a bankruptcy, or another stressful situation, $200 may be manageable while $300 is out of the question.
Related Article: What Are the Easiest Credit Cards for Bad Credit to Get?
No Annual Fee
Like the PEFCU Visa Card, the PEFCU Visa Secured requires no annual fee. No yearly charge for a secured card is a great feature often gets overlooked for flashier perks, like rewards. The fact is, however, that annual fees are common with secured cards. More unscrupulous lenders even hide their fees as service charges, which can quickly top $120 per year.
The more common annual fee range for a secured card is between $25 and $75. There are, however, plenty of options that don't charge a yearly fee, like Discover or Capital One. That said, those cards don't offer the type of interest rates that you typically find with credit unions like Publix Employees Federal Credit Union.
An Exceptional, Fixed-Rate APR
Credit unions typically offer the best interest rates on credit cards. This is because they are a not-for-profit institution, run by – and for – members. PEFCU is one such example, offering exceptional rates for their cardholders – both secured and unsecured cards.
The PEFCU Visa Secured Card enjoys an excellent fixed-rate APR on purchases, balance transfers, and cash advances. That rate is in the same ballpark as the PEFCU Visa Card. Currently, at below 11%, PEFCU Visa Secured Cardholders get an APR that is a whopping eight percentage points lower than the national average for a secured card.
The APR is also a massive 14% lower than the Discover It Secured, and 16% lower than the Capital One Secured MasterCard. Carrying a balance with a secured card is never ideal. That's because keeping balances to a minimum and paying your balance in full are the best way to boost a credit score.
Ultimately, however, that isn't a reality for many rebuilding their credit. No matter their circumstances, many people rely on card balances to make ends meet. Fortunately, the PEFCU secured Card takes some of the stings out of carrying a balance while improving a credit score and digging your way out of credit card debt.
No Hidden Fees
The PEFCU Visa Secured Card also comes with the same lack of hidden fees found in other PEFCU Cards. Cardholders won't pay a Penalty APR if they're late on their payments. They also won't face charges for balance transfers or cash advances. These fees are widespread with secured cards, so a car that lacks them is always a plus.
Penalty APR is particularly damaging. These rate hikes occur when a cardholder misses one or more payments. Penalty APR tends to be extremely high – often around 25% to 30% – and can run for six months to a year. These rate hikes can cause irreparable damage to vulnerable secured card users and can even result in default and loss of security deposit.
The fact that the PEFCU Visa Secured Card lacks this fee is a great feature – and showcases PEFCU's commitment to its members.
Should You Apply for the PEFCU Visa Secured Card?
Overall, the PEFCU Visa Secured Card is an excellent option for the Publix Employees FCU member that wants to boost their credit score. Secured credit cards are often a mixed bag. This is because the marketplace is chockfull of unscrupulous lenders that prey on those with financial problems.
Fortunately, PEFCU Is not in this category. Their commitment to their members shines through in every aspect of the card. The card enjoys an impressively low fixed APR, no annual fee, and no hidden charges. Sure, the minimum deposit is higher-than-average, but not so much that it disqualifies most from applying.
There are other secured cards that offer a rewards program, like Discover's It or popular cards like the Bank of America Secured or Citi® Secured Mastercard®, but those cards feature a typical APR more than double what is available from PEFCU. The Publix card instead places a low rate as premium, making it the ideal tool for those who are serious about rebuilding their credit.
Browse Other Card Offers: