Last updated on February 23rd, 2023
Advertiser Disclosure
close ×
Advertiser Disclosure – BestCards is an independent, Florida-based credit card comparison platform. Many of the card offers that appear on this site are from companies from which BestCards receives compensation. This compensation may impact how and where products appear on this site (including, for example, the order in which they appear). BestCards does not include all card companies or all card offers available in the marketplace.
Editorial Disclosure
close ×
Editorial Disclosure – The opinions expressed on BestCards' reviews, blogs, and all other content on or relating to the website are solely those of the content's author. They are not reflective of any card issuer or financial institution and have not been reviewed or approved by these entities unless otherwise noted. Further, BestCards lists credit card offers that are updated daily with information believed to be accurate to the best of our knowledge.
9.90%, 10.50%, or 10.90%

Regular Purchase APR

9.90%, 10.50%, or 10.90%

Balance Transfer APR

9.90%, 10.50%, or 10.90%

Cash Advance APR
At a Glance
Publix is an institution in Florida, famous for its excellent customer service. The PEFCU Visa Card rewards Publix employees – the brand's public face – with low rates and no annual fee.
Best Benefits
Rates & Fees
Why Should You Apply?
No annual fee

No balance transfer fees

Visa Platinum benefits
Regular Purchase APR: 9.90%, 10.50%, or 10.90%
Balance Transfer APR: 9.90%, 10.50%, or 10.90%
Cash Advance APR: 9.90%, 10.50%, or 10.90%
Cash Advance Transaction Fee: See terms
Foreign Transaction Fee: 1% of the transaction amount in U.S. dollars
Late Payment Penalty Fee: Up to $20
Return Payment Penalty Fee: See terms
You're an existing Publix employee in Florida, Alabama, Georgia, Tennessee, Virginia, or the Carolinas

You prefer an exceptionally low APR for longer-term savings on interest

You plan to carry a balance or pay down existing balances

You do't want to pay an annual fee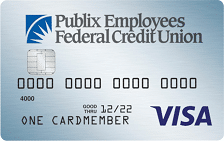 ​
PEFCU Visa Card Review
Publix Employees Federal Credit Union (PEFCU) serves Publix employees and other associates with great service and low rates. The PEFCU Visa matches this commitment, offering an unbeatable APR, rewards, and no annual fees in one package.
Who Can Join Publix Employees Federal Credit Union?
The Publix Employees Federal Credit Union is open to a variety of new members. Beyond past and present Publix employees and their families, this list includes the associates of the following groups and their families:
Bartow Ford
City of Lakeland (Florida)
Lakeland Automall
Larry Greenwald Insurance
Lone Palm
Regal Automotive (Lakeland)
United Hoist Equipment, Inc.
Wilde Honda (Sarasota)
One of the Lowest Rates Available
Credit unions offer some of the best interest rates nationwide, and Publix Employees Federal Credit Union is no different. The PEFCU Visa Card continues the credit union trend for excellent rates, offering an APR almost half the national average.
While the actual APR varies depending on the creditworthiness of the applicant, that rate doesn't differ much. Even the highest rate is comfortably below the 11% to 12% you find in cards from major issuers. This low APR applies to purchases, balance transfers, and cash advances.
Perfect for Carrying Balances
Balance transfer cards typically come with an interest-free APR period, but not so with the PEFCU Visa Card. Instead, the card comes with no balance transfer fees, which combines effortlessly with the excellent APR. This combination makes carrying a balance a breeze and ideal for paying down existing debt from other cards.
Many 0% intro APR cards from larger issuers, like the Citi Simplicity® Card, have much higher rates than PEFCU, negating their benefits. The PEFCU Visa Card, on the other hand, puts all its efforts into a low APR – a better use of its resources.
While the PEFCU Visa Card makes sense for those with a low balance they want to pay down, those with more substantial balances may struggle. Interest-free periods remove the strain of paying down balances because they don't accrue further interest. The lack of this period with the PEFCU Card means those with bigger balances will earn more interest than those with cards like the Simplicity, removing any value of the low APR.
Earn Basic Rewards with Every Purchase
The PEFCU Visa Card also earns rewards with every purchase. Every dollar spent on purchases gains a single point in the Scorecard Rewards Program. The program is a popular option with many credit unions and offers the usual types of reward options. These redemption options include:
Statement credits
Cash back
Gift cards from a variety of major retailers
Travel rewards, like flights, hotels, and car rentals
Merchandise from major retailers and designers
Charitable donations
Awards start from as low as 500 points, but the value of points (one cent per point) means that tally won't get you much. Fortunately, the low APR and purchase power of Visa make the ability to rack-up points a breeze.
There's a caveat with the points-potential of this card. Before using a card – like the PEFCU Visa – to earn reward, make sure to have a budget. It's also advisable to pay the balance in full every month, or interest can quickly build. Spending more to gain more rewards will result in a balance that can cause serious financial hardships.
Scorecard points expire after five years. While any expiration isn't ideal, five years is a long time to amass rewards.
Other Card Features
Since the PEFCU Visa Card is a Visa Platinum card, it comes with the usual essential Visa perks. Cardholders can expect Visa's Auto Rental Collision Damage Waiver and Roadside Dispatch, for example. These perks protect holders from breakdowns and rental vehicle damages when they waive extra coverage. They'll also have up to $250,000 worth of travel protection through Visa Travel Accident Insurance.
The PEFCU Visa Card also features a foreign transaction fee of 1% of the transaction cost in U.S. dollars. Having a foreign transaction fee is never ideal, but 1% is a two-thirds reduction of what most cards offer. This fee will take some of the sting out of the costs of using the card abroad – but not all. The negligible foreign exchange fee offers an avenue for cardholders to earn points. Using the card to book a vehicle rental abroad has the benefit of earning points – and enjoying Visa's travel perks.
Should You Apply for the PEFCU Visa Card?
Publix is a name synonymous with excellent customer service in the Southeastern U.S. The PEFCU Visa Card rewards Publix employees, their families, and other eligible individuals for their service with an excellent APR, no annual fee, and rewards with every purchase.
The PEFCU Visa Card won't match the rewards-earning potential of other no annual fee cards, but that's not the point. Cards like the Discover It Cash Back or Chase Freedom earn more rewards, but their APR is significantly higher. They also lack the customer service that comes with a credit union credit card.
Overall, the PEFCU Visa Card isn't a perfect credit card. The lack of a 0% intro APR period limits the card's appeal. Beyond that flaw, however, the card offers enough of the perks a cardholder wants – and a lot of the great rates they need. After all, the main selling point of this card is the low APR. The rewards structure is just an add-on – albeit a very nice one.
Browse Other PEFCU Cards: