Last updated on March 2nd, 2023
Advertiser Disclosure
close ×
Advertiser Disclosure – BestCards is an independent, Florida-based credit card comparison platform. Many of the card offers that appear on this site are from companies from which BestCards receives compensation. This compensation may impact how and where products appear on this site (including, for example, the order in which they appear). BestCards does not include all card companies or all card offers available in the marketplace.
Editorial Disclosure
close ×
Editorial Disclosure – The opinions expressed on BestCards' reviews, blogs, and all other content on or relating to the website are solely those of the content's author. They are not reflective of any card issuer or financial institution and have not been reviewed or approved by these entities unless otherwise noted. Further, BestCards lists credit card offers that are updated daily with information believed to be accurate to the best of our knowledge.
5% to 25% variable based on creditworthiness and the Prime Rate

Regular Purchase APR
At a Glance
The Klutch Card is a fresh look at the tired, old credit card. Instead of relying on the tried and true features, Klutch offers an ever-increasing number of apps and integrations, which seamlessly link with the card and offer a unique, customized experience. Even better, the Klutch card earns up to 6% cash back on purchases, features no hidden fees, and offers an exceptionally-low APR (for some).
Best Benefits
Rates & Fees
Why Should You Apply?
No annual fee

No foreign transaction fees

Endless integrations via MiniApps. You can even create your own integrations

Earn up to 6% cash back on eligible purchases
Regular Purchase APR: 5% to 25% variable based on creditworthiness and the Prime Rate
Foreign Transaction Fee: 3% of the transaction amount in U.S. dollars
Late Payment Penalty Fee: Up to $40
Return Payment Penalty Fee: Up to $40
You don't want to pay an annual fee

You enjoy adding integrations and apps to your card – a unique feature not found on any other card

You understand coding and want to create custom integrations for your shopping and budget needs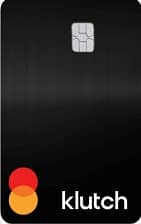 Klutch Card is a credit card with a difference. Klutch was created with the belief that banking is the only industry that hasn't kept up with technology. It's time that change, and Klutch want to lead the way. 
What Makes Klutch Different?
Klutch bills itself as the solution to all your credit card needs. Instead of being simply your next credit card, Klutch wants to be your last credit card.
Klutch is a fully customizable credit card that works seamlessly with a fast-growing app store. This app store consists of features connected to the card and allows users to ass the customizations they want to their card.
These, in turn, can run every time you use your Klutch card, ultimately making the Klutch Card smarter every day. Here is an example of some of the great apps available to Klutch Cardholders:
 Manage, track, and cancel your subscriptions. Klutch lets you know how much you spend – weekly, monthly, and annually.
Create single-use virtual credit card numbers that you can use anywhere. You can create virtual card numbers for your kids for their allowances.
Google Sheets integration. Connect Clutch to Google Sheets to effortlessly chart your spending.
Monthly budgeting tools. See your spending based on categories, budget, or other factors.
Robust spending controls. Working with IFTTT automation, users can set conditions that impact if they can use their Klutch Card. For example, If a user spends at Whole Foods, they can mark that store as "grocery." You can then control your spending limits, allowing Klutch to automatically decline charges over your spending levels.
Automated payments based on your schedule. Have a credit card with debit card-like features and never worry about missing a payment. Keep your debt to a minimum and do it your way. 
Klutch is far more than just amazing integrations via MiniApps. The Klutch Card also offers cash back rewards on every purchase. Cardholders earn a baseline of 1% cash back on all purchases, with no caps. There is no need for redemption, as rewards are automatically tallied and applied to the account each month.
Klutch also offers up to 6% back on purchases in rotating categories. For instance, Amazon may be in the monthly bonus category. Klutch Cardholders automatically earn 6% on Amazon purchases during the month – even more than with the Amazon prime Rewards Card from Chase!
If the Klutch Card sounds too good to be true, it isn't. In fact, the card also boasts no hidden fees of any kind. This means no set-up, annual, or foreign transaction fees when you use the card abroad. There is also no penalty APR with the card. 
No Credit Check Pre-Approval
Klutch Card performs a soft pull on your credit score upon application, meaning there is no inquiry on your credit report. Only those who receive pre-approval for the card and then apply will see a hard pull on their credit file. There is no credit check with Klutch.
An Exceptional APR (for Some)
Klutch keeps the hits coming with a great, low interest rate for those who qualify. While APRs vary depending on location and creditworthiness, Klutch's rates can be as low as 8%. This low APR is staggering, and very few cards can match this for applicants with excellent credit, with the Upgrade family of cards the most notable exception.
Other notable features of the Klutch credit card include the following:
Comprehensive card controls
Simple purchase categorization – just slide to categorize, like you would with an email.
Zapier and Plaid integrations
Mastercard benefits and protections
Klutch also offers Developer API access for those cardholders who enjoy coding and want to create something for the Klutch community. Klutch allows you to connect directly to their API and automate your finances the way you need.
Should You Apply for the Klutch Card?
The Klutch Card is the ideal credit card for tech-savvy; it is perfect for people who want simplified rewards, endless integrations, and smart budgeting tools at their fingertips. If the 1% back with Klutch is underwhelming, the 6% back on monthly categories is exceptional – especially when categories like Amazon regularly get thrown in the mix.
Ultimately, the Klutch Card is a unique fintech credit card that delivers much of what you want – and none of what you don't. And, with new MiniApps and integrations rolling out regularly, it's a card that will grow with you well into the future.
Browse Other  Credit Card Offers: