Last updated on September 1st, 2023
Advertiser Disclosure
close ×
Advertiser Disclosure – BestCards is an independent, Florida-based credit card comparison platform. Many of the card offers that appear on this site are from companies from which BestCards receives compensation. This compensation may impact how and where products appear on this site (including, for example, the order in which they appear). BestCards does not include all card companies or all card offers available in the marketplace.
Editorial Disclosure
close ×
Editorial Disclosure – The opinions expressed on BestCards' reviews, blogs, and all other content on or relating to the website are solely those of the content's author. They are not reflective of any card issuer or financial institution and have not been reviewed or approved by these entities unless otherwise noted. Further, BestCards lists credit card offers that are updated daily with information believed to be accurate to the best of our knowledge.
33.24% variable based on the Prime Rate

Regular Purchase APR

26.99%

Balance Transfer APR

34.24% variable based on the Prime Rate

Cash Advance APR
At a Glance
The Houzz Mastercard® Credit Card can be a good option for consumers who like to shop on this home decorating and design retail website. It allows cardholders to earn rewards credits that they can use towards future Houzz purchases. New cardholders can also earn up to $100 in rewards. What's more, there's no annual fee to pay for using this card. Keep reading to learn more.
Best Benefits
Rates & Fees
Why Should You Apply?
No annual fee

$50 welcome reward when you use your card on Houzz

5% Rewards on Houzz purchases and 1% on all other purchases

Additional $50 Houzz Reward when you spend $500 in the first 90 days
Regular Purchase APR: 33.24% variable based on the Prime Rate
Balance Transfer APR: 26.99%
Balance Transfer Transaction Fee: Either $10 or 5% of the amount of each transfer, whichever is greater
Cash Advance APR: 34.24% variable based on the Prime Rate
Cash Advance Transaction Fee: Either $10 or 5% of the amount of each cash advance, whichever is greater
Late Payment Penalty Fee: Up to $41
Return Payment Penalty Fee: Up to $41
You shop for home design products and services on Houzz

You want to earn Houzz rewards credits when you use your credit card

You don't want to pay an annual fee

You don't want to pay a foreign transaction fee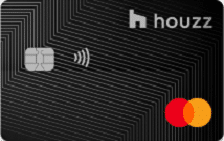 Houzz Mastercard® Review
Houzz is a website where people can shop for furnishings, fixtures, and supplies for decorating or remodeling a home. Shoppers can also use the site to locate local professionals ranging from interior designers to contractors and landscapers. The Houzz Mastercard credit card lets shoppers earn credits on all their purchases that they can use on the website.
New Cardholders Earn Bonus Rewards
The Houzz Mastercard offers new cardholders a $50 rewards credit bonus when they sign up for this credit card and use it for completing a transaction on the website. Cardholders can earn an additional $50 credit when they spend at least $500 anywhere else within the first 90 days of opening an account.
This bonus is in addition to the regular 1% back you earn on your non-Houzz purchases. You earn approximately $55 if you meet the spending requirements within the first three months of having this credit card.
Earn Houzz Rewards on All Your Purchases
The Houzz Mastercard® Credit Card allows cardholders to earn credits on almost all their purchases. Cardholders can use these credits to shop on the Houzz website for all sorts of home furnishings and remodeling items.
These credits function almost like cash back, but cardholders can only use the credits on Houzz purchases. Any purchases you make on the Houzz website qualify you for 5% back on the purchase amount. So, if you spend $100 on Houzz with your Mastercard, you earn $5 in credits.
All other purchases qualify you to earn 1% back on your purchases.
Redemption Options are Limited at Best
Rewards with Houzz credit cards are somewhat disappointing. These rewards are issued as certificates once a cardholder has earned enough points to qualify him or her for $25 in rewards.
This means a cardholder must spend at least $500 on Houzz before receiving any reward credits. This isn't too hard to do on a home design site, as most of the items for purchase cost several hundred dollars.
It is important to note that these credits are not the same as cash. They are not transferrable and only count towards the specified amount discounted from a qualifying house purchase. Additionally, rewards expire 90 days from the date they are issued. Essentially, if you don't use your credits, you lose them.
Rewards Differ Depending on the Card Type
The Houzz Mastercard is just one cr4edit product in the Houzz credit card program from Bread Financial (also known as Comenity Bank). Like other retail credit cards, the Mastercard version of the Houzz credit card earns additional rewards outside of Houzz – namely, 1% cash back on all other eligible purchases.  This difference isn't huge compared to other closed-loop store cards (meaning they only work for purchases at that brand, not globally), but it is still worth considering before applying – especially if your credit score is average.
Here is a quick comparison of the two Houzz credit cards:
| | Houzz Mastercard® | Houzz Credit Card |
| --- | --- | --- |
| Welcome bonus | $50 in Houzz Rewards after spending $500 on your card outside Houzz in the first 90 days, plus $50 Welcome Reward after opening and using your card at Houzz | $50 Welcome Reward after opening and using your card at Houzz |
| Houzz rewards on purchases | 5% Rewards on Houzz purchases and 1% on all other purchases | 5% Rewards on Houzz purchases |
| Special Financing | N/A | 0% APR on purchases of $350 for a single item made with your Houzz Credit Card and pay in full within six months, and purchases of $700 for a single item when repaid in full in 12 months |
| Annual fee | None | None |
No Fees
Many rewards credit cards charge cardholders an annual fee, but that's not the case with the Houzz Mastercard. There is never an annual fee to use your credit card.
Additionally, you don't have to worry about surcharges when you use your Mastercard abroad. This credit card doesn't charge foreign transaction fees.
Given that Mastercard is one of the world's most widely accepted credit cards, you can travel freely and use your credit card almost anywhere. You'll be earning rewards credits that you can use on your future Houzz purchases.
Mastercard® Benefits
There are so many benefits to owning this card besides no annual fee and earning rewards credits. Mastercard typically includes a variety of perks for its cardholders, and this card is no different.
Cardholders have access to several shopping protection benefits, including complimentary extended warranties. You can add another year free of charge to an existing manufacturer's warranty when you pay for an item with your Mastercard.
Additionally, Mastercard can cover an item that became damaged or got stolen within 90 days of purchase. Furthermore, if you want to return an item after a retailer's return window, you can receive a refund of up to $250. Cardholders have 60 days from the purchase date to file a refund claim.
Other cardholder benefits include ID Theft Protection™, travel assistance, and travel protection. Mastercard also offers periodic promotions to its card members, so you should check the Mastercard website often.
Here's a quick recap of what you can expect from a Mastercard credit card:
| | | |
| --- | --- | --- |
| Zero Liability Protection | Mastercard Global Services | ID Theft Protection |
Comenity Ratings
How does Comenity rank as a credit card issuer? Here are ratings for the bank:
Should You Apply to the Mastercard® from Houzz?
The Houzz Masterdcard® isn't an ideal credit card for all consumers. Basically, this card will only benefit people who shop on Houzz or plan to buy items on this website in the future.
If you're not already a Houzz shopper but need to purchase home furnishings, this can also be a valuable card to have provided that Houzz stocks the items you want. It's recommended that you browse through the website first before applying to this card. If you spend and earn points strategically, you may qualify for significant savings off your purchase.
The one downside to this card is its relatively high-interest rate on purchases. This is a flat interest rate that everyone receives regardless of their creditworthiness. Unless you really love shopping on Houzz, there might be home store rewards cards that offer better rates.
Browse Other Card Offers: