Last updated on September 27th, 2023
Advertiser Disclosure
close ×
Advertiser Disclosure – BestCards is an independent, Florida-based credit card comparison platform. Many of the card offers that appear on this site are from companies from which BestCards receives compensation. This compensation may impact how and where products appear on this site (including, for example, the order in which they appear). BestCards does not include all card companies or all card offers available in the marketplace.
Editorial Disclosure
close ×
Editorial Disclosure – The opinions expressed on BestCards' reviews, blogs, and all other content on or relating to the website are solely those of the content's author. They are not reflective of any card issuer or financial institution and have not been reviewed or approved by these entities unless otherwise noted. Further, BestCards lists credit card offers that are updated daily with information believed to be accurate to the best of our knowledge.
Fisher-Price College Savings Mastercard®
17.99% to 29.99% variable based on creditworthiness or the Prime Rate

Regular Purchase APR

29.99% variable based on the Prime Rate

Cash Advance APR
At a Glance
The Fisher-Price College Savings Mastercard® lets parents, grandparents, or just about anyone else earn 2% cash back on all their purchases when they funnel rewards into a 529 college savings account.
Best Benefits
Rates & Fees
Why Should You Apply?
Earn 2% back on all purchases when you deposit into a 529 plan

$50 bonus when you make $250 in purchases in the first three months and deposit rewards into a 529 plan

No annual fee

Mastercard $0 Fraud Liability
Regular Purchase APR: 17.99% to 29.99% variable based on creditworthiness or the Prime Rate
Intro Balance Transfer APR: N/A
Cash Advance APR: 29.99% variable based on the Prime Rate
Cash Advance Transaction Fee: Either $10.00 or 5% of the amount of each cash advance, whichever is greater.
Late Payment Penalty Fee: Up to $40
Return Payment Penalty Fee: Up to $29
Minimum Deposit Required: N/A
You have a 529 education savings plan for your children

You plan to use the card for much of your everyday spending

You plan to spend at least $250 on purchases within the first 3 months

You don't want to pay an annual fee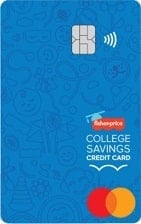 Fisher-Price College Savings Mastercard® Review
The Fisher-Price College Savings Mastercard® is a no annual fee, co-branded rewards credit card with a difference. That card, issued by the partnership of Mattel, MRV Bank, and Concerto Card Company, offers the chance to boost college savings when applying rewards to an eligible 529 plan. The card also comes with a generous and easily attainable welcome offer after meeting a modest spending requirement in three months.
Earn Up to 2% Back
The Fisher-Price College Savings Mastercard won't turn heads with its rewards – or at least, not at first. The card offers up to 2% cash back on all eligible purchases, with no rewards cap. That cash back earning rate is on par with industry leading options, like the Citi® Double Cash Card or the Wells Fargo Active Cash Card. But it's how you redeem those rewards that makes the College Savings Mastercard so interesting.
Saving for College Is a Breeze
The College Savings Mastercard® helps family members save for expenses related to their children's education by working in concert with an existing 529 education savings plan.
A 529 college savings plan is a state-sponsored investment plan that allows you to save money for a beneficiary and pay for education expenses. What makes 529 plans so great is that you can withdraw funds tax-free to cover many college expenses, including tuition, fees, room and board costs, school supplies, student loan payments, and apprenticeship programs. Even better, anyone, including friends or family, can contribute to the account.
The Fisher-Price College Savings Mastercard earns 2% cash back on purchases when the cash is deposited into a 529 education savings plan. This feature offers exceptional value for parents that are looking to supercharge the educational funds of their children. Rewards not applied towards an eligible 529 plan earn 1% cash back on every $1 spent.
It's worth noting that not every state offers a 529 education savings plan. All US states offer a 529 plan for college expenses, except for Wyoming, so residents of the Cowboy State should look for educational investment plans elsewhere. For everyone else, however, getting started is a breeze – with existing 529 plans linkable to the credit card upon application.
College Savings Comparison
Fisher-Price and Concerto hail the College Savings Mastercard® as a first-of-its-kind, but is it? There's another credit card that earns enhanced rewards when funneling them into an eligible college savings account. Barclays issues the Upromise® Mastercard®, a no annual fee credit card that earns additional rewards when the Upromise Program account is linked to an eligible College Savings Plan.
Here's how the two college savings cards compare:
Other Card Features
Other notable features of the Fisher-Price College Mastercard include a variable APR on purchases that's competitive with other rewards credit cards. The card does not offer the option of balance transfers, which is understandable. After all, the card is designed to supercharge savings – and you can't do that while carrying a balance!
The card works on the Mastercard payment network. Cardholders also enjoy Mastercard protections, including:
| | | |
| --- | --- | --- |
| Zero Liability Protection | Mastercard Global Services | ID Theft Protection |
MRV Bank and Concerto Ratings
How is the College Savings Mastercard day-to-day? Here is a selection of ratings for MRV Bank, the issuer of the card:
Should You Apply for the Fisher-Price College Savings Mastercard®?
Saving for college is more important now than ever. Student loan debt is at an all-time high, with parents seeking to avoid the burden of loan payments for their young children. And with college tuition prices rising by more than 7% annually, a card like the Fisher-Price College Savings Mastercard makes sense.
The card isn't the only college savings credit card on the market, but it provides the best rewards. The 2% back with the card is better than the peculiar 1.529% cash back with the UPromise Mastercard from Barclays. And that enhanced earning rate makes the card a valuable "everyday" credit card for anyone looking to help support the educational goals of their children, grandchildren, nieces or nephews, or any other familial or friendly bond.
Ultimately, the Fisher-Price College Savings Mastercard provides exceptional value for anyone who really wants to fund a 529 education savings plan. That's because the 2% back can amount to some serious savings. A cardholder spending $5,000 on the card each month could pad a 529 account with an additional $1,200 per year – just for changing their credit card of choice. Not bad.