Last updated on September 27th, 2023
Advertiser Disclosure
close ×
Advertiser Disclosure – BestCards is an independent, Florida-based credit card comparison platform. Many of the card offers that appear on this site are from companies from which BestCards receives compensation. This compensation may impact how and where products appear on this site (including, for example, the order in which they appear). BestCards does not include all card companies or all card offers available in the marketplace.
Editorial Disclosure
close ×
Editorial Disclosure – The opinions expressed on BestCards' reviews, blogs, and all other content on or relating to the website are solely those of the content's author. They are not reflective of any card issuer or financial institution and have not been reviewed or approved by these entities unless otherwise noted. Further, BestCards lists credit card offers that are updated daily with information believed to be accurate to the best of our knowledge.
First Digital Mastercard®
35.99%*

Regular Purchase APR

35.99%*

Cash Advance APR
At a Glance
The First Digital Mastercard® is a sleek and simple card designed for rebuilding credit. With its chrome-like appearance and full Mastercard features, you'd never guess it was available for anything less than perfect credit. Yet that's exactly what Synovus Bank (the credit card issuer) offers with this card: a speedy approval process for a $300 credit limit, to help you take your credit to the next level.
Best Benefits
Rates & Fees
Why Should You Apply?
Earn 1% cash back rewards on payments made to your First Digital Credit Card • Checking Account Required • $300 credit limit (subject to available credit) • Build up your credit history with a card that reports to all three major credit bureaus every month. • Perfect credit not required for approval; we may approve you when others won't. • *See Rates, Fees, Costs & Limitations for complete offer details • See Cash Back Rewards Programs Terms & Conditions for details
Regular Purchase APR: 35.99%*
Cash Advance APR: 35.99%*
Cash Advance Transaction Fee: Either $10, or 3% of the amount of the Cash Advance, whichever is greater
Annual Fee: $75 1st year, $48 after*
Foreign Transaction Fee: See Terms*
Late Payment Penalty Fee: Up to $41*
Return Payment Penalty Fee: Up to $41*
You have struggled to qualify for other lines of credit

You need a credit-building card with quick and easy approval

You don't need to transfer or otherwise carry a balance

You want the full benefits of a Mastercard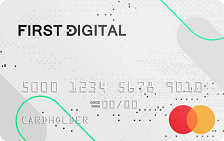 First Digital Mastercard® Review
Applying for a credit card with bad credit can be difficult, which in turn makes it harder to improve your score. That's where cards like the First Digital Mastercard® come into the picture. First Digital is an issuer where perfect credit not required for approval. If you can handle a few fees and avoid the high APRs, this card makes it easy to obtain a credit line and start working on your credit. Plus, having the full spread of Mastercard features behind you only makes it easier to focus on meeting your financial goals.
Quick and Easy Online Application
One of the most appealing features of the First Digital credit card is its streamlined application process. Unlike other credit cards, this offer doesn't require an in-person application or a call to customer service. Not only can you apply completely online in minutes, but you can also expect a decision just as fast. In fact, the program claims that approval takes as few as 60 seconds.
One of the other features that make this card great for building credit is the more lax credit requirement. The whole point of a card like this is that it's meant for those with less-than-perfect credit – so you don't need an excellent score to get approved. Of course, the trade-off is high APRs, which is common among cards that don't rely so heavily on credit scores. This will only have an adverse effect if you tend to carry a balance, however.
Upgradeable Credit Limit
Upon having your First Digital credit card application approved, you'll receive an initial $300 credit limit (minus the start-up fees, which we'll get to in a minute). This initial credit limit is a little higher than you would expect for most secured credit cards, which gives you a bit more wiggle room for spending.
However, once you've had the card for a while, you become eligible for a credit line increase. The ability to upgrade your credit limit can do wonders for your credit improvement efforts; the higher your limit is, the easier it will be to keep your credit utilization ratio down – a major factor that affects your credit score.
It's important to note that each credit limit increase on the First Digital Mastercard comes with a fee, which constitutes a small percentage. This means that regardless of the amount of your limit increase, it will be slightly reduced initially by this fee.
Complete with Mastercard® Features
Not all credit improvement credit cards come backed by Mastercard. Fortunately, the First Digital credit card does. But what does this mean exactly? Mastercards seem to come in all shapes and sizes, but certain features apply across the board:
Mastercard Global Service provides virtual emergency assistance whenever and wherever you need it. This means if you misplace your card while abroad, you can request an emergency replacement, and get help using foreign ATMs.
Zero Liability Protection means you'll never had to panic if you find unauthorized transactions on your bill. Simply report them, so Synovus Bank and Mastercard can take care of the rest.
Complimentary identity Protection means you can elect to receive notification of any suspicious activity relating to your credit card account, personal information, and otherwise sensitive data.
Aspects to Keep in Mind
There are certain rates and fees associated with any credit card, especially those meant for building or rebuilding credit. The First Digital Mastercard is no exception, so it's important to understand its fees so you won't be caught off-guard once you become a cardholder. In addition to the credit limit increase fee, the following fees also apply: one-time program fee, annual fee, and monthly service fee.
If this sounds like a hefty cost to pay for a credit card, consider this: it's not very much more than you'd pay for a secured credit card. Meanwhile, the First Digital offers an unsecured credit line that you can use to rebuild your score. You're also eligible for credit increases, which many secured cards don't offer unless you contribute more to your security deposit.
The First Digital Mastercard is currently available to applicants in almost all 50 U.S. states and the District of Columbia. The card is not currently available in New York and Wisconsin.
First Digital User Ratings
Should You Apply for the First Digital Mastercard®?
This isn't necessarily a card meant for paying off debt, but rather for repairing credit after the fact. So if you have a debt to pay off or tend to carry a balance, you may prefer a low rate balance transfer card. The high APRs here is completely avoidable as long as you make your payments in full each month. While the fees aren't as avoidable, they allow Synovus Bank to issue this card despite your blemished credit.
Overall, the First Digital Mastercard is what you make it. If you've struggled to get other credit cards due to poor credit, this offers a quick solution so you can turn your score around. You won't have to worry about having excellent credit to get approved, and you won't have long to wait for a decision, either.
First Digital offers those with subpar credit a credit card that reports to all three major credit bureaus every month (Experian, Equifax, and TransUnion) plus enjoys the impressive reach of the Mastercard payment network, meaning no matter where your travels within the United States take you, chances are your First Digital Card will be accepted.