Advertiser Disclosure
close ×
Advertiser Disclosure – BestCards is an independent, Florida-based credit card comparison platform. Many of the card offers that appear on this site are from companies from which BestCards receives compensation. This compensation may impact how and where products appear on this site (including, for example, the order in which they appear). BestCards does not include all card companies or all card offers available in the marketplace.
Editorial Disclosure
close ×
Editorial Disclosure – The opinions expressed on BestCards' reviews, blogs, and all other content on or relating to the website are solely those of the content's author. They are not reflective of any card issuer or financial institution and have not been reviewed or approved by these entities unless otherwise noted. Further, BestCards lists credit card offers that are updated daily with information believed to be accurate to the best of our knowledge.
Last updated on April 12th, 2022
Every purchase builds your credit. At the end of every month, purchases made with the Extra Debit Card are tallied up and reported to credit bureaus

0% interest

Connects with your bank account

Earn rewards points everywhere. Earn up to 1% in points for everyday purchases like rideshares, coffees and your phone bills

Plans start at $7/month (based on annual subscription)
Annual Fee: See Terms
Foreign Transaction Fee: See Terms
Late Payment Penalty Fee: See Terms
Minimum Deposit Required: See Terms
Browse these credit card deals and thousands of other offers by becoming a Bestcards Member.
Join today!
The Extra Mastercard Debit Card is a credit builder debit card that offers rewards and more. The card is ideal for anyone newer to credit that doesn't want the negative impact from a hard credit inquiry but still wants to earn rewards and boost their score for as little as $7 per month.
Want to build credit
Don't want a credit check
Want a debit card that reports to Experian and Equifax every month
Can afford the monthly service fee
Extra Mastercard Debit Card Review
Building credit with no credit check is made a breeze thanks to the Extra Debit Mastercard. The card, from Extra and Evolve Bank & Trust (Member FDIC), helps build credit with regular payments while also providing up to 1% back in points on everyday purchases like rideshares, coffee, or even cell phone bills.
Debit cards that build (or boost) credit are a fast-growing segment in the credit repair industry, with Extra one of the more popular examples of the breed. Signing up for the Extra program couldn't be easier:
First, sign up by connecting your bank account to Extra
Extra will assign you something called "Spending Power," which related to your bank balance
Your spending power is equal to your credit limit
Make purchases with the Extra Mastercard like you would with any debit card, and Extra will "spot you" the cost
Extra automatically repays itself via your connected bank account
Every month Extra reports user spending to the major credit bureaus (Experian and Equifax), helping you build credit over time
Extra automatically repays itself daily, so the total credit utilization resets every 24 hours. Thanks to this unique feature, you never have to worry about staying below the recommended 30% threshold to maintain a good credit score. Because of this, Extra can help you keep your credit use low, which can help your credit score rise with responsible use.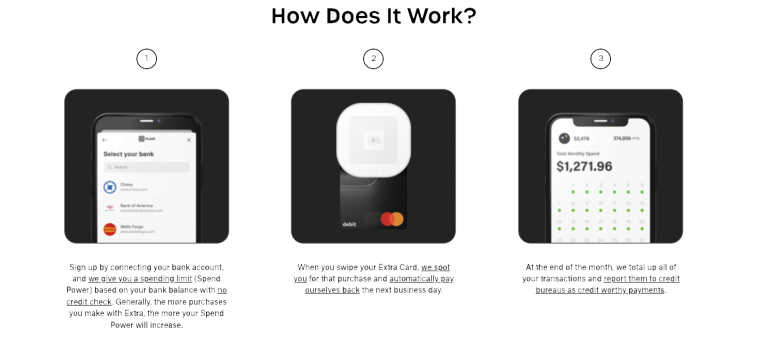 Because the Extra Card is a debit card product, there is no credit check to apply for the card. Credit cards require a credit check (or hard inquiry) when applying because lenders are taking a financial risk on the applicant – even with secured credit cards.
On the other hand, debit cards are tied to assets in the applicant's checking account, meaning that there is no risk to the bank – users simply spend their own money. In this regard, debit cards offer greater accessibility than credit cards – along with the reduced risk of falling into credit card debt which can negatively affect your credit score.
Because Extra pays itself back every day, the card features zero interest charges – a great feature. In this regard, the card acts like a charge card, with the caveat that Extra takes care of repayments – saving you time and money.
Earn Rewards on Purchases
Enrolling in rewards with Extra comes with an additional monthly fee but provides quality rewards points on eligible purchases. Extra Mastercard holders earn five rewards points for every dollar spent on purchases. Extra may also feature special promotions where cardholders can earn bonus points – increasing the chances of scoring the best awards in the store.
Rewards points have an approximate value of up to $0.01 (one cent per point) depending on the redemption option. Redemption options (through the Extra Rewards Store) include Apple products, gift cards, and other top-quality consumer products and goods.

Extra Mastercard Program Cost
Most debit programs feature no monthly fees or annual fees. This is because they operate through your local bank and offer the usual services people have grown accustomed to. Extra differs because it provides additional service and works with your bank account (Extra works with over 10,000 banks through Plaid).
The Extra program costs between $7 and $12 per month depending on the program you select. The basic, rewards-free option costs $7 per month (billed as $84 annually) and offers the chance to build credit. The other option, rewards, costs $12 per month (or billed at $108 annually), and offers up to 1% back in points with every eligible purchase.
Other notable features of the Extra Card include:
Mastercard Zero Fraud Liability protection
Mastercard Global Service customer support
ID Theft Protection
Mastercard Airport Concierge access (additional charges may apply)
Also worth noting is that the Extra Mastercard currently does not work on purchases made outside of the United States.
Here are some commonly asked questions about Extra, the Extra Debit Card, and the answers:
How does the Extra Debit Card Card stack up? Here are a selection of expert reviews for the card and Evolve Bank & Trust- the card's issuer:
What is the Extra Card like to live with? Before deciding if the card is right for you, here's what our readers and members think about the card and company: Leo
Extra user
"I have had Extra for 4 months now and my individual reporting has bumped over 25 points, helping my score go above 750."
Should You Consider the Extra Mastercard Debit Card?
Credit building options are continuing to evolve, with better products hitting the market seemingly every month. The Extra Mastercard is one such dynamic product.
The card offers the spending capabilities of a debit card with the credit building abilities of a credit card – all with no credit check required. Add to that basic rewards and you have a versatile credit builder card that won't break the bank – and might help you build credit towards a mortgage, car loan, or even a more lucrative rewards credit card down the line (like the Chase Freedom Flex or Unlimited, for example).
The card is also a great gateway towards credit cards for fair credit scores, such as the Milestone Mastercard or Indigo Mastercard. These cards feature unsecured credit and are a great next step on the credit journey. The Extra Mastercard program is available in all 50 U.S. states and the District of Columbia.
Browse Other Card Offers: