by Cory Santos | Last updated on September 25th, 2023
Dillard's American Express® Card
30.24% variable based on the Prime Rate

Regular Purchase APR

32.24% variable based on the Prime Rate

Cash Advance APR
At a Glance
Dillard's department store shoppers can stretch their dollars further with the Dillard's American Express® Card. Having no annual fee, cardholders can earn 2 points per dollar spent at Dillard's, gas stations, and grocery stores to use towards $10 Reward Certificates or 10% Off Shopping Passes.
Best Benefits
Rates & Fees
Why Should You Apply?
For every 1,500 points, you'll earn an All-Day 10% Off Rewards Shopping Pass.

2X points at Dillard's (in-store and online)

2X points at gas stations and grocery stores

1X points on all other purchases

Up to 24 months of interest-free financing on select Dillard merchandise

Early access to Dillard's clearance events
Regular Purchase APR: 30.24% variable based on the Prime Rate
Cash Advance APR: 32.24% variable based on the Prime Rate
Cash Advance Transaction Fee: Either $10 or 4% of the amount of each cash advance, whichever is greater
Foreign Transaction Fee: 3% of the transaction amount in U.S. dollars
Late Payment Penalty Fee: Up to $40
You spend at least $750 at Dillard's every year

You want early access to Dillard's clearance events

You frequently shop in the Men's Tailored Clothing, Home Furnishings, or Furniture departments

You regularly make Dillard's purchases over $100

You live near a brick-and-mortar Dillard's locatio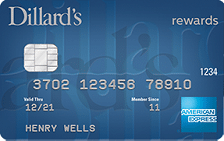 Dillard's American Express® Card Review
While Dillard's does not offer reward or loyalty programs as many other retailers do, the Dillard's American Express® Card offers shoppers the next best thing.
With the Dillard's American Express® Card, you'll earn points from every purchase – both in-store and out – towards your choice of Dillard's reward: a 10% Shopping Pass or $10 Reward Certificate. Aside from earning 2 points for every dollar spent at Dillard's, bonus categories of grocery stores and gas stations can help speed up the accumulation of the 1,500 points needed for a reward.
The Dillard's American Express Card has more to offer than earning points, however. Owners of the "Classic" Dillard's card will be able to enjoy a handful shopping perks such as special financing and early access to clearance sales ("Elite" status cardholders have even more shopping privileges with the likes of free shipping on all orders and monthly point bonuses), as well as travel and entertainment benefits offered through American Express.
Having no annual fee, the Dillard's American Express® Card is a natural choice for the Dillard's shopper who spends at least $750 a year and purchases a significant chunk of their furniture and home furnishings from there. Due to the high APR, any purchases made that don't qualify for the special financing (which is limited to three niche departments) will incur hefty interest charges should a balance be carried from month-to-month.
Signup Bonuses & Introductory Offers
New cardholders will receive a 10% discount on purchases of $100 or more that are made the same day the application was submitted – since this offer has no maximum, potential applicants who planning on buying large ticket-items will benefit the most. However, this "same-day" stipulation means that applicants will want to time their applications carefully and have a $100+ purchase in mind.
This 10% discount is issued in the form of a coupon that can be used either in-store or online and doesn't require waiting for your credit card to arrive.
0% APR for up to 24 Months
The Dillard's American Express® Card offers special financing for 12 or 24 months (depending on the purchase total) with zero-interest. One of the best features is that the payment structure is built without room to fail.
These payment plans called "Club Plans" are split into a set monthly amounts that guarantee your purchases will be paid in-full by the end of the period, ensuring that cardholders aren't at risk of suddenly owing a significant amount in interest chargers (that would be the case with a deferred interest plan).
Unfortunately, this special financing has restrictions and is only available for purchases of select amounts from select departments:
Men's Tailored Clothing
Home Furnishings
Furniture
Qualifying for 12-month Club Plan financing requires purchases of $200 or more, while 24-month payment plans require a minimum purchase of $2,500 (only available for furniture purchases).
For loyal shoppers that want savings at checkout, the Dillard's credit cards offer the only opportunity to do so. American Express cardholders will be able to earn points on every single transaction—purchases both in and out of store:
2X points per dollar spent at Dillard's
2X points per dollar spent at gas stations
2X points per dollar spent at grocery stores
1X points per dollar spent everywhere
Earning potential is fairly limited, however, which means that it means it will be slow going for the casual Dillard's shopper. Although cardholders can supplement their earnings with external purchases from popular everyday categories the below-average point value might leave most cardholders off better off with a more lucrative rewards card for non-Dillard's store purchases.
Points have a below-average starting value of $0.006 (less than a cent) and expire 12 months after being earned.
Redeeming Points for Dillard's Rewards
When cardholders reach 1,500 points, they will have two options to choose from for the redemption of their points – both of which offer savings on the total price at the Dillard's checkout. 
A) Rewards Certificate – These are available at $10 intervals and can be used on any merchandise category (except gift cards) at both Dillard's and dillards.com. Multiple reward certificates can be applied to a single transaction; however, it's recommended that your purchase total is greater than your total reward certificate amount – any unused value will be forfeited. 
B) Shopping Pass – A 10% discount that can be used on an entire calendar days' worth of purchases. There is no minimum or maximum purchase amount in which these coupons can be applied, however, they cannot be combined with any other percentage-off coupons. Only one Shopping Pass can be used per day, meaning that 10% discounts cannot be combined. 
Charges must be made to a Dillard's credit card to be eligible for Shopping Pass use. Cardholders are automatically enrolled to receive a 10% Off Shopping Pass, however, this can be changed at any time by calling customer service. Your preferred reward type will remain intact until you choose to change it again. Note that it can take up to two billing cycles for the changes to take effect. Unfortunately, there are limitations to how many rewards can be earned in a single billing cycle as well an annual cap which puts big spenders at a disadvantage.

How to Maximize Dillard's Rewards
If you were to only make purchases in the bonus categories (Dillard's, gas & groceries), you would have to spend $750 to earn a reward – either a $10 credit or a 10% shopping discount.
The $10 Reward Certificates offer a paltry return with a significantly higher cost compared to other retail rewards programs (typically $100 for a $5 store reward). However, this is the better option if your Dillard's purchases tend to be on the smaller side.
As the redemption limitations would suggest, the 10% shopping discount is the more lucrative of the two reward types with the potential for a better individual point value and thus, return from purchases. These Shopping Passes are ideal for use when your total checkout price is going to be at least $100 – this is the starting value that Shopping Passes will be worth more than the $10 Reward Certificate value.
One Day Early Access to Dillard's Clearance Events 
Special No-Interest Financing 
Should You Apply for the Dillard's American Express® Card?
Dillard's doesn't have a standalone loyalty program so owning a Dillard's credit card is only possible way shoppers could earn rewards from their store purchases. Still, this card is not well-suited for the casual shopper and cardholders will likely get more benefit from the early access to sales and other store perks rather than from earning points.
The card is rather unexciting when compared to other retail cards. If you are want early sale access and special Club Plan financing, you'll have to settle for unimpressive earning rates in the card's bonus categories – an unremarkable 2X points at Dillard's, gas stations, and grocery stores — and spend nearly a grand before you see your first reward.
While the points and the earning structure leave much to be desired, the Club Plans is card's best perk – albeit, a very limited one. Big spenders can count on special financing for 12 to 24 months…but only for purchases made in three niche departments.
Overall, we weren't impressed by the Classic Dillard's credit card (the Elite version, however, is actually tempting). The number of points needed is high and the rewards are meager at best, requiring shoppers to spend large amounts to wring any real value out of this card – and even then, the opportunities to do so are limited thanks to the cap on Shopping Passes.
If you don't foresee buying furniture, a custom suit, or decorative pillows you'd probably be better off with a different credit card that offers flat rate cash back on all purchases (you could get $15 back for the same spend needed to earn a $10 Dillard's reward) or a credit card with better bonuses for department stores, like the U.S. Bank Cash+™ Visa Signature® Card which offers 5% back on department stores up to $2,000.
Browse Other Wells Fargo Credit Card Offers:
Editorial Disclosure – The opinions expressed on BestCards.com's reviews, articles, and all other content on or relating to the website are solely those of the content's author(s). These opinions do not reflect those of any card issuer or financial institution, and editorial content on our site has not been reviewed or approved by these entities unless noted otherwise. Further, BestCards.com lists credit card offers that are frequently updated with information believed to be accurate to the best of our team's knowledge. However, please review the information provided directly by the credit card issuer or related financial institution for full details.