by Cory Santos | Last updated on September 25th, 2023
Dillard's Elite American Express® Card
30.24% variable based on the Prime Rate

Regular Purchase APR

32.24% variable based on the Prime Rate

Cash Advance APR
At a Glance
Dillard's Elite American Express® Card is a significant jump in credit card perks compared to the Classic version of the card. Cardholders will still have 2X points on Dillard's, gas station, and grocery store purchases. Now, however, they can earn double points with special events each month for 4X points per Dillard's purchase plus additional store perks like free shipping on all online orders – still with no annual fee
Best Benefits
Rates & Fees
Why Should You Apply?
Your choice of $10 Rewards Certificate of 10% Off Shopping Pass for every 1,500 points earned

2X points at Dillard's (in-store and online)

2X points at gas stations and grocery stores

1X points on all other purchases

Free standard shipping on all purchases

Up to 24 months of interest-free financing on select Dillard merchandise

Free gift wrapping for in-store purchases

Monthly bonuses for double the points (4X)

Early access to sales and private shopping events
Regular Purchase APR: 30.24% variable based on the Prime Rate
Cash Advance APR: 32.24% variable based on the Prime Rate
Cash Advance Transaction Fee: Either $10 or 4% of the amount of each cash advance, whichever is greater
Foreign Transaction Fee: 3% of the transaction amount in U.S. dollars
Late Payment Penalty Fee: Up to $40
You annually spend $2,000+ at Dillard's

You primarily shop online or don't live near a brick-and-mortar Dillard's store

You spend less than $150 per online order

You will pay your monthly balance in full each month

You want unlimited rewards for department store purchases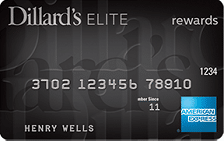 Dillard's Elite American Express® Card Review
The Dillard's Elite American Express® Card is just as special as the name would suggest. As the premier version of Dillard's credit card, Elite status brings with it several notable perks that make this card far superior (and much more worthwhile) to the original version of the card.
In addition to having all the benefits of the standard Dillard's credit card, the Elite version has a stronger earning rate, better shopping perks and even a dedicated customer service phone line. While the card technically does not have an annual fee, to qualify requires spending $2,000 at Dillard's every calendar year—which makes for a hefty unofficial yearly cost. Still, if you find yourself regularly spending over $150 per Dillard's shopping trip, you'll find a bevy of little perks that add up for a VIP shopping experience. While Elite status does not guarantee more savings at checkout, it means that cardholders will be able to earn $10 Rewards Certificates and 10% Off Shopping Passes twice as fast as their non-Elite counterparts (which still requires having 1,500 points to qualify for).
How to Get the Dillard's Elite American Express® Card
The Elite Dillard's credit card cannot be applied for directly. Instead, potential cardholders must qualify for the upgraded card by meeting two requirements:
Already own the Classic Dillard's American Express® Card (blue)
Spend $2,000 at Dillard's during the calendar year
Once the minimum spend requirement has been met, eligible cardholders will receive their sleek new card (and upgraded status) with the first 10 business days in the following month. However Elite status is not permanent and must be earned every calendar year. If you do not meet the spending requirement you will be issued the Dillard's standard blue American Express once again. Unlike other elite versions of retail cards, Dillard's has a fairly reasonable yearly spend requirement which breaks down to about $167 a month.
Will Upgrading to the Elite Card Affect Your Credit History?
Fortunately, this doesn't appear to be the case. Everything about your card will remain intact after being upgraded to Dillard's Elite status. This includes your card number, account history, and – for better or for worse – your current credit limit.
Signup Bonuses & Introductory Offers
Since the Dillard's Elite American Express® Card isn't a brand-new line of credit, there is no welcome bonus or other introductory offer made to Elite cardholders.
Earning Points with Dillard's Elite Status & Double Point Bonuses
Sadly, the upgraded Dillard's card does not provide an improved bonus rate for store purchases and has an identical rewards structure as its predecessor:
2X points per dollar spent at Dillard's
2X points per dollar spent at gas stations
2X points per dollar spent at grocery stores
1X points per dollar spent everywhere
However, where the Elite version of the card shines is that cardholders will have the opportunity to earn double points at Dillard's for a total of 4X points per dollar once a month. This bonus takes the form of a bonus sale, usually at the end of the month. Cardholders that are eligible for bonus points are notified of the sale either via email or letter the week before. While this does not entirely make up for the card's weak bonus categories, it helps that this perk occurs on a regular basis. Ideally, cardholders should wait until these bonus categories to make their Dillard's purchases. It requires earning 1,500 points to receive a reward, and strategically using the monthly bonus periods would cut the required spending in half—needing only spend $375 rather than $750 per reward.
Redeeming Points for Dillard's Rewards
When cardholders reach 1,500 points, they will have two options to choose from for the redemption of their points – both of which offer savings on the total price at the Dillard's checkout. 
A) Rewards Certificate – These are available at $10 intervals and can be used on any merchandise category (except gift cards) at both Dillard's and dillards.com. Multiple reward certificates can be applied to a single transaction; however, it's recommended that your purchase total is greater than your total reward certificate amount – any unused value will be forfeited. 
B) Shopping Pass – A 10% discount that can be used on an entire calendar days' worth of purchases. There is no minimum or maximum purchase amount in which these coupons can be applied, however, they cannot be combined with any other percentage-off coupons. 
Only one Shopping Pass can be used per day, meaning that 10% discounts cannot be combined. Charges must be made to a Dillard's credit card to be eligible for Shopping Pass use. Cardholders are automatically enrolled to receive a 10% Off Shopping Pass, however, this can be changed at any time by calling customer service. Your preferred reward type will remain intact until you choose to change it again. Note that it can take up to two billing cycles for the changes to take effect. Unfortunately, there are limitations to how many rewards can be earned in a single billing cycle as well an annual cap which puts big spenders at a disadvantage.

Easily the most practical and appealing benefit of the Dillard's Elite American Express is the complimentary standard shipping on online purchases. Normally, shoppers would either need to spend $150 or shell out $9.95 in shipping fees for smaller orders. Thanks to this card perk, smaller spenders (or those who make several small purchases at a time) can order without a second thought. However, cardholders should note that this perk only covers shipping costs up to $16.95 which means the standard shipping to Alaska, Hawaii, and the U.S. territories is unavailable (costs $25), nor is expedited shipping to the continental U.S. (which costs $20).
Complimentary Gift Wrapping
A less-widely used – but still practical – card benefit are the free gift wrap services. If Dillard's is the department store you typically turn to when it comes to buying presents or gearing up for the holiday gift-giving season, this little perk will save you $6 a pop – an amount that quickly adds up if you were hoping to have the professionals handle your presents.
Private Shopping Events – If you were hoping for VIP treatment while shopping, the Elite Dillard's card touts "private shopping events" as one of its incentives. While it is unclear what these types of events entail exactly, it appears that these events can vary by location and will depend on your local store. 
One Day Early Access to Dillard's Clearance Events – This perk is available in the Classic Dillard's American Express Card 
Special No-Interest Financing – Another feature available with the Classic Dillard's card. Purchases of $200 or more in the Men's Tailoring, Furniture, or Home Furnishings department can receive 12 months of 0% interest financing.
Should You Apply for the Dillard's Elite American Express® Card?
The Elite version of the Dillard's card has far more cardholder appeal than its predecessor (the Classic Dillard's American Express) as well as the potential to provide a lot more value, but the card itself still lacks enough benefits to be compelling for the casual Dillard's shopper. If you already spend $2,000 at Dillard's, then this card is a natural fit. 
However, for those whose spending tends to be on the lower side, this card does not offer enough incentive to warrant increasing (and maintaining) and higher level of spending in order to qualify for it. The opportunity to earn double points each month is a great improvement on the standard Dillard's credit card, but truthfully, that increased point-earning capability should have been built into the upgraded version of the card. 
Elite cardholders will have to spend $350 rather than $750 in order to earn a reward – but it's still a significantly higher spend requirement than other similarly structured retail card reward programs. This just goes to show how severely lacking the original Dillard's card offerings are, where moderate improvements make the Elite version seem significantly better. Make no mistake, Dillard's Elite American Express® Card is quite unremarkable and simply improves on a credit card that had the bar set very low to begin with.
Browse Other Wells Fargo Credit Card Offers:
Editorial Disclosure – The opinions expressed on BestCards.com's reviews, articles, and all other content on or relating to the website are solely those of the content's author(s). These opinions do not reflect those of any card issuer or financial institution, and editorial content on our site has not been reviewed or approved by these entities unless noted otherwise. Further, BestCards.com lists credit card offers that are frequently updated with information believed to be accurate to the best of our team's knowledge. However, please review the information provided directly by the credit card issuer or related financial institution for full details.