Last updated on September 20th, 2023
Advertiser Disclosure
close ×
Advertiser Disclosure – BestCards is an independent, Florida-based credit card comparison platform. Many of the card offers that appear on this site are from companies from which BestCards receives compensation. This compensation may impact how and where products appear on this site (including, for example, the order in which they appear). BestCards does not include all card companies or all card offers available in the marketplace.
Editorial Disclosure
close ×
Editorial Disclosure – The opinions expressed on BestCards' reviews, blogs, and all other content on or relating to the website are solely those of the content's author. They are not reflective of any card issuer or financial institution and have not been reviewed or approved by these entities unless otherwise noted. Further, BestCards lists credit card offers that are updated daily with information believed to be accurate to the best of our knowledge.
See Terms*

Regular Purchase APR

See Terms*

Cash Advance APR
At a Glance
The Cerulean Mastercard offers a lifeline to those with imperfect credit by providing unsecured credit lines and monthly reporting to the major credit bureaus.
Best Benefits
Rates & Fees
Why Should You Apply?
All credit types welcome to apply!

Monthly reporting to the three major credit bureaus

Initial Credit Limit of $300.00 to $1,000.00* (subject to available credit)

Fast and easy application process; results in seconds

Use your card at locations everywhere that Mastercard® is accepted

Free online account access 24/7

Checking Account Required
Regular Purchase APR: See Terms*
Cash Advance APR: See Terms*
Cash Advance Transaction Fee: See Terms*
Annual Fee: See Terms*
Foreign Transaction Fee: See Terms*
Late Payment Penalty Fee: See Terms*
Return Payment Penalty Fee: See Terms*
You have damaged credit

You want to establish a good credit history with on-time payments

You don't have the funds for a security deposit

You have a mail-offer to apply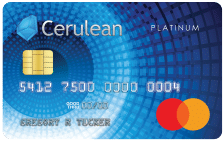 Cerulean Credit Card Review
The Cerulean Mastercard is a credit repair credit card that offers a lifeline for those with bad credit. The card from Continental Finance is a starter credit card that can help cardholders build a positive credit history with financially responsible use. The card features a fast and easy application process with results available in minutes – alleviating the stress of waiting for a credit card application decision via the mail.
Build Credit with Manageable Credit Limits
Like other credit cards for bad credit, the Cerulean credit card features a modest starting credit limit. Successful applicants enjoy an initial credit line of between $300 and $1,000 – with better credit scores receiving higher credit limits
While the credit limits with the Cerulean Mastercard aren't exceptional, they do provide access to unsecured credit – something that can be critical for building a good credit score. Additionally, Continental Finance may offer credit limit increases after six months should the cardholder make their payments on time and display good financial habits.
How to Build Credit with the Cerulean Credit Card
At its heart, the Cerulean Mastercard is designed to help establish a positive credit history – assisting the users in graduating to better rewards credit cards in the future. Building credit requires responsible credit card use – a process that involves paying on time every month and keeping credit use low.
Payment history and credit utilization account for two-thirds of what comprises a person's FICO credit score – the most popular credit scoring model among lenders. By paying at least the Cerulean Mastercard statement's minimum amount due every month and keeping credit use below 30% of the overall credit limit, cardholders can build a good credit score over time.
Related Article:  What Are the Easiest Credit Cards for Bad Credit to Get?
Rates and Fees
Since good credit is not required to be approved for the Cerulean Mastercard, it features higher interest rates than some other credit cards on the market. Additionally, some fees associated with this card may not be present with other similar credit cards. These fees include variable annual and monthly maintenance fees depending on the card offer received and the applicant's creditworthiness.
Continental Credit Protection
Like other continental Finance products, the Cerulean Mastercard provides optional access to the Continental Credit Protection program for an additional surcharge. Cardholders can access this feature by paying $0.99 for every $100 in outstanding balances on their card account. If selected, Continental automatically bills this fee each month.
This protection benefit serves as a debt cancellation program if the cardholder loses their job or becomes disabled. The program covers up to 12 consecutive minimum monthly payments for those that meet the qualifications. This program also pays off any balance in full, should the cardholder pass away.
Other Card Features
Other notable features of the Cerulean Mastercard include:
Mastercard Zero Fraud Liability coverage
Ability to use anywhere Mastercard is accepted worldwide
3% foreign transaction fee
Free online account access 24/7
Monthly reporting to the three major credit bureaus (Experian, Equifax, and TransUnion)
Should You Apply for the Cerulean Credit Card?
If you have bad credit, the Cerulean Mastercard might be a good option to help re-establish a positive credit history and reclaim your financial health. The card is currently only available to those who receive a mail offer – like the Verve Mastercard.
Fortunately, Continental Finance offers other credit cards that are available for application, including the FIT Platinum Mastercard, the Reflex Platinum Mastercard, and the Surge Platinum Mastercard. The lender also offers the impressive Surge Platinum Secured Mastercard that provides 1% cash back on all eligible purchases.
However, if you do receive a mail offer, the card provides a decent platform for rebuilding credit. It might not offer rewards in the form of cash back, but establishing a good credit score and graduating to more impressive card offers in the future is reward enough. Those with no credit history at all should consider a merchandise card, like the Boost Platinum, Freedom Gold, Buy on Trust, or Unique Platinum. 
Browse Other Card Offers: