Last updated on September 19th, 2023
Advertiser Disclosure
close ×
Advertiser Disclosure – BestCards is an independent, Florida-based credit card comparison platform. Many of the card offers that appear on this site are from companies from which BestCards receives compensation. This compensation may impact how and where products appear on this site (including, for example, the order in which they appear). BestCards does not include all card companies or all card offers available in the marketplace.
Editorial Disclosure
close ×
Editorial Disclosure – The opinions expressed on BestCards' reviews, blogs, and all other content on or relating to the website are solely those of the content's author. They are not reflective of any card issuer or financial institution and have not been reviewed or approved by these entities unless otherwise noted. Further, BestCards lists credit card offers that are updated daily with information believed to be accurate to the best of our knowledge.
Brex Mastercard® Corporate Credit Card
At a Glance
Brex is a fintech credit card and charge card with startups, entrepreneurs, and small businesses in mind. The Brex Mastercard offers no annual fee, no hidden fees, and credit limits "10 – 20X higher" than other corporate credit cards.
Best Benefits
Rates & Fees
Why Should You Apply?
10-20X higher limits than traditional business credit cards

No personal guarantee required

No fees and no interest charges

Create virtual credit cards for your team as soon as you're approved

Built-in QuickBooks, NetSuite, and Xero integrations
You're willing to repay your balance in full within 30 days

You need access to a high credit limit

You travel for business frequently

You plan to make use of Amazon Web Service (AWS) and Google Ad so you can earn credits provided by Brex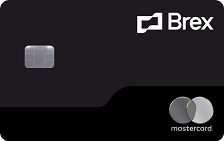 Brex Mastercard Review
The Brex Mastercard is an attractive corporate card for those who are looking to grow – and want a  card that grows with their business.
Brex prides itself on providing credit limits "10 – 20X higher" than other corporate credit cards. This ability is based on a number of factors, including cash flow, business model, and Brex's outlook for the startup's future.
Uniquely, Brex's credit model updates every month. This regular updating means a company's credit limits may change monthly.  This feature is designed to help a business regulate their spending and avoid depleting their financial resources.
No Personal Guarantee Required
The Brex Business Card's most significant highlight for Startups is that it requires no personal guarantee to apply. A personal guarantee is a standard feature for business credit cards. This security makes an applicant accept personal liability for the business' debts – including credit card debt.
Because Brex does not require a personal guarantee, startup founders have no personal liability for their credit line. This process makes the Brex Card an excellent option for businesses as it removes some of the fears of business failure.
Easy Application Process
The Brex Card for Startups makes signing up for the card a breeze. Startups don't need to provide a Social Security Number (SSN) when applying.
You will still need to provide some essential information, such as banking and financial information, plus the company's employee identification number for tax purposes. Still, the whole process is very quick – with startups getting a credit decision in just minutes.
Streamlined Account Management Through Brex Cash
Since Brex is a fintech startup, their fintech credit card enjoys excellent integration into the Brex ecosystem. Brex Cash is that ecosystem.
Brex Cash is an FDIC insured business banking account with unlimited free wire transfers. The Brex Card enjoys seamless integration into this platform, which provides quick integration with QuickBooks, instant e-commerce sales payouts, business management tools, and additional reward multipliers on purchases.
Big Rewards
The Brex Mastercard offers huge rewards on the types of purchases startups thrive on. Cardholders earn:
7X points on rideshares, including Uber and Lyft
4X points on purchases made through Brex Travel
3X points on restaurant purchases
2X on recurring software purchases
1X on all other purchases
The 7X points on rideshares and 4X on travel make the Brex Card the perfect companion for startups that plan to issue multiple cards – and plan to use them to spend heavily on growing their business. Equally impressive is the 2X on software purchases, meaning companies can reward themselves for purchasing the software they need – instead of avoiding the costs.
Valuable Offers
Brex also offers startups a huge array of offers worth up to $25,000. This includes an impressive $5,000 credit for Amazon Web Services (AWS) for all Brex customers. Other offers include Google Ads, AWS Activate credits, and more.

Mastercard World Elite Benefits
The Brex Mastercard for Startups is a World Elite Mastercard for Business card product. World Elite is the pinnacle of Mastercard perks, with benefits including:
Mastercard Luxury Hotel Collection
World Elite Airport Concierge
Cell Phone Protection
ID Theft Protection
Zero Fraud Liability
Global Emergency Services
Startups can also take advantage of Mastercard Easy Savings® to receive additional discounts at participating merchants worldwide. Deals are automatically added to purchases made with Brex Card – so there is no need to worry about activating bonus categories.
Should You Apply for the Brex Mastercard® Corporate Credit Card?
The Brex Mastercard is a unique corporate card option that offers more than almost any other card on the market. Despite this, however, the card's appeal is relatively narrow.
The Brex Card is perfect for startups and corporations with substantial cash reserves in the bank, who want access to higher credit limits than typically come with business credit cards and are willing to reveal their banking details to Brex.
However, for those that fit the bill, the Brex Mastercard for Startups is impressive – to say the least. The ability to earn massive amounts of points is easy for the startup that prioritizes their travel spending and wants to earn rewards on their software purchases. The addition of credits for AWS, Google Ads, and more are just the icing on the cake for this exceptional corporate charge card.
Browse Other Card Offers: