Last updated on September 11th, 2023
Advertiser Disclosure
close ×
Advertiser Disclosure – BestCards is an independent, Florida-based credit card comparison platform. Many of the card offers that appear on this site are from companies from which BestCards receives compensation. This compensation may impact how and where products appear on this site (including, for example, the order in which they appear). BestCards does not include all card companies or all card offers available in the marketplace.
Editorial Disclosure
close ×
Editorial Disclosure – The opinions expressed on BestCards' reviews, blogs, and all other content on or relating to the website are solely those of the content's author. They are not reflective of any card issuer or financial institution and have not been reviewed or approved by these entities unless otherwise noted. Further, BestCards lists credit card offers that are updated daily with information believed to be accurate to the best of our knowledge.
30.24%

Regular Purchase APR

30.24%

Cash Advance APR
At a Glance
The Avant Credit Card is a beginner-friendly credit-building tool that intentionally omits the bells and whistles. Perfect for someone looking to get their first credit card but is equally adept at rebuilding a dinged credit score.
Best Benefits
Rates & Fees
Why Should You Apply?
Check eligibility with no hard pull

Elegant mobile interface for monitoring purchases

Zero fraud liability

No foreign transaction fee
Regular Purchase APR: 30.24%
Cash Advance APR: 30.24%
Cash Advance Transaction Fee: Either $10 or 3% of the amount of the cash advance, whichever is greater
Annual Fee: $0 to $59
Late Payment Penalty Fee: Up to $39
You are looking to build credit for the first time

You do't require more than a $1,000 credit limit

You will pay off your card balance in full each month

You want to check for pre-qualification prior to applying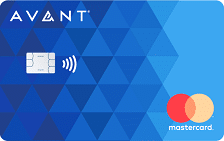 Avant Credit Card Review
The Avant Mastercard is a worthy option for those looking to open their first credit card, improve a low (but not damaged) score, or build good credit card habits. Approval requirements are non-traditional which is a huge advantage to people with no credit history.
Instead of relying on a score, Avant takes factors like income and bank account balances into consideration when making their decision. So, while it may not be the most exciting starter card in on the market, credit newbies have much better odds of being approved compared to traditional beginner cards from major issues.
What the card lacks in frills (like reward points or signup bonuses), it makes up for with accessibility and ease of use. It's a well thought out—and low cost—alternative to a secured card, that prizes transparency and simplicity above all else. Although the card does carry an annual fee, it's a reasonable one and cardholders won't have to worry about maintenance fees or any of the other costs commonly associated with cards for limited credit histories.
Build Credit Without a Security Deposit
The shining glory of the Avant card is that it's accessible to those with limited credit history, no credit history, and bad credit (the low 600's). The credit cards available to these types are limited, with secured cards being an almost guaranteed option but one that comes at the cost of the upfront cost of the security deposit. Credit builders can bypass this intermediary step with the Avant card and—most importantly—avoid tying up their cash as collateral for a secured card credit line. While the annual fee can go up to $49, it's still certainly less than the hundreds (or thousands) of dollars need to secure a credit line.
Small Credit Limits
Those hoping for a credit card to finance large purchases will have no such luck with the Avant credit card—but this limitation could actually be a benefit to cardholders rather than a drawback.
Credit limits start at $300 and have a maximum range of $1,000 – small but fitting for the card's purpose. Rather than being a financial tool to funding life's big expenditures, the Avant credit card is meant for smaller, everyday purchases. For this reason, it's understandable why this card doesn't offer an introductory purchase offer nor the ability to conduct balance transfers. if you're nervous about owning a credit card because of spending beyond your means, the way the Avant card is designed to set up every cardholder for long-term credit score success.
Credit-Building Card Features
The Avant credit card doesn't have as much in place as other credit building cards might, however, it certainly has the capabilities to help one improve their score. For starters, Avant reports to all three credit bureaus: Experian, Equifax, and Transunion and has a reputation for reporting to them immediately. Additionally, Avant conducts regular reviews of accounts with the potential of credit limit increases. Cardholders can also initiate a review by contacting Avant directly to request a credit limit increase (although this method may result in another inquiry on your credit report).
Avant Credit Card Eligibility Requirements
Basic requirements are standard ones: applicants will need to be at least 18 years old and have a Social Security number, email address, and a non-P.O box address. Cardholders typically have credit scores in the 600-700 range, but this does not mean people with no previous credit history are excluded from consideration. As an alternative type of credit card, the Avant card has more flexible approval odds than a traditional card issuer. The only definite exclusions for the Avant card includes applicants in the following states where it is not yet available:
Colorado
Iowa
Vermont
West Virginia
Wisconsin
The Avant credit card does not currently allow for co-signers or co-applicants (for joint accounts) and thus, neither can be used to increase the likelihood of approval. While the thought of applying solo can leave first-time applicants feeling nervous about their odds, Avant's commitment to transparency helps to demystify the process.
Check for Pre-Qualification Before Applying
Individuals are automatically reviewed to see whether they pre-qualify prior to submitting an application—it's built into the application process. A useful feature in general, this is particularly beneficial to the applicant who has already faced several denials and is close or beyond the recommended number of inquiries. Although the pre-qualification process asks for a full Social Security number this is not a hard pull. This information is needed to generate your specific offer which includes things like your annual fee and APR. Should you find the card terms favorable, you can submit an actual application that will cause a hard pull. Keep in mind that pre-qualification offers are never hard and fast guarantees. These are meant to provide an indication of one's likelihood for approval.
Should You Apply for the Avant Credit Card?
Simple and straightforward to use, the Avant credit card was designed with first-time and intermediate credit card users in mind.
Yes, card functionality is restricted to purchases and cash advances (no balance transfers) and credit limits are intentionally low, but it's a small price to pay for the ability to check for pre-approval and having fewer fees than many other starter credit cards.
This card is a great alternative to a secured card and a decent option for someone wanting to open a credit card for credit building purposes (rather than trying to finance large purchases).
The Avant card has the potential to help fix bad credit, but it's better suited for building credit– not necessarily repairing it. The deliberate card caps are meant to encourage credit beginners to become familiar with using credit and help establish good habits with minimal distractions. So, while it may lack rewards, signup bonuses, introductory offers, or third-party perks 1) that's not unusual for cards of this type and 2) shouldn't be a priority for someone looking to kickstart their credit file, anyways.
Browse Other WebBank Credit Card Offers: