Last updated on September 21st, 2023
Advertiser Disclosure
close ×
Advertiser Disclosure – BestCards is an independent, Florida-based credit card comparison platform. Many of the card offers that appear on this site are from companies from which BestCards receives compensation. This compensation may impact how and where products appear on this site (including, for example, the order in which they appear). BestCards does not include all card companies or all card offers available in the marketplace.
Editorial Disclosure
close ×
Editorial Disclosure – The opinions expressed on BestCards' reviews, blogs, and all other content on or relating to the website are solely those of the content's author. They are not reflective of any card issuer or financial institution and have not been reviewed or approved by these entities unless otherwise noted. Further, BestCards lists credit card offers that are updated daily with information believed to be accurate to the best of our knowledge.
29.24% variable based on the Prime Rate

Regular Purchase APR

29.24% variable based on the Prime Rate

Balance Transfer APR

29.99% variable based on the Prime Rate

Cash Advance APR
At a Glance
The AmTrust Secured Card is a no annual fee secured card designed to help those with damaged credit – or those new to credit entirely – boost their credit score and advance to an unsecured card. The card minimum security deposit of $300, which could be refunded in as little as 11 months, and the card switched to the unsecured Platinum Card, based on good payment history. The card account charges no annual fee.
Best Benefits
Rates & Fees
Why Should You Apply?
No annual fee

Qualify for a credit line increase in as little as 7 months

Get upgraded to the Platinum Edition unsecured card in as little as 11 months

Credit limits between $300 and $5,000
Regular Purchase APR: 29.24% variable based on the Prime Rate
Balance Transfer APR: 29.24% variable based on the Prime Rate
Balance Transfer Transaction Fee: Either $10 or 5% of the amount of each transfer, whichever is greater
Cash Advance APR: 29.99% variable based on the Prime Rate
Cash Advance Transaction Fee: Either $15 or 5% of the amount of each cash advance, whichever is greater
Foreign Transaction Fee: 3% of the transaction in U.S. dollars
Late Payment Penalty Fee: Up to $40
Return Payment Penalty Fee: Up to $35
Minimum Deposit Required: $300
You're looking to boost your credit score

You're new to credit entirely or have had credit troubles in the past

You want to establish good credit habits and graduate to an unsecured card

You do't want to pay an annual fee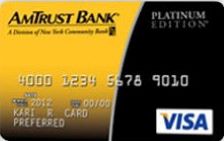 AmTrust Secured Card Review
Secured credit cards typically offer little more than a chance to boost a flagging credit score, and the Secured Visa from card issuer AmTrust Bank certainly fits that mold. The card is a no-frills secured card that offers little more than the lifeline a person needs to establish or repair their credit.
Related Article: What Are the Easiest Credit Cards for Bad Credit to Get?
Flexible Credit Limits
The AmTrust Secured Card requires a deposit that acts as collateral and the credit limit on the account. AmTrust (a financial institution that is part of New York Community Bank) stipulates that deposits must be made in $50 increments, with the smallest deposit of $300, and the maximum deposit of$5,000. All deposit accounts are not held by AmTrust Bank, but by First Bankcard, the issuer of all AmTrust (and NYCB) credit cards. Deposits are held in a joint bank account that does not earn interest but are returnable once you close your account.
A Route to an Unsecured Card in as Little as One Year
AmTrust Bank understands that secured cards can seem like the last hope for many. They also seem to grasp that having a light at the end of the tunnel is something that can motivate people to practice financial responsibility and boost their credit score.
AmTrust provides a clear roadmap for cardholders to follow, as cardholders have the chance at a credit limit increase in as few as seven months. Credit increases are great, but what makes this opportunity even better is the fact that any increases AmTrust grants don't require an additional deposit. This means that cardholders can take their first step from secured to unsecured – without losing their safety net.
Regardless of any credit increases, cardholders who display financial responsibility can advance to an unsecured card and have their entire deposit refunded in as little as eleven months. This offers a great chance for those who want to make the jump to an unsecured card (the AmTrust Platinum Edition)and are willing to put the work in to get there.
Don't Carry a Balance
The AmTrust Secured Card's fixed APR is high, even for a secured card. The rate, which hovers in the mid-20s isn't conducive to carrying a balance. Since part of building credit is making on-time payments; however, the dizzying APR shouldn't pose a threat to anyone with plans to pay their entire balance on time.
Should You Apply for the AmTrust Secured Visa?
Minus exceptions, like the Discover It Secured with its rewards program, many secured credit cards are pretty much the same. After all, with a secured card it's the end goal that is important, not the perks.
AmTrust understands the ends, and through their AmTrust Secured Card provides the means to give hope to those rebuilding their credit. Every on-time payment and positive habit brings cardholders a step closer to either having their credit limit increased, or their entire deposit returned and their card upgraded to the Platinum Edition Card. Secured cards are all about commitment and doing the work needed to get to where you want to be – AmTrust understands this and rewards those willing to help themselves.
Using the card responsibly and monitoring your FICO credit score can help you graduate from a card for bad credit to a rewards card or low APR credit card in the future.
If you are looking for a card with a lower rate, he First Progress Platinum Prestige Mastercard® is another excellent secured card to consider. Otherwise, the AmTrust is a reliable bet – provided you keep your balances low and pay your full bill every billing cycle.
For more information on secured credit cards, visit our Comprehensive Secured Card Reference Page, featuring the best-secured card offers, detailed advice, and tips to help you build your credit history.
Browse Other AmTrust Bank Credit Cards:
Browse Other AmTrust Bank Credit Cards: