The airline industry was one of the sectors hardest hit by the coronavirus pandemic last year. Now, Southwest Airlines is trying to entice rewards members to resume flying with the carrier via an impressive bonus points gift. Here is what you need to know about Southwest offering bonus points to Rapid Rewards members – and providing a Companion Pass extension.
Southwest Credit Cardholders Now Enjoy No Cap on TQPs
One of the first benefits Southwest is providing Rapid Rewards members is removing the cap on tier qualifying points (TQPs) that Rapid Rewards credit cardholders can earn.
In a press release and email blast to members, the airline stated that:
Our Premier, Priority, Premier Business, and Performance Credit Cardmembers can earn 1,500 tier qualifying points toward A-List or A-List Preferred for every $10,000 spent using their Rapid Rewards Credit Card from the first day of the January 2021 billing cycle through the last statement of 2021 (the "promotion period") without the cap on how many TQPs you can earn toward A-List and A-List Preferred during the promotion period. That means you can earn A-List or A-List Preferred purely by using your Rapid Rewards Credit Card.
Current Southwest Credit Cards
Companion Pass Extension
Southwest is extending its Companion Pass tier benefits through the end of the year. Companion Pass members that earned the honor through June 30, 2021, will have those benefits extended through the end of 2021 (December 31, 2021).
However, this extension does not apply to Companion pass members that previously received an extension through June 30, 2021.
 The Companion Pass is one of the biggest reasons that frequent flyers love the Rapid Rewards program. The Companion Pass allows a companion to fly with a traveler for just the cost of taxes and fees. To earn a pass, members must make at least 100 qualifying one-way trips with Southwest in a calendar year – no mean feat. The only other way to obtain this pass is by accumulating 125,000 points.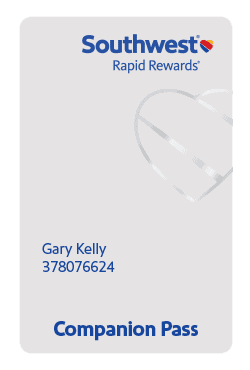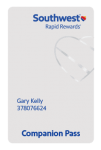 Rapid Rewards Bonus Points
Southwest Airlines is also extending bonus points and qualifying flights for Rapid Rewards members who opened their account prior to December 31, 2020. The airline is making it easier to reach A-List, A-List Preferred, and Companion Pass tiers by gifting members:
15,000 TQPs
25,000 Companion Pass qualifying points (CPQPs)
10 qualifying flight credits (towards A-List and A-List Preferred status)
25 qualifying flights (towards Companion Pass)
Bonus Points and Qualifying Flights Fine Print
Boost points (TQPs and CPQPs) cannot be redeemed for travel or be transferred, donated, or redeemed through More Rewards. Boost points and qualifying flight segments are only available toward A-List, A-List Preferred, or Companion Pass qualifying balances for the 2021 calendar year. Boost points and qualifying flight segments will be given to anyone with a Rapid Rewards account opened by December 31, 2020. Once boost adjustments have been awarded, the qualifying points and flight segments will be added to your tier and Companion Pass progress bars. Boost adjustments will not display as separate transactions within your points activity.