American Express and Delta are joining forces to offer a once-in-a-lifetime chance for aviation fans everywhere. The payment giant is using a Boeing 747 for a new, limited-edition version of its Delta SkyMiles® Reserve credit card.
About the New, Limited Edition Card Design
From June 16 through Aug. 3, 2022, customers can apply for the Boeing 747 Delta SkyMiles Reserve and Reserve Business Card – while supplies last. Along with best-in-class travel benefits, it comes with access to exclusive content via augmented reality (AR) experience with the welcome kit.
The AR experience (created especially for this limited-edition card design) features the history of the Delta Ship #6307 (the plane used for the limited edition credit card) and the Boeing 747, flight stories, and the card transformation.
Here is a look at the new design and the original Delta Reserve card art. Interestingly, cardholders not intrigued by the new Boeing design can opt for the original metal version of the card or select a plastic option made from 70% reclaimed plastics: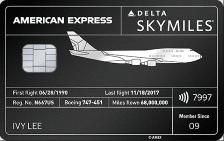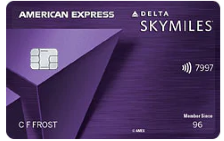 About the Plane
The Boeing 747 Reserve Card started out as Delta ship #6307, a now-retired Boeing 747- 451. The Boeing 747, known as "The Queen of the Skies" and "The Jumbo Jet" for its majestic presence and distinctive "hump," set the stage for many advancements in air travel and was a beloved part of Delta's fleet.
"The Most Unique Card Design to Date"
Despite being created from aircraft-quality materials, the ability of the Boeing'smetal to withstand the rigors of life inside a cardholder's wallet. "This metal was made to fly, and it's actually softer than you think," said Jon Gantman, senior vice president and general manager of cobrand-product management at American Express. "It's very different from banging around in your wallet.
"This is the most unique card design Delta and Amex have created to date," he added. "To transform fuselage into metal that can withstand the wear and tear of everyday use while still functioning as a contactless credit card was a huge feat. This special-edition Boeing 747 card design is one more way Delta and American Express continue to partner together to bring Card Members unique products and experiences."
Related Article: Cardless Launches LATAM Mastercard Credit Cards
Featured image by American Express/Delta Air Lines
Editorial Disclosure – The opinions expressed on BestCards.com's reviews, articles, and all other content on or relating to the website are solely those of the content's author(s). These opinions do not reflect those of any card issuer or financial institution, and editorial content on our site has not been reviewed or approved by these entities unless noted otherwise. Further, BestCards.com lists credit card offers that are frequently updated with information believed to be accurate to the best of our team's knowledge. However, please review the information provided directly by the credit card issuer or related financial institution for full details.