Last updated on August 24th, 2023
Many people opt for a gift card when selecting gifts for friends and family, thinking they offer the best value for money and flexibility as a present. If you are thinking about getting a gift card, you should take the time to consider choosing a prepaid debit card instead.
Gift Cards vs. Prepaid Cards
Gift cards and cash are the most popular choices for gifts, according to the Huffington Post. After all, when it comes to giving gifts, conventional wisdom holds that giving a gift card is the best way to go if you can't think of anything else as a present.
Here's a quick breakdown of how gift cards and prepaid/debit cards differ:
| | |
| --- | --- |
| Gift Cards | Prepaid Cards |
| Usually cannot be relaoded | Can be roladed |
| Usually can only be used at select retailers | Make purchases anywhere the payment network is accepted |
| Typically can only be used for purchases | Issued through a bank or dedicated card company |
| No fees in most instances | Might have account fees |
Gift cards are a popular option because they are safer than cash and allow the recipient to buy whatever they want at a store. What if there were a better option than gift cards, however? Prepaid cards may be the solution you are looking for.
Prepaid debit cards are like gift cards in that they require an up-front payment to open. Like gift cards, prepaid debit cards work by requiring money be loaded onto the card in advance. And, like gift cards, they can be used to pay for products or services. Prepaid debit cards, however, unlike gift cards, can also be used for several other transactions, including:
Money transfers
Direct deposits from checking accounts
ATM withdrawals
Prepaid debit cards also come with security from fraud and other purchase protections from the issuer – usually a major credit card issuer like American Express, Visa, or Mastercard. Additionally, they come with the purchasing power of that issuer, meaning they are likely to be accepted almost globally (in the case of visa prepaid card), but indeed much more widely than a simple gift card.
When Should You Consider a Gift Card?
Just because gift cards only work at specific retailers doesn't mean they aren't a great option. Here are some instances where you might choose to opt for a gift card instead of a prepaid card:
① You don't know what to get as a present
② Don't want to pay monthly fees for an account
③ You want a more versatile gift with wider acceptance (Visa, Mastercard, Amex gift cards)
④ You really need a last minute gift
Why Prepaid Cards are Better Than Gift Cards
For personal use, a prepaid card is a much better option than a gift card. This is especially true if you plan to reload the card or use it at a wider range of shops than a store-tied gift card. Here are some reasons why you might opt for a prepaid card instead of a gift card:
If a gift card is lost or stolen, the holder of the card is out of luck, unless they report the card stolen before the gift card balance is spent. With a prepaid card, the prepaid gift card balance (what you place on the card) is protected through the issuer in much the same way a credit card protects the holder from fraud or theft.
Gift cards are usually valid for five years, whereas a prepaid card may be closed if the account is inactive for six months, a year, or more. Always be sure to read the terms & conditions before you purchase any card – gift card or prepaid card.
Gift cards can only be used at the chain that issues them, meaning they have very little flexibility. Prepaid cards (like the ones covered below), however, work like debit cards, meaning they can be used by the holder anywhere the issuer (Visa, Mastercard, or American Express) is accepted. This means prepaid cards offer much greater flexibility than gift cards
When Should You Consider a Prepaid Card?
Based on everything covered above, when should you consider opting for a prepaid card instead of a gift card:
① You can use it at almost any store that accepts the payment network (Visa, Mastercard)
② You want a card that offers the same features of a checking or debit account.
③ You plan on using the reloadable card for getting cash at an ATM
④ You want online account and bill pay management tools
Prepaid/Debit Card Options to Consider Instead of Gift Cards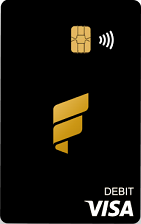 Sign-Up and Get +5,000 Sats
Earn Bitcoin Rewards On Everything!

Win Up to 100% Back on Every Purchase

Every Purchase Earns a Spin
The Fold crypto debit card is an exciting option to consider for those that don't want the hard inquiry on their credit report but want to earn rewards with every purchase. And, since the market for Bitcoin has generally been hot over the past few years, the chance is there to make significantly more money in BTC than you'd typically get with a credit card. Fold cardholders earn a spin every time they make an eligible purchase of $3 or more. Make a purchase, get a spin. It's that simple. Some of the rewards on offer include 25% back in Bitcoin rewards, fixed amounts (around $2.50 worth of Bitcoin crypto), or even a single Bitcoin – currently trading at over $30,000 per coin!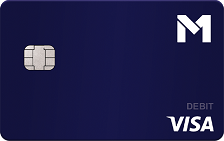 Make Your Investments More Rewarding
Seamlessly integrates with M1's Invest services

Earn 1% back when you spend & 1% APY w/ M1 Plus
The M1 Spend Visa® Debit Card is a great option to consider for investors with significant holdings within the M1 Invest program and want to earn additional rewards through the M1 Spend Plus Account. Earning 1% APY and 1% back on purchases is a great feature for those with $25,000 or more in investments, as the $125 is easily offset by the additional value from that APY. Add to that no foreign transaction fees, extra trading hours, and special financing on M1 Borrow, and you have an impressive checking and investment package in one.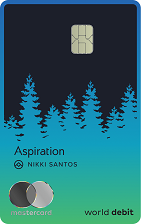 Up to 10% Cash Back on Card Purchases
Sleek debit card made from recycled plastics

Earn up to 1% APY on Save Accounts

Deposits never fund fuel exploitation or production
There are plenty of cash back debit card programs on the market today, but Aspiration is something different. The card – and the program – offers conscientious consumers the chance to save money and help the planet at the same time. The carbon offset with the Aspiration Plus is an excellent feature – especially for those who commute but hate the damage they are doing to the planet while doing so. However, even the basic plan offers the chance to plant trees through the round-up option on purchases.
This means that no matter what you pay for the service, you'll be helping out Mother Earth. Add to that the impressive array of perks and protections that comes with a World Mastercard debit product, and the Aspiration Card is an exciting debit card that any Earth-conscious consumer should consider getting.
More and more parents are investing in checking accounts for their teenagers. Opening a checking and debit account for children is an excellent way to instill financial habits that can save them money throughout their lifetimes. Some new teen accounts even offer rewards, the chance to invest savings, and more – all while giving parents the controls they need to ensure their kids use their money safely – and responsibly. 
| | |
| --- | --- |
| Current Debit Visa Card | Greenlight Prepaid Mastercard |
| Banking designed for teens | Great for teaching kids financial responsibility |
| Ability for parents to block specific merchants | Create in-app chore lists and attribute them to perks |
| Set and monitor spending with notifications whenever a purchase is made | Personalize your kids' debit cards with a custom picture |
| No hidden fees | Get real-time notifications any time the card is used |
Find Your Best Card Today
If you had your heart set on a store gift card, but now are considering a prepaid Visa gift card, an AMEX prepaid gift card, or any other type of prepaid debit card, the team at BestCards is here to help you find your ideal card today.
BestCards is your one-stop-shop for everything credit card and prepaid debit card related. We have hundreds of impartial reviews of the leading rewards credit cards, prepaid debit cards, and everything in between. We also have rundowns of all the latest offers for new cardholders, and a wealth of information on everything you could ever want to know about credit cards: everything from the basics of credit to common credit card traps to avoid.
No matter what you are looking for, our team of credit card industry experts is here to help you make informed decisions about your next financial steps. Check us out today – browse hundreds of impartial reviews, read our comprehensive blogs, or even sign up for our membership and leave reviews of your own!