It may not be a common thought to think, "What is the best debit card available for my money?" Who can blame you? There are so many debit cards to choose from, so the thought might quickly become obsolete. But we have rounded up what we consider some of the best-overlooked debit cards you can find on the market.
What Are the Most Overlooked Debit Cards?
When you think of debit cards, which ones come to mind? Possibly, you start going through all major banks like Bank of America, Chase, or Wells Fargo. However, there are so many other options out there, like debit cards available through credit unions and online banking. Although major banks offer basic checking and savings account essentials, their debit cards may not necessarily be the best ones for you. There are other lesser-known products that we think are just as good, if not better. On that note, take a look at a few debit cards you may have missed. 
At a Glance
With the Yotta Debit Card, you can be a winner. It can help you save money the fun way, with prizes and sweepstakes. The card operates like any other debit card except with winning potential and no fees. Earn 10% of your purchases back in the form of tickets for prize sweepstakes, with prizes ranging from 10 cents to $10 million. Additionally, with every debit card swipe, you get a chance to win a paid purchase by Yotta.
Best Benefits
Rates & Fees
Why Should You Apply?
Win up to $10M every week saving money in an FDIC-insured account with a base savings reward of 0.20% APY

The only debit card that could literally make someone a millionaire including odds up to 1 in 100 Yotta will cover your entire purchase

Earn 10% of your purchase amount back in the form of tickets into the following week's sweepstakes

Get paid up to 2 days early when you use your Yotta account as your direct deposit/paycheck destination

Direct deposit users also receive 1-in-150 Lucky Swipe odds

Every paycheck earns 5% extra bonus tickets
You're a fan of using mobile banking

You're looking to open an FDIC-insured savings account

You're interested in getting direct deposit two days in advance

You want to use your debit card abroad with no fees or hassles

You would enjoy prize drawings and sweepstakes as a benefit

You would like a chance to win paid-for purchases with Lucky Swipes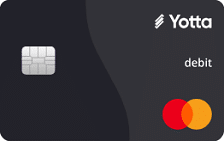 The Yotta Debit Card is not your average debit card. Saving money with Yotta earns depositors a chance to win up to $1 million – not a common brag you might hear about other debit cards. Yotta Debit banking services are provided by Evolve Bank & Trust, and the card can be used anywhere Mastercard is accepted. While the card may not be a household name, it has a variety of benefits for anyone looking to save and spend money the fun way. 
With Yotta, your next debit card purchase may be free, and that is part of the fun. Through prizes and sweepstakes, cardholders get a chance to be winners when they save money or make purchases. Yotta Debit earns you tickets for specific actions like deposits, your savings amount, and more. The tickets work toward raffle prizes and sweepstakes, which happen daily. Prizes can include free cash, a covered purchase transaction, and more. 
The more tickets you earn, the bigger chance you have at winning. The card also features no foreign transaction fees and an opportunity to earn Bonus Tickets when you spend $2,000 in the first four months of opening an account. If you're worried about how you will access your cash, there's no need to. Yotta has a network of over 55,000 fee-free ATMs.
At a Glance
The Extra Debit Card* is a credit builder debit card that offers rewards and more. The card is ideal for anyone newer to credit that doesn't want the negative impact from a hard credit inquiry but still wants to earn rewards.
Best Benefits
Rates & Fees
Why Should You Apply?
Every purchase can help build your credit1. At the end of every month, purchases made with the Extra Debit Card are tallied up and reported to credit bureaus • 0% interest • Connects with your bank account2 • Earn rewards points everywhere. Earn up to 1% in points for everyday purchases like rideshares, coffees and your phone bills • Current pricing is $20/month or $149/year for Credit Building. $25/month or $199/year for Credit Building + Rewards
Annual Fee: See Terms
Foreign Transaction Fee: See Terms
Late Payment Penalty Fee: See Terms
Minimum Deposit Required: See Terms
You don't want a credit check when looking for a new card

You want a debit card that reports to Experian and Equifax every month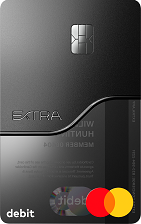 The Extra Debit Card is a hidden gem for anyone with a financial goal in mind to build credit. Typically, a credit card is the way to go if you're working on establishing yourself with a noteworthy credit report. However, the Extra Debit Card offers unique credit-building abilities not often seen in other debit card products. Extra doesn't only help to build credit; it also earns cardholders rewards points for purchases, and it's compatible with over 10,000 banks in the U.S.
There is a catch, however. To enjoy the benefit of earning reward points, cardholders must upgrade their subscriptions to include this option. Otherwise, if earning points on your debit card is not a priority, you can always stick to just building credit. The monthly subscription for a credit-building account is $20 per month or $25 for a rewards + credit-building account.
The reason why Extra Debit can build credit is because it uses your monthly transactions for reporting. At the end of each month, Extra adds up all your transactions and payments and reports them to the credit bureaus to help you build credit. Keep in mind, the best way to shape a strong credit score is with responsible use. Although the Extra Debit card is not a credit card, it will report your transactions, including on-time and late payments – which can impact your credit score both ways – so be sure to use it wisely, as you would any other payment card.
At a Glance
GO2bank is the destination for simple, seamless mobile banking designed to help people save time and money. The GO2bank high-yield account and Visa® Debit Card provide the ideal platform for building savings and offering a headache-free banking experience – all with no hidden fees.
Best Benefits
Rates & Fees
Why Should You Apply?
Overdraft protection up to $200 with opt-in and eligible direct deposit • Get your pay up to 2 days early with direct deposit • Free nationwide ATM network Refer a friend, and you both get $50 • *See additional terms and conditions at GO2bank.com
Over Limit Penalty Fee: No monthly fees with eligible direct deposit, otherwise $5 per month
You want a high-yield account 10X the national average

You plan to have your paychecks directly deposited into your account

You want the freedom to deposit checks at hundreds of retail locations nationwide

You don't want to pay any additional fees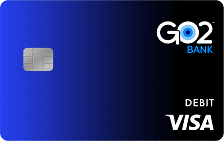 The GO2bank Visa® Debit Card is another gateway debit card to building credit. It features a low monthly fee and has overdraft protection for peace of mind. However, the monthly fee gets waived if you set up your account with an eligible direct deposit. 
The GO2bank debit card includes a high-yield savings account and it earns 4.50% APY (paid quarterly) on up to $5,000. Therefore, your savings can grow on their own. The banking app has many convenient tools that work hand-in-hand with your debit card, like cashing checks with a picture on your cell phone and locking and unlocking your card from the app if you lose it. 
Signing up for the GO2bank Visa® Debit Card is a qualifying factor for anyone interested in applying for the GO2bank Secured Visa® Credit Card. With a secured credit card, debit cardholders can begin building credit. In addition to opening access to the secured credit card version, the GO2bank Visa Debit also earns up to 7% cash back. However, the cash back can only be earned when you purchase e-gift cards through the GO2bank app.
At a Glance
Albert Mastercard® is a no-annual-fee debit card from the investment and savings platform, Albert. The card, a Mastercard debit card, earns up to 20% cash back on select merchant offers and provides access to a suite of premium investment features for a modest, "pay-what's-fair" monthly fee.
Best Benefits
Rates & Fees
Why Should You Apply?
Earn $150 when you receive a qualifying direct deposit and use your Albert debit card

Get your paycheck up to 2 days early with direct deposit with Albert Cash

Earn cash back rewards when you buy groceries, gas, food and more with your Albert debit card

No hidden fees ($0 minimum balance requirements, no maintenance fees and no instant fees)

Genius subscribers can withdraw cash fee-free at 55,000+ ATMs

Albert Cash and Albert Savings accounts are FDIC-Insured
Annual Fee: See Terms
Foreign Transaction Fee: See Terms
Late Payment Penalty Fee: See Terms
Over Limit Penalty Fee: See Terms
Minimum Deposit Required: See Terms
You already use Albert for investing or are interested in joining via the mobile app

You're new to investing (or just want simple automation)

You want to choose your monthly fee (if applicable)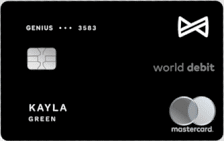 Do not overlook the Albert Mastercard® if your priorities are budgeting, savings, and investments. The Albert Mastercard® is a debit card that provides its cardholders the tools and platforms needed to get organized with their money. With Albert debit, you can confidently set up a direct deposit account and get paid early without worry of overdrafts or minimums. 
Furthermore, the Albert card grants cardholders access to a tool that may help ease the stress of budgeting and saving. With the Albert Genius tool, your income and spending get analyzed and in return it finds extra dollars to automate your savings. Albert Genius will automatically set aside small amounts of cash weekly to help you reach your financial goals without the added pressure of budgeting. 
If banking and savings weren't enough, the Albert Mastercard® also provides access to an investing platform so you can start building a portfolio with as little as $1. It's a guided investing app, so you don't have to be an experienced investor to start. Similar to its automated savings tool, investing can be automated too. Simply set up your automatic investments on a recurring schedule that best suits your needs.
At a Glance
The Walmart MoneyCard® is a debit card from Walmart that offers cash back rewards on select purchases, access to a full selection of checking and savings features, and more.
Best Benefits
Rates & Fees
Why Should You Apply?
Waive your monthly fee when you direct deposit $500+ in previous monthly period. Otherwise, $5.94 a month.*

Earn 3% cash back at Walmart.com, 2% cash back at Walmart fuel stations, & 1% cash back at Walmart stores, up to $75 each year.*

Earn 2% interest rate on up to $1,000 balance in your savings account. Plus, get chances to win cash prizes each month!*

Get peace of mind with three coverage levels, up to $200, for purchase transactions with opt-in & eligible direct deposit.*

*Please see site for full terms and conditions.
Annual Fee: None. $5.94 monthly fee
Foreign Transaction Fee: 3% of the transaction amount in U.S. dollars
Minimum Deposit Required: See Terms
You frequently shop at Walmart

You frequently purchase gasoline at eligible Walmart stores

You get your groceries delivered from Walmart

You want a small savings account that earns up to 2% APY

You plan to add accounts for family members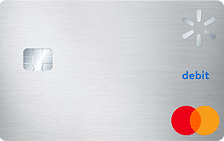 The last card on our list might only appeal to you if you are a habitual Walmart shopper. The Walmart MoneyCard® is a debit card ideal for Walmart fans interested in earning cash back for their purchases and trips to the gas station. Additionally, when you have a Walmart MoneyCard®, you can earn 2% APY on your savings. 
There is no monthly fee with the Walmart MoneyCard® when you set up direct deposit for the account. Otherwise, it is $5.94 per month ($71.28 per year.) However, if you plan to make Walmart purchases and fill up your gas tank every month, you might earn enough cash back to cover the monthly fee. The card has a cash back limit of $75 per year, which gets credited back at the end of the year. Cardholders earn 3% cash back at Walmart.com, 2% cash back at Walmart gas stations, and 1% cash back at Walmart stores. 
If you're a parent, there are debit cards for kids you may have never noticed. Teaching your children financial literacy, like money management and budgeting with a debit card, may be a convenient tool in today's modern society. There are debit cards with features that cater to both parent and child for things like supplying allowances or depositing a teen's first check. Overall, debit cards have more to offer than what they are given credit for, and it's usually the ones that go unnoticed that have the it-factor you may be looking for.
Related Article: Kids' Cards: Pros & Cons of Debit vs Credit Education
Editorial Disclosure – The opinions expressed on BestCards.com's reviews, articles, and all other content on or relating to the website are solely those of the content's author(s). These opinions do not reflect those of any card issuer or financial institution, and editorial content on our site has not been reviewed or approved by these entities unless noted otherwise. Further, BestCards.com lists credit card offers that are frequently updated with information believed to be accurate to the best of our team's knowledge. However, please review the information provided directly by the credit card issuer or related financial institution for full details.