by Cory Santos | Last updated on September 21st, 2023
Webster Bank Visa® Secured Card
29.24% variable based on the Prime Rate

Regular Purchase APR

29.24% variable based on the Prime Rate

Balance Transfer APR

29.99% variable based on the Prime Rate

Cash Advance APR
At a Glance
The Webster Bank Visa® Secured Card offers cardholders a $5,000 credit limit. Applicants must submit a security deposit that will equal the amount of the credit limit. This card features one flat interest rate for all cardholders. Additionally, cardholders must pay a $35 annual fee to use this card.
Best Benefits
Rates & Fees
Why Should You Apply?
One flat APR for all

Credit limit up to $5,000

Earn interest on your security deposit

Get a free extra card
Regular Purchase APR: 29.24% variable based on the Prime Rate
Balance Transfer APR: 29.24% variable based on the Prime Rate
Balance Transfer Transaction Fee: Either $5 or 3% of the amount of each transfer, whichever is greater
Cash Advance APR: 29.99% variable based on the Prime Rate
Cash Advance Transaction Fee: Either $10 or 5% of the amount of each cash advance, whichever is greater
Foreign Transaction Fee: Up to 3% of the transaction amount in U.S. dollars
Late Payment Penalty Fee: Up to $41
Return Payment Penalty Fee: Up to $41
Minimum Deposit Required: $300
You have poor credit or no credit

You need to build or repair your credit

You prefer to know what your APR will be before you apply

You do not need a high credit limit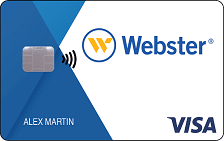 Webster Bank Visa® Secured Card Review
The Visa® Secured Card from Webster Bank is intended for people who have no credit history or a poor credit rating. These types of cards can help you build a credit history or repair negative credit.
Secured credit cards like this one have certain features to protect you from falling into further debt. As well, these features protect the bank in case you cannot pay off your credit card balance. Applicants benefit from a single annual percentage rate (APR) without the worry of guessing what their interest rate will be. The card also features a modest $35 annual fee.
As with most secured credit cards, the security deposit amount is equal to your credit limit. The SNB Secured Visa® has a high enough credit limit to give you enough credit to make important purchases. To learn more about how this secured credit card can help you, keep reading the sections below.
How the SNB Visa® Secured Card Can Help You
The Visa® Secured Card from SNB can help build or repair your credit if a bank won't approve you for a regular credit card.
A secured card can help you get back on your feet. First of all, your credit rating doesn't factor into getting approved. As such, it doesn't matter what your experience with credit has been. You can still get approved for a credit card. Once you have your credit card account set up, SNB will report to the three major credit bureaus about your credit activity. These credit bureaus are the ones who determine your creditworthiness. If you use your card responsibly, make minimum monthly payments every billing cycle, and pay off your debt, you'll see your credit rating gradually improve.
Related Article: What Are the Easiest Credit Cards for Bad Credit to Get?
A Single APR
With the Webster Bank Visa® Secured Credit Card, you only have one APR to worry about. If you're not experienced with applying for credit cards, most other cards feature an interest rate range. The interest rate you receive depends on your creditworthiness. Since SNB doesn't look at your creditworthiness when approving you for a secured card, there isn't a range of APRs you can qualify for. Rather, every applicant receives the same APR. This removes one of the most anxiety-producing parts of applying for a credit card – wondering what interest rate you'll get. Now, this is higher than the national average APR. However, this is common with most (if not all) secured credit cards. This is also the price to pay for a secured credit card.
Security Deposit = Credit Limit
So, the Webster Bank Visa® Secured doesn't look at creditworthiness to determine eligibility. But there must be some other qualification, right? That's where the security deposit comes into play. You must submit a security deposit for almost every secured credit card you apply for. And Webster Bank is no different from its secured card. The security deposit serves as collateral in case you cannot pay off your balance. When you open an account, SNB places your deposit in a secured savings account. This deposit remains untouched until one of two things happens:
You close your account, in which case SNB returns the deposit to you
You default, in which case SNB uses your deposit to cancel your debt
The minimum deposit you need to make to get a credit card is $300. Remember also that your security deposit is equal to your credit limit. If you deposit $300 to open an account, your credit limit is $300. You may be able to increase your credit limit over time by adding to your security deposit. However, this is determined on a case by case basis. After a period of time has passed (at least a year), contact Webster to see about raising your credit limit if you need more credit. The call won't harm your credit score, and you can gain some valuable information as to where you are on your road to financial recovery.
Should You Apply for the Webster Bank Visa® Secured Card?
The SNB Secured Visa® Card can help you build or repair your credit. However, keep in mind that this will take some time. While some people keep their secured credit cards for a very long time, this may end up hurting you in the long run.
There are plenty of better secured cards that have a lower annual fee, a lower interest rate, or rewards points. The discover It, for instance, offers the rewards program that comes with all Discover It credit cards.
Ultimately, the SNB Secured Visa® is let down by its fees and APR. The card is more akin to the Citi® Secured Mastercard® or the Capital One Secured Mastercard in its high rates. Those cards, however, have no annual fee.
Read Also: What are the best secured cards of 2020?
Browse Other Secured Cards:
Editorial Disclosure – The opinions expressed on BestCards.com's reviews, articles, and all other content on or relating to the website are solely those of the content's author(s). These opinions do not reflect those of any card issuer or financial institution, and editorial content on our site has not been reviewed or approved by these entities unless noted otherwise. Further, BestCards.com lists credit card offers that are frequently updated with information believed to be accurate to the best of our team's knowledge. However, please review the information provided directly by the credit card issuer or related financial institution for full details.