Last updated on February 26th, 2023
Advertiser Disclosure
close ×
Advertiser Disclosure – BestCards is an independent, Florida-based credit card comparison platform. Many of the card offers that appear on this site are from companies from which BestCards receives compensation. This compensation may impact how and where products appear on this site (including, for example, the order in which they appear). BestCards does not include all card companies or all card offers available in the marketplace.
Editorial Disclosure
close ×
Editorial Disclosure – The opinions expressed on BestCards' reviews, blogs, and all other content on or relating to the website are solely those of the content's author. They are not reflective of any card issuer or financial institution and have not been reviewed or approved by these entities unless otherwise noted. Further, BestCards lists credit card offers that are updated daily with information believed to be accurate to the best of our knowledge.
20.24%, 26.249% or 29.24% variable based on creditworthiness and the Prime Rate

Regular Purchase APR

28.99% variable based on the Prime Rate

Cash Advance APR
At a Glance
The Venmo Visa Credit Card is a unique twist on fintech credit cards. The card, from Synchrony Bank, offers up to 3% cash back on purchases, with rewards automatically calculated and debited into the associated Venmo account. The card also offers no annual fee and no foreign transaction fees.
Best Benefits
Rates & Fees
Why Should You Apply?
Earn custom cash back rewards – up to 3% on your top spend category

Syncs seamlessly with the Venmo app

Visa contactless technology allows you to shop securely at contactless-enabled terminals

Choose from various colors, and each card contains a unique QR code that takes users straight to your profile

No annual fee
Regular Purchase APR: 20.24%, 26.249% or 29.24% variable based on creditworthiness and the Prime Rate
Cash Advance APR: 28.99% variable based on the Prime Rate
Cash Advance Transaction Fee: Either $10 or 5% of the amount of each cash advance, whichever is greater
Late Payment Penalty Fee: Up to $41
Return Payment Penalty Fee: Up to $30
You already use Venmo or are interested in using it

You want a simple, automatic rewards structure

You don't want to pay an annual fee or foreign transaction fee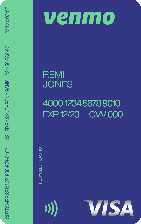 Venmo Visa Credit Card Review
The Venmo Visa Credit Card is a unique cashback credit card from Venmo. The card offers no annual fee, no foreign transaction fees, and 3% cash back on the Synchrony Bank purchases Issued.
Rewards Simplified
There has been a shift towards more versatile rewards in the credit card industry, and the Venmo Card is one of the best entries into this new arena in recent times. The card earns up to 3% cash back on eligible purchases in the cardholder's top spending category.
Cardholders will also earn 2% back on the category they spend the second-most in, with 1% cash back on all other purchases. Venmo automatically tracks the purchases and tabulates everything for you, meaning there is no hassle, no confusion, and instant savings.
The following categories are eligible for the 3%, 2%, and 1% cash back breakdown with the Venmo Visa Card:
Transportation
Groceries
Entertainment
Dining & Nightlife
Bills & Utilities
Health & Beauty
Other
Cash back earned is automatically debited into the cardholders existing Venmo account, letting them spend, send, or whatever – anywhere Venmo or PayPal is accepted.
QR Code Design
One of the coolest features on the Venmo Card is the unique QR code on the front of every card. Each cardholder will receive a unique QR code that allows friends to connect via the platform quickly – letting them pay back a round of drinks – or ask for payment for part of a group dinner.
An Average APR
If the rewards and design are exciting features of the card, the interest rates are somewhat a letdown. Venmo offers three different account types, each with differing APR on purchase. Those rates are very much average at the lowest end – around 15.25%, while at the higher end, they reach over 24% – again, nothing special.
One thing to note is that the card does not allow balance transfers, so don't apply if you have an existing balance you are hoping to transfer over.
Other Card Features
Other notable features with the Venmo Visa Card include seamless integration into Venmo's handy mobile application (available for all mobile platforms). This integration allows cardholders to split bills with friends quickly, track all their spending, and promptly disable their card in the event of fraud or theft.
The card also offers contactless and mobile payments, which is a great bonus in a post-COVID world. Finally, the Venmo card provides enjoys Visa benefits, including:
Roadside Dispatch: Visa Roadside Dispatch is a pay-per-use towing and roadside assistance program. This program gives travelers peace of mind should they break down, anywhere, 24/7.
Auto Rental Collision Damage Waiver: Receive coverage when you use your Visa to pay for the entire cost of car rental. This protection covers damage due to collision or theft.
Cardholder Inquiry Service: 24/7 access to Visa customer service representatives who can provide detailed information for members in all major languages.
Emergency Card Replacement: Once connected with your bank, Visa will work with them to get you an emergency replacement card within one to three days. Conditions apply.
Emergency Cash Disbursement: Visa can also work with your bank to help get your emergency cash until your new card arrives.
Zero Fraud Liability: Cardholders pay nothing if their card is subject to unauthorized use or theft.
Should You Apply for the Venmo Visa Credit Card?
The Venmo Visa Card is one of the most enticing credit card offers to come around in recent years. The chance to earn 3% cash back is always welcome – as is the ability to get 2% back on your second-heaviest spend category. Even better, Venmo and Synchrony automatically tally the rewards and put them into your associated Venmo account.
The card is a great option for those who love to use digital payment platforms like Venmo or PayPal. For everyone else, however, the card will have no appeal. But, since you can't apply without a Venmo account anyway, that point is fairly moot.
Browse Other Card Offers: