Last updated on February 28th, 2023
Advertiser Disclosure
close ×
Advertiser Disclosure – BestCards is an independent, Florida-based credit card comparison platform. Many of the card offers that appear on this site are from companies from which BestCards receives compensation. This compensation may impact how and where products appear on this site (including, for example, the order in which they appear). BestCards does not include all card companies or all card offers available in the marketplace.
Editorial Disclosure
close ×
Editorial Disclosure – The opinions expressed on BestCards' reviews, blogs, and all other content on or relating to the website are solely those of the content's author. They are not reflective of any card issuer or financial institution and have not been reviewed or approved by these entities unless otherwise noted. Further, BestCards lists credit card offers that are updated daily with information believed to be accurate to the best of our knowledge.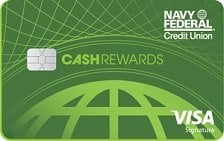 Enjoy Cash Back and A Low Intro APR
Earn $100 in cash back after spending $2,000 within 90 days of opening an account

Earn up to 1.75% cash back on purchases
At a Glance
The Navy Federal cashRewards Visa Signature® Credit Card is a flexible cash back rewards credit card for current and former servicemembers who want a card that offers the versatility to choose where they use their rewards. This powerful tool for saving money and building credit is issued by Navy Federal Credit Union and features unlimited 1.5% cash back rewards, along with exclusive member deals only available to cardholders.
This financial tool is highly suitable for everyday spending and features great cash back rewards along with great potential for savings, thanks to competitive interest rates and no extraneous fees. This credit card offer will be attractive to anyone with average to excellent credit.
Ideal for Those Who:
Are a current or former member of the United States Armed Forces
Would like to save money with a credit card that has no annual fees and no foreign transaction fees
Want a credit card that has no rewards limit and no rewards expiration
Want to put more money back into their wallets by earning 1.5% cash back on all qualifying purchases (in the form of a statement credit)
Will make a purchase of $2,500 in the first ninety days of opening their account to earn a special introductory cash back bonus of $200
The Navy Federal cashRewards Visa Signature® Credit Card Review
The Navy Federal cashRewards Visa Signature® Card is the perfect all-purpose cash back card for current and former military members who want to earn 1.5% back for every dollar they spend on eligible everyday purchases, large and small. Earn cash back and redeem it immediately, or save up for a big statement credit – part of the draw of this card is its flexible redemption options.
How to Earn Cash Back with the cashRewards Card 
Earning cash back with the Navy Federal cashRewards Visa Signature Card is as easy as swiping your card on any purchase. There's no need to change your spending habits – cardholders earn an even 1.5% cash back from all qualifying purchases – whether you're pumping gas, buying groceries for the week, grabbing movie tickets or buying holiday gifts. With unlimited rewards, you can spend more and earn more cash back, with no restrictions – earn as many rewards as you'd like before you redeem your cash back as a statement credit. Best of all, your cash back rewards will not expire.
Rewards can only be earned from purchase transactions. The following transactions do not count as purchase transactions, per Navy Federal Credit Union:
Cash advances
Convenience checks
Balance transfers
Fees of any kind
Purchase, loading or reloading of gift and prepaid cards, money orders, and other cash equivalent gift cards
Special cashRewards Visa Signature® Card Bonuses
New cardholders can earn a special introductory bonus of $200 by spending $2,500 within 90 days of their account approval. This generous one-time incentive stands out in particular since cash back is accrued at a rate of 1.5% for each dollar spent when using this Navy Federal Credit Union card, or the equivalent of 1.5 cents in cash back. In order to match the $200 bonus here, a cardholder would need to spend close to $16,700 outside of this introductory period.
Perks from Navy Federal Credit Union
Each card from Navy Federal Credit Union comes with numerous cardholder benefits. As well as dedicated resource pages designed to help you learn about credit cards, how credit works, how to apply for a card, and how to transfer a balance, cardmembers can take advantage of:
24/7 access to stateside member representatives
No foreign transaction fees
No balance transfer fees
Freeze and unfreeze your cards whenever you want – if you suspect your credit card information or personal information has been stolen or compromised, Navy Federal Credit Union makes it easy to freeze your account until you're able to properly determine if there was a data breach, or report unauthorized card use.
Zero Liability policy for unauthorized transactions
Fraud notifications
Access to your FICO® Score
cashRewards Visa Signature® Features
In addition to unlimited cash back rewards and no rush for redemption of your rewards, the cashRewards Visa Signature® Card also features benefits that are exclusive to Visa®, which include:
Purchase Security – replacement, repair or reimbursement for eligible items of personal property when a covered claim is made within 90 days of the purchase date
Lost/Stolen Card Reporting
Emergency Card Replacement
Emergency Cash Disbursement
Year-End Summary Statement
Roadside Dispatch ®
Lost Luggage Reimbursement
Travel and Emergency Assistance Services
Auto Rental Collision Damage Waiver
Warranty Manager Service
Travel Benefits – complimentary discounts and upgrades at top hotels, resorts and cruise lines
Entertainment Access – experience preferred event access and museum membership, as well as special savings on other entertainment offers
Fine Wine & Food – Enjoy special dining and wine experiences, exclusive dining events, and complimentary tastings and discounts at wineries in Sonoma County
Should You Apply for the Navy Federal cashRewards Visa Signature® Credit Card?
The Navy Federal cashRewards World Mastercard® is a prime example of a credit card that is great for credit beginners who want to earn cash back while building their credit profile. This card is the Visa version of the Navy Federal cashRewards World Mastercard®. There are, of course, comparable cash back rewards cards that offer a higher reward value – the Randolph-Brooks Cashback Rewards Mastercard®, for example, offers 2% cash back on all purchases with many of the same features – but not all are designed specifically with U.S. Armed Forces members and their families in mind. Cardholders will save beaucoup bucks thanks to the elimination of fees – there's no annual fee, no balance transfer fee, no cash advance fee. And for those serving overseas, there are no foreign transaction fees, which is particularly useful for cardholders who are stationed abroad.
The introductory cash back bonus of $200 is particularly generous, considering it can be earned by spending $2,500 in the first three months of account approval. Typically, cash back rewards are earned at a rate of 1.5%, which means each cardholder would need to spend a substantially larger amount in order to earn $200 in rewards outside of this introductory period.
Browse Other NFCU Card Offers: