Last updated on September 12th, 2023
Advertiser Disclosure
close ×
Advertiser Disclosure – BestCards is an independent, Florida-based credit card comparison platform. Many of the card offers that appear on this site are from companies from which BestCards receives compensation. This compensation may impact how and where products appear on this site (including, for example, the order in which they appear). BestCards does not include all card companies or all card offers available in the marketplace.
Editorial Disclosure
close ×
Editorial Disclosure – The opinions expressed on BestCards' reviews, blogs, and all other content on or relating to the website are solely those of the content's author. They are not reflective of any card issuer or financial institution and have not been reviewed or approved by these entities unless otherwise noted. Further, BestCards lists credit card offers that are updated daily with information believed to be accurate to the best of our knowledge.
BankAmericard® Secured Credit Card
26.24% variable based on the Prime Rate

Regular Purchase APR

26.24% variable based on the Prime Rate

Balance Transfer APR

29.24% variable based on the Prime Rate

Cash Advance APR
At a Glance
Designed for establishing, building, or even rebuilding one's credit score, the BankAmericard® Secured Credit Card offers the basic tools needed to strengthen your financial standing while covering everyday purchases. With a refundable security deposit, no annual fee and a few educational resources thrown in, this card can guide you to becoming a responsible credit card user with minimal hassle.
Best Benefits
Rates & Fees
Why Should You Apply?
Requires minimum $300 deposit (refundable)

Free access to monthly updated FICO® Score

Digital wallet compatible

No annual fee

Overdraft protectio
Regular Purchase APR: 26.24% variable based on the Prime Rate
Balance Transfer APR: 26.24% variable based on the Prime Rate
Balance Transfer Transaction Fee: Either $10 or 3% of the amount of each transactio
Cash Advance APR: 29.24% variable based on the Prime Rate
Cash Advance Transaction Fee: Either $10 or 5% of the amount of each cash advance, whichever is greater
Foreign Transaction Fee: 3% of the transaction amount in U.S. dollars
Late Payment Penalty Fee: Up to $40
Return Payment Penalty Fee: Up to $29
Minimum Deposit Required: $300
You're looking for your first credit card or need to boost your existing credit

You have at least $300 to put toward the security deposit

You want to learn about the impact of credit card usage on a credit score

You need a card that won't penalize by raising the interest rate

You want the opportunity to get your security deposit back eventually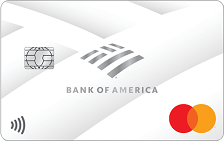 BankAmericard® Secured Credit Card Review
The BankAmericard® Secured Credit Card from Bank of America is a trusty – and beneficial – form of payment if your credit score could use more attention. It has a fairly average variable APR and minimum required security deposit when compared with other secured cards. However, it does come with a few perks in addition to boosting your credit, including no annual fee and the opportunity to eventually get your security deposit back.
Refundable Security Deposit
As with any secured card, you'll need to place a security deposit when opening your line of credit. The minimum amount is $300, while the maximum you can contribute may vary up to $4,900.
Bank of America then uses the amount you provide for your security deposit, as well as your monthly income and calculated ability to make payments, to determine your credit limit. If the deposit you make is greater than your calculated ability to pay, the bank may refund a portion of your deposit to match your established credit limit.
That may not be the only refund you get, either. After some time with this card in your wallet, Bank of America may review your account and decide to refund the rest of your security deposit. This is based on whether your account and credit history are in good standing, so it's not guaranteed for all customers.
No Annual Fee or Penalty APR
In addition to the security deposit, some secured cards charge an annual fee for holders. This is not the case with the BankAmericard® Secured Credit Card. No annual fee means you can potentially put that cash toward a larger security deposit to increase your limit.
No penalty APR also means you won't face increases in interest if you miss a payment. However, you're still subject to a late fee and a variable APR of for balances you carry from month to month. Like other Bank of America cards, there is also a balance transfer fee and a variable APR for cash advances.
Credit Education Resources
In addition to reporting your activity, Bank of America does you another favor by providing you with monthly FICO® Score reports. These allow you to view the status of your credit score each month and learn about the factors that affect it. That way, you can tackle the areas where you need the most improvement and see firsthand how your efforts are paying off.
Along with these reports come a number of learning resources that you can access to become more knowledgeable about budgeting, responsible credit card use and other personal finance topics. If you're not sure where to begin with building or fixing up your credit, these tools can help you get your bearings.
Mobile app and online banking for easy account access
Fraud Protection with $0 Liability Guarantee
Account alerts to stay on top of your monthly payments
Should You Apply for the BankAmericard® Secured Credit Card?
If you already have a solid credit score, this probably isn't the card for you. Secured cards are designed for those with low-to-no credit, in order to help them build up a healthy score.
When it comes to choosing a secured card, this is a fair option if you're a current customer or a fan of Bank of America. It has an average-to-high minimum for the security deposit but no annual fee, so you have some wiggle room when determining how much to put toward your credit limit.
Like a traditional unsecured credit card, this secured card allows you to make purchases anywhere Mastercard is accepted, and you can conduct balance transfers and cash advances. The card can also be used for purchases in foreign currencies, though paying the foreign transaction fee isn't ideal if you're working on your credit. Best of all, Bank of America will report your activity to the major credit bureaus – making it simple to rise through the ranks of borrowing.
It's worth noting that you can find an alternative secured card with a low deposit minimum or even rewards if you're looking for something a little more flexible. The Citi® Secured Mastercard®, for example, has a $200 minimum deposit requirement and similar features. Meanwhile, the Discover it® Secured lets you earn 2% cash back while you build up your credit. Those considering credit-builder options outside of Bank of
America should check out popular options, such as the Mission Lane Visa, Revvi Card, or the Merrick Bank Double Your Line Visa.
However, if you want a simple secured card with a refundable deposit that will help you boost your financial knowledge as well as your credit score, the BankAmericard® Secured Credit Card is a reliable choice.
Browse Other Secured Credit Card Offers: