Last updated on September 18th, 2023
Advertiser Disclosure
close ×
Advertiser Disclosure – BestCards is an independent, Florida-based credit card comparison platform. Many of the card offers that appear on this site are from companies from which BestCards receives compensation. This compensation may impact how and where products appear on this site (including, for example, the order in which they appear). BestCards does not include all card companies or all card offers available in the marketplace.
Editorial Disclosure
close ×
Editorial Disclosure – The opinions expressed on BestCards' reviews, blogs, and all other content on or relating to the website are solely those of the content's author. They are not reflective of any card issuer or financial institution and have not been reviewed or approved by these entities unless otherwise noted. Further, BestCards lists credit card offers that are updated daily with information believed to be accurate to the best of our knowledge.
AEO Real Rewards Visa® Credit Card
31.24% variable based on the Prime Rate

Regular Purchase APR

32.24% variable based on the Prime Rate

Cash Advance APR
At a Glance
The AEO Real Rewards Visa® Credit Card is the fastest way to earn American Eagle Outfitters/Aerie rewards and provides a host of exclusive benefits to provide savings on every shopping trip. Perks include discounted shopping days throughout the year, 10% off every store purchase, as well as free standard shipping on all online orders.
Best Benefits
Rates & Fees
Why Should You Apply?
Up to 20X points per $1 spent at American Eagle Outfitters

5X points per $1 spent everywhere else

Free standard shipping

Up to 25% off birthday coupon

2X points on jeans

Six cardholder events each year
Regular Purchase APR: 31.24% variable based on the Prime Rate
Cash Advance APR: 32.24% variable based on the Prime Rate
Cash Advance Transaction Fee: Either $10 or 5% of the amount of each cash advance, whichever is greater.
Foreign Transaction Fee: 3% of the transaction amount in U.S. dollars
Late Payment Penalty Fee: Up to $41
You spend at least $167 at American Eagle Outfitters/Aerie products every year

You're currently at the Extra Access membership level within the Real Rewards program

You always shop at American Eagle Outfitters to buy jeans or bras

Your primarily shop online but occasionally also shop at American Eagle Outfitters physical stores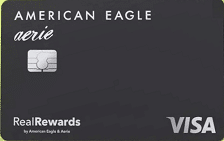 AEO Real Rewards Visa® Credit Card Review
The AEO Real Rewards Visa® Credit Card is a co-branded retail card for American Eagle Outfitters issued by Synchrony Bank. Unlike other store cards, the AEO Visa is much more than just an extension of the American Eagle Outfitters rewards program (Real Rewards). The card charges no annual fee and comes with an impressive selection of member-exclusive perks, including the following (expanded upon later):
| | | |
| --- | --- | --- |
| 30% off your first purchase | 2X points on everything (4X on jeans!) | Pick your own sale day |
| Free shipping & returns | Exclusive sales | Earn outside AEO |
Special 30% Off One-Time Coupon
Newly approved applicants will be able to kick off their stylish new cardholder status with a handy 30% off discount on their first American Eagle Outfitters purchase. There is no introductory APR to help ease the financial burden of a major fashion haul. Therefore, cardholders will want to be wary of the high fixed rate APR (which would result in steep interest payments should a balance be carried over).
Earning AEO Rewards Points
The AEO Real Rewards Visa® bonus categories can be broken down into American Eagle Outfitters purchases or non-American Eagle Outfitters purchases. Although regular ("Full Access") AEO Rewards members will also earn points on their purchases, the Visa version of the credit card earns more points for store purchases and is the only opportunity to earn AEO points outside of the store. AEO Real Rewards Visa® bonuses are as follows:
15X points per $1 spent at American Eagle Outfitters of Aerie stores (excludes gift cards, Todd Synder, and Don't Ask Why stores)
5X points per $1 spent on all other purchases.
Initially, the card would appear to be at a disadvantage because it doesn't offer rewards in additional categories such as groceries or gas. The absence of these categories actually turns out to be a strength that gives the card an unexpected versatility and usability. When paired with the generous bonus rates for non-store purchases, the AEO Visa card could easily outperform its peers and make for a fairly lucrative card that could earn rewards with impressive regularity.
Minimum spend on store purchases to earn a reward
Minimum spend on non-store purchases to earn a reward
AEO Real Rewards Visa®
$167
$500
Non-cardholders
$250
N/A
Clothing Credit Card Comparison
The AEO Visa is just one of many clothing store credit cards from major brands. Here's how the American Eagle Outfitters Visa stacks up against two popular competitors:
Clothing Credit Card Comparison
| | | | |
| --- | --- | --- | --- |
| | AEO Real Rewards® Visa® | Gap Good Rewards Mastercard® | Target RedCard™ Mastercard |
| Annual fee | None | None | None |
| Rewards | Up to 20X points per $1 spent at American Eagle Outfitters, 2X on jeans, and 5X on all other purchases | 5X at Gap and Gap Inc. brands (Old Navy, Banana Republic, Hill City, and Athleta) and 1X on all other purchases | Unlimited 5% savings at Target and Target.com, 2% back on dining and gas station purchases, and 1% on all other purchases |
| Perks | Free standard shipping, 25% off birthday coupon, cardholder events, 30% off first purchase | 20% off first purchase, free shipping (orders $50+ only), early access and members-only events, quarterly bonus | Shipt savings, Starbucks savings, gift card savings, additional 30-day return window |
| Issuer | Synchrony | Barclays | TD Bank |
How to Redeem AEO Reward Points
Points have a singular redemption method and can only be exchanged for store vouchers at 2,500-point intervals. The value of the store voucher will vary and is based on one's level within the Real Rewards Program (independent of cardholder status):
Cardholders and Full Access members of the Real Rewards program will earn $10 vouchers
Extra Access members (requires spending $350 at American Eagle Outfitters stores within the calendar year) will receive a $15 reward.
Rewards are automatically issued once the 2,500-point requirement has been met, and users are notified either by email or text (depending on your preferences). Available rewards can also be found by accessing your account online or through the mobile app. Rewards are only valid for 45 days after being issued, so it's extremely important that cardholders check their accounts regularly.
Whether the reward is a store voucher or a free jeans/bra coupon, rewards can be used both in-store or online. When redeeming in-store, show the store associate your coupon using your smartphone or with the printable coupon sent to your email. For online redemption, logging in to your account will display all available awards and allow you to apply them to your current purchase. Each voucher has a code to enter at checkout in the Promo Code box.
Points never expire if your account is active and in good standing. An active account is considered one with at least one purchase within 375 days. If a purchase isn't made within this time period, all earned points, credits, and rewards will be forfeited.
American Eagle Perks
The American Eagle Outfitters Real Rewards Visa operates within the AEO Real Rewards loyalty program a program with different tiers and benefits. Here is a quick overview of the AEO Real Rewards tier system, which is open to AEO Visa, AEO credit card, and non-cardmember AEO customers:
| | Level 1 | Level 2 | Level 3 |
| --- | --- | --- | --- |
| How to qualify | Free | AEO credit card | Spend $350/year |
| Points per $1 spent | 10x | 15x | 20x |
| Unlock reward | 1,250 points | 1,250 points | 1,250 points |
| 2X on jeans | ✅ | ✅ | ✅ |
| Aerie Days access | ✅ | ✅ | ✅ |
| Members-only sales | Good | Better | Best |
Like any quality retail credit card, the American Eagle Outfitters Visa provides many AEO-specific benefits for credit cardholders. These perks include the following:
Pick Your Own Sale Days
The AEO Real Rewards Visa® lists two distinct perks as opportunities for cardholders to enjoy extra savings on merchandise: a Personal Shopping Day (coupon) and "six cardholder events." However, the particulars of these events are as vague as their names, as American Eagle Outfitters does not provide any further information on what these two perks entail. The Personal Shopping Day coupon is a one-time discount that can be used any day of the year – although the actual discount amount is not disclosed by American Eagle Outfitters.
Free Standard Shipping
Typically, shoppers must spend at least $50 to qualify for free standard shipping (otherwise costing $7). Cardholders can bypass this minimum spend – ideal for those who primarily do their shopping online in small batches – but American Eagle already makes it surprisingly easy to get around their standard shipping costs (add a non-clearance bra or swimwear item in your shopping cart), which makes this conventionally practical perk, slightly less valuable.
20% Off Birthday Coupon
One of several exclusive discounts awarded to cardholders, the 20% off birthday coupon can be used for one purchase during the cardholder's birthday month (AEO reward members also get a birthday discount but only for 15% off). Coupons are typically issued on the first day of the month but require the account to be active and in good standing.
Buy 5, Get 1 Free
There are two types of items eligible for the "Buy five, get one free" deal: bras and jeans. Every fifth purchase of a pair of jeans will result in a coupon for a free pair, and every fifth purchase of a bra or bralette will result in a coupon for a free bra. Fortunately, all five items do not need to be purchased simultaneously to qualify.
Instead, each respective purchase (excluding clearance and third-party items) earns a "credit" towards the item quota. Neither jeans nor bra credits expire as long as your account is active. However, the coupons do carry an expiration date of 45 days after issuance. Coupons can be redeemed at brick-and-mortar American Eagle Outfitters stores (including the factory store), online, over the phone, or through the mobile app.
Visa Protections
As a Visa credit card, AEO credit cardholders enjoy a range of security features and benefits from the Visa Platinum network. These features include the following:
| | | |
| --- | --- | --- |
| Zero Fraud Liability | Cardholder Inquiry Services | Emergency Card Replacement |
| Roadside Dispatch and Auto Collision Damage Waiver | Lost/Stolen Card Reporting | ID Navigator from Norton |
Synchrony Bank Ratings
How does Synchrony fare as a credit card issuer? Here is a selection of consumer and expert ratings for the bank, one of the largest issuers of co-branded retail credit cards in the United States:
Should You Apply for the AEO Real Rewards Visa® Credit Card?
The AEO Real Rewards Visa® does a commendable job of creating a special, VIP-like experience for cardholders – a feat many other retail credit cards fail to provide. Naturally, this card should only be considered by the most loyal American Eagle Outfitters/Aerie customers who are comfortable with solely earning rewards for future shopping trips.
Of all the practical perks the card offers, the best feature is that it works relatively independently of its rewards program. Cardholders won't have to worry about meeting a specific spending amount to make owning the card worthwhile. Those who spend the $350 to become Extra Access members will certainly enjoy a bigger discount, but the best card experience isn't reserved for the customers who spend the most. 
Overall, the AEO Real Rewards Visa® is a surprisingly lucrative rewards card that provides benefits to cardholders even when they don't have enough points to redeem for an award (and regardless of membership tier). There are two guaranteed shopping days of 20% discounts per year, plus the card carries no annual fee. While not recommended for use as one's primary card for spending, loyal American Eagle Outfitters customers will surely find a lot to like in either version of the AEO credit card.
Browse Other Card Offers: