by BestCards Team | Last updated on October 27th, 2023
17.24% or 23.24% variable based on creditworthiness and the Prime Rate

Regular Purchase APR

25.24 % variable based on the Prime Rate

Cash Advance APR
Best Benefits
Rates & Fees
Why Should You Apply?
No annual fee

Earn 5 points for every $1 spent at INFINITY, Nisan, or gas stations

Earn 3X points on dining and 1X points on everything else

Periodic special financing offers
Regular Purchase APR: 17.24% or 23.24% variable based on creditworthiness and the Prime Rate
Cash Advance APR: 25.24 % variable based on the Prime Rate
Cash Advance Transaction Fee: Either $10 or 4% of the amount of each cash advance, whichever is greater
Foreign Transaction Fee: 3% of the transaction amount in U.S. dollars
Late Payment Penalty Fee: Up to $40
Return Payment Penalty Fee: $29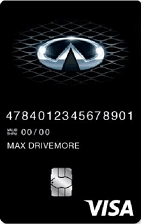 At a Glance 
The INFINITI Visa® Card earns cardholders five points on every dollar they spend at INFINITI or Nissan dealers. Cardholders can also earn five points on every dollar spend on gas. Additionally, cardholders can earn three points for every $1 they spend on dining. Furthermore, this card earns cardholders one point for every dollar spent anywhere Visa® is accepted. What's more, this card occasionally offers cardholders financing promotions. All of these details are available for no annual fee.
Ideal for Those Who:
Spend a lot of money at INFINITI and/or Nissan dealers
Want to earn 5X points on gas purchases
Dine out a lot and want to earn 3X points on those purchases
Don't want to pay an annual fee
INFINITI Visa® Card Review
This Visa® Card is cobranded with the auto maker INFINITI, which is the luxury division of the Nissan brand. However, Synchrony is the issuer of this credit card. This bank specializes in cobranded retail cards, like the ones you see offered at stores and car dealerships.
The INFINITI Visa® Card is essentially a rewards card. As it's cobranded with an automobile brand, this card rewards cardholders the most for automotive-related purchases. Cardholders earn five points for ever purchase they make through INFINITI or Nissan. As well, cardholders earn 5X points on gas purchases.
This Visa® credit card also awards cardholders with 3X points on dining purchases. Any other purchases that don't belong to the above categories earn 1 point per dollar spent.
This card periodically offers cardholders limited-time financing options, too. In addition to all of these benefits, this card features no annual fee. Keep reading to see whether this card is right for you.
Earn Points on Purchases
The INFINITI Visa® Card earns cardholders points on all their purchases. Cardholders earn the most points on auto-related purchases. Purchases at INFINITI or Nissan dealerships earn you the most points. You'll earn five points for every dollar you spend on these purchases.
You will earn 5X points on down payments for auto purchases and leases. However, you can also earn points on paying for service and repairs.
Additionally, you'll earn 5X points for fuel purchases you make at businesses categorized as service stations or automated fuel dispensers. Most gas stations are categorized as such businesses.
However, some gas stations are part of grocery store chains and wholesale clubs. These may not necessarily be categorized as service stations. If you purchase gas at such places, find out if they are categorized as the right kind of merchants, or you can end up not earning the maximum amount of points.
If you love to eat out, you'll love the fact that this card rewards you for your purchases. Cardholders earn 3X points on dining purchases.
As with gas purchases, you will only earn these points if you make purchases at merchants that belong to the correct category. In this case, they must be restaurants or eating places. What this means is that you may not earn 3X points if you purchase food at a grocery store or gas station, for instance.
All your other purchases will earn you one point for every dollar you spend. In short, no matter what you purchase with this card, you'll earn points.
Redeeming Points
The INFINITI Visa® Card becomes a little restrictive when it comes time redeem the points you've earned. You only have two options for redemption:
A purchase reward at Nissan or INFINITI dealerships
A statement credit
Every point you earn is worth $0.01 (one cent) when you use them for purchase rewards at dealerships. Just like earning points, you can redeem these points for vehicle purchases and leases, as well as paying for parts and service. You can't, however, use your points for transactions on Nissan or INFINITI websites. You must go to a dealership to use your points.
If you want a statement credit, your points are worth much less. In fact, they are worth half as much as when you redeem them for a purchase reward. Additionally, you must call the number on your credit card to redeem points for a credit statement. You can only earn a maximum of $300 in statement credits per calendar year.
Points appear on your account approximately 30 days after you have earned them. This differs from some other rewards cards that add points to your account almost as soon as you make a purchase.
You also have five years to use your points from the date you've earned them. Once you hit the five-year mark, your points will become null and void. Use them or lose them is the motto of this card's rewards program.
Financing Promotions
Periodically, the INFINITI Visa® Card offers financing promotions. These usually will include 12 months of zero-interest on purchases. However, there are time limits on when you can make a purchase and take advantage of these deals.
If you are looking to apply for this card, check to see if it is offering a financing deal. This feature only applies to purchases at INFINITI and Nissan dealerships. However, it's a great tool if you are looking to purchase or lease a vehicle.
If you don't have cash to pay a down payment, you can use this credit card to make that payment and save money on interest. Sure, you can finance 100% of the cost of the vehicle, but you'll end up paying more every month to pay it off. If you charge a portion of the cost of your new vehicle on your INFINITI Visa®, you may save a little bit of money.
What's more, you'll have 12 months to pay off that down payment without having to pay anything extra. Another reason why this is a great feature is that this promotion can happen many times while you own this credit card.
Many other credit cards only offer an introductory zero-interest promotion when you sign up. Afterwards, you won't receive any other similar promotions, regardless of how good of a customer you've been.
This card's recurring financing promotions mean that you can also take advantage of it years later when you need to replace your old INFINITI (or Nissan) with a newer model. Additionally, you can use these financing promotions to pay for parts or service later down the road.
Should You Apply for the INFINITI Visa® Card?
This credit card has a few features that can make it attractive for particular customers. If you are looking to purchase or lease an INFINITI car, you can take advantage of any financing promotions currently on offer. These can help you with the down payment.
The points earning rate is favorable, but the restrictions on where you can earn points can limit how many points you can actually earn. The most frustrating aspect of this card's rewards system is redeeming your points. Unless you are planning to get new vehicles or have service on your vehicle often, this card really doesn't reward you for anything.
A half a cent per point for credit statements is extremely low. You would have to spend $4,000 at dealerships or on gas in order to earn a $100 credit statement.
And there is another detail that may make this card not so appealing. If you take advantage of the financing promotion, you will not earn points on that purchase.
Couple these features with this card's very high interest rate, and it might be best to look at another rewards card with better terms.
Browse Other Synchrony Card Offers:
Editorial Disclosure – The opinions expressed on BestCards.com's reviews, articles, and all other content on or relating to the website are solely those of the content's author(s). These opinions do not reflect those of any card issuer or financial institution, and editorial content on our site has not been reviewed or approved by these entities unless noted otherwise. Further, BestCards.com lists credit card offers that are frequently updated with information believed to be accurate to the best of our team's knowledge. However, please review the information provided directly by the credit card issuer or related financial institution for full details.