Last updated on September 6th, 2023
Advertiser Disclosure
close ×
Advertiser Disclosure – BestCards is an independent, Florida-based credit card comparison platform. Many of the card offers that appear on this site are from companies from which BestCards receives compensation. This compensation may impact how and where products appear on this site (including, for example, the order in which they appear). BestCards does not include all card companies or all card offers available in the marketplace.
Editorial Disclosure
close ×
Editorial Disclosure – The opinions expressed on BestCards' reviews, blogs, and all other content on or relating to the website are solely those of the content's author. They are not reflective of any card issuer or financial institution and have not been reviewed or approved by these entities unless otherwise noted. Further, BestCards lists credit card offers that are updated daily with information believed to be accurate to the best of our knowledge.
Westgate Rewards Mastercard®
17.74% – 31.74% variable based on creditworthiness and the Prime Rate

Regular Purchase APR
Best Benefits
Rates & Fees
Why Should You Apply?
2X points on all Westgate purchases

2X points on gas and groceries

1X points for everything else

No annual fee

Preferred check-in for hotel stay
Regular Purchase APR: 17.74% – 31.74% variable based on creditworthiness and the Prime Rate
Late Payment Penalty Fee: Up to $35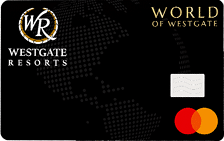 Westgate Rewards Mastercard® Review
The Westgate Rewards Mastercard allows travelers and vacationers to earn points by purchasing Westgate Resort products and services, gas, and groceries towards discounted hotel stay or timeshare payments. Despite the inclusion of popular reward categories, the limitations on rewards redemption might prove difficult for even the most frequent of Westgate Resort customers to fully reap the card's benefits. The Westgate Reward Mastercard has no annual fee and is offered by Comenity Bank.
Hotel cards typically offer a number of cardholder benefits as an even greater incentive to stay at their lodgings, such as upgraded rooms, complimentary breakfast, or free WiFi. Unfortunately, this is not the case with the Westgate Reward Mastercard®, which is extremely lacking in booking benefits. Beyond preferred check-in, the Westgate Rewards Mastercard has no other on-site perks and lacks an anniversary bonus or any opportunity to earn free lodging.
Applying for the Westgate Mastercard
Applying for the Westgate Mastercard isn't exactly the same as applying for other cards. Namely, you'll be directed to download an app called Imprint, which you can get in your phone's app store (Samsung, Google, and Apple App Store). And, once approved, you will manage your account (and use virtual cards) through that Imprint account. Strange, huh?
Earning Westgate Points
There is a modest signup bonus of 4,000 points for spending $500 outside of Westgate within the first 60 days. Each point has a value of $0.01 each, meaning Westgate Resort credit cardholders will only receive $40 for spending $500 – an offer that is easily overshadowed by other hotel credit card signup offers. In terms of everyday earning potential, the card earns:
2X points for Westgate purchases (includes property maintenance, tax payments, timeshare down payment, booking a reservation, dining at Westgate restaurants, shopping at the Westgate online mall, etc.)
2X points at gas stations and grocery stores
1X points on all other purchases
Customers who only use this card in the qualifying 2X bonus categories will be rewarded for every $1,250 spent. It's very unusual that Westgate does not prioritize spending on their product and while this could be seen as a strength that gives this card a versatility most other co-branded card lacks, it offers very little incentive for loyal Westgate patrons to own this card rather than more general travel credit card.
Redeeming Westgate Rewards
There is only one redemption method for using Westgate credit card points: $25 reward certificates. Certificates cannot be redeemed for a cash value of any more or any less, as such, rewards are automatically generated at the end of every billing period for every 2,500 points that have been accrued. Additionally, there are no limits to how many certificates can be earned in a single billing period – so if a shopping spree puts $10,000 of charges on your Westgate Mastercard, you would be awarded four $25 reward certificates at the end of the billing period.
Reward certificates can be applied towards several options including booking Westgate hotel stay or timeshare payments but not towards Westgate Travel & Cruise bookings. Below is the complete list of Westgage products where reward certificates can be used:
Westgate Vacation Ownership*
Westgate mortgage payments
Westgate HOA fees
Developer exchange fees
Attraction tickets
Marketplaces
Room reservations
All Westgate Resort restaurants
Serenity Spa
Vacation Guard
*Westgate Vacation Ownership also includes VAC, PAC, and VOA Travel Club purchases
Although rewards cannot be used in conjunction with other discounts or promotions, there is no limit to how many reward certificates you can apply to a single transaction. In order to apply your rewards towards an onsite product or service, call 1-800-864-5216 or bring the physical certificates to a Westgate Resort.
Cardholders will need to wary as both unused Points and Reward Certificates expire after 18 months.
Other Card Features
Cardholders also enjoy essential fraud and purchase protections from the Mastercard payment network. This network provides the following:
| | | |
| --- | --- | --- |
| Zero Liability Protection | Mastercard Global Services | ID Theft Protection |
Comenity Bank (Bread) Ratings
What's it like living with Bread Financial (Comenity Bank) as a credit card lender? Here is a selection of reviews and ratings for Comenity:
Should You Apply for the Westgate Rewards Mastercard®?
Overall, this card is rather underwhelming when compared to other traditional hotel credit cards: earning potential is weak, and the single redemption option that is available to cardholders is fairly limited in its use. The biggest disappointment is that there are virtually no cardholder benefits to enhance your on-site Westgate Resort experience or opportunities to earn a complimentary hotel stay. However, what his card lacks in hotel rewards it has the potential to make up for through it's ability to provide bonuses for timeshare ownership.
Both current and prospective Westgate timeshare owners would find this card a convenient way to earn a kickback from paying the fees and maintenance associated with a timeshare. The long-term commitment of a timeshare would ensure that your $25 reward certificates would be used and negates any concerns one might have of sinking their credit card rewards into a format they're not sure they'll ever redeem. Plus, things like HOA fees and maintenance wouldn't be included in most other purchasing categories – making this card a decent alternative for timeshare owners who don't own a flat rate cash back card.
If you're not a timeshare owner (and not planning on becoming one any time soon) but enjoy vacationing at Westgate resorts when you can, you should only consider this card if you stay at a Westgate location at least once every 18 months. But unless you exclusively book reservations at these resorts, you'll likely better off with a general use travel card that allows you to earn rewards at any hotel you stay and offers rewards that have much greater flexibility. Great alternatives to the Westgate Rewards Mastercard would be the the Citi Premier® Card which offers 3X points for hotel stay with no annual fee.
Browse Other Card Offers: