Last updated on March 8th, 2023
Prime credit is a term that is thrown out often in credit repair and lending circles, but what does it mean? A "prime" credit score is one that is just below "super-prime." Since a super-prime credit score is reserved for those with the very best credit, a prime credit score is best understood as having  between "fair" and "good" to "very good" credit.
This post may contain links from partner offers, and we may receive compensation when you click on links to these offers. Please see our advertiser and editorial disclosures above for more information. Citi is an advertising partner.
What Credit Score Is Considered Prime?
A prime credit score is one that ranges between approximately 660 and 719, according to the Consumer Financial Protection Bureau (CFPB). This range includes "fair credit" and "good credit" on the FICO scoring range.
While FICO is the preferred method for lenders (over 90% of lenders use FICO), VantageScore also offers a popular credit scoring model. On the VantageScore scale, a credit score of approximately 620 to 799 is considered prime. This means anyone in the "fair," "good," or "very good" categories of the VantageScore model have prime credit.
How Many Americans Have Prime Credit?
Because a prime score covers such a large amount of credit scores, you might think that the vast majority of Americans have prime credit. Surprisingly, however, only about 28% of the U.S. population has prime credit scores, according to FICO data. In comparison, about 30% has poor credit (or no credit), and an eye-opening 42% have super-prime credit.
Here's the data:
How Does Prime Credit Impact Your Credit Card and Loan Interest Rates?
Prime credit is appealing to lenders. People with a credit score considered "prime" pose a significantly lower risk of default than those with subprime credit.
Because of this greater trustworthiness, applicants with good credit can anticipate qualifying for many credit cards. Only those cards with exclusive application processes, like some Barclays credit cards, American Express charge cards, and the Luxury Card range (the Mastercard Black Card, Titanium Card, and Gold Card) will be out of reach for prime scores.
In addition to better selection in credit cards (including rewards cards), prime applicants also get some of the best interest rates. While precise rates vary with the bank, those with prime scores are likely to save plenty on interest payments versus those with subprime scores (provided they carry similar balances and only pay the minimum balance each month).
Other Benefits of Having a Prime Credit Score
Other noteworthy benefits of prime scores include:
Retaining your credit limits in recessions: Many banks lower cardholders' credit limits in times of financial uncertainty. This practice improves the bank's balance sheets and reduces their exposure to risky borrowers.
Excellent signup bonuses: Prime borrowers get exclusive signup bonuses when they receive a new credit card. These bonuses include lucrative travel points, 0% intro APR periods, and more. They may even receive retention bonuses when they keep their card after one year.
Getting the best refinance rates: People with good credit have no trouble finding the best refinancing rates from mortgage lenders, or for things like auto or personal loans.
Prime vs. Super-Prime Credit
While prime is excellent, super-prime credit scores receive the top-end signup bonuses, lowest APRs, and access to the most exclusive credit cards. According to most experts, a prime borrower can expect to pay around 1% more on interest than a super-prime borrower for the same loan. That might not sound like much, but on a mortgage, that can add up to thousands of dollars.
Related Article: How to Get a Super-Prime Credit Score
How to Get a Prime Credit Score
People with the best credit scores aren't there through sheer luck. Having excellent credit takes patience and hard work.
How Do I Raise My Subprime Credit Score?
The best way to raise your credit score is by ensuring you make your payments on time each month. Payment history accounts for 35% of your FICO credit score – by far the largest factor. Nearly as important is keeping your overall credit use low. Credit use (also known as credit utilization) accounts for 30% of your FICO score.
To move from subprime to prime, pay your credit card bills in full every month. If that's not possible, try to pay as much as you can. You should make every effort to at least pay your required minimum payment – and keep your credit usage below 30%. For quicker results, keep credit use below 10%.
If your credit score is well-below par (in the low 600s or worse) consider getting a secured credit card, like the OpenSky Visa, to boost your payment history. Another option is a catalog card, such as the Group One Platinum, Merit Platinum, or Fingerhut Cards. These cards come with an unsecured line of credit and regularly report payment activity to the major credit bureaus.
What Are the Best Credit Cards for Prime Credit Scores?
Let's say you have goodcredit – what is the best credit card for you? Or, perhaps you are creating a game plan to reach prime credit and want to know what prizes await you at the end of your journey.
Here is a small selection of some of the best credit card offers for consumers with good credit scores:
Citi® Double Cash Card – 18 month BT offer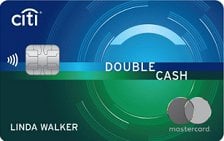 Earn 2% Cash Back on All Purchases
Earn 2% back on everything

Earn 1% back when you make a purchase and 1% back when you make you pay off that balance
The Citi® Double Cash Cardis another of Citi's most popular credit cards. The card provides unlimited 2% cash back on all purchases, with no categories, minimum spend requirements, other other confusing terms and conditions
Double Cash cardholders earn 2% back on every eligible purchase: 1% back at the time of sale and an additional 1% back when they pay their statement balance. Cash back is redeemable for statement credits, direct deposits, checks, or converted as ThankYou® points. The card also comes with 18 months of 0% introductory APR on balance transfers completed within the first four months of opening an account. 
That intro APR period and the addition of ThankYou Rewards provides the ideal platform for maximizing cash back (or rewards points) while paying down a significant balance with zero interest for a year and a half.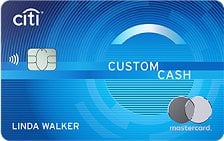 Earn 5% Back On Your Top Spending Category
Earn 5% cash back on purchases in your top eligible spend category each billing cycle, up to the first $500 spent, 1% cash back thereafter

Earn $200 in cash back after you spend $750 on purchases in the first 3 months of account opening
The Citi Custom Cash℠ Card is Citibank's 5% back credit card. The card earns 5% back on your highest spending category each billing period, making it a direct competitor to the Wells Fargo Active Cash or the Chase Freedom Flex.
The 5% back categories with the Custom Cash include the following and is limited to the first $500 spent every billing period: 
Equally impressive with the Custom Cash Card is the lengthy 0% intro APR period the card provide. Applicants with super-prime credit can anticipate 15 months of no interest on balance transfers and purchases for 15 months. 
Add to that a $200 welcome offer after spending $750 on purchases in the first 3 months, access to World Elite Mastercard perks, Citi Entertainment, and k=more, and it is easy to see why the Custom Cash is so popular with current cardholders.
Upgrade Visa Card with Cash Rewards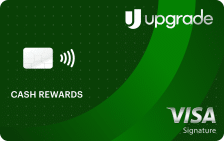 Unlimited 1.5% cash abck on all purchases
The Upgrade Card is one of the most popular cards amongst readers of BestCards, thanks to its impressive low everyday APR. That APR on purchases and balance transfers starts as low as 9% for applicants with excellent credit.
Instead of 0% APR Upgrade prioritizes a great rate along with a unique repayment plan that is more akin to a personal loan than a traditional credit card account. Cardholders pay off balances significantly faster with Upgrade versus other low APR credit cards. According to research from Upgrade, paying off a $10,000 balance takes just a few years with the Upgrade Visa, compared with other traditional credit cards that can take up to 20 years – or more.
Cash back rewards are an excellent addition to the low rates, with cardholders earning an unlimited 1.5% cash back on all eligible purchases, with no caps or categories to remember. Add no annual fee, no foreign transaction fees, and an intuitive mobile app, and there's plenty to love from Upgrade.
Other Options to Consider
Want some more rewards credit card options to consider if you have good credit? Here are some other popular offers: