Last updated on May 18th, 2022
Secured credit cards offer one of the best ways to build a positive credit history. Because secured cards require a security deposit to open, they are easier to receive than unsecured credit cards for people with bad credit. Before applying for a new card, make sure you study your options to ensure you get the best credit card for your unique needs. Here are some of the best secured credit cards for improving bad credit – or no credit history – of 2022.
Credit Card Picks Summary
Best Credit Cards with No Credit Check
One of the biggest challenges consumers face when applying for a credit card is the credit check. While secured credit cards require a cash deposit to open, they aren't always a guaranteed approval – which can deter many people from applying. Fortunately, there are several excellent secured cards that don't require a credit check.
Build credit with on-time payments

Reports to the three leading credit bureaus
The OpenSky Visa is one of the best secured credit cards on the market – and it is easy to see why. One reason why is because OpenSky requires no credit check. The card's application process is straightforward and takes just a few minutes. Decisions are equally quick, making the entire process fast and painless.
The OpenSky credit education hub offers a range of articles on building credit, making it a useful partner in building up credit knowledge. These topics include how to receive a free copy of your credit score, how credit scores are calculated, tips on boosting credit, and other advice related to the OpenSky card.
Other reasons to consider the OpenSky Visa include the relatively low minimum deposit required and regular reporting to the three major credit bureaus (Equifax, Experian, and TransUnion.
Other Secured Cards with No Credit Check
Secured Credit Cards with Introductory APR
Introductory interest rates are a common feature with credit cards for people with excellent credit. Lengthy 0% intro APR periods of up to 20 months are not unheard of – making low APR and balance transfer cards some of the best options for carrying a balance or financing purchases. But, did you know that you can also receive 0% intro APR on a secured credit card?
Assent Platinum 0% Intro Rate Mastercard®
Purchase APR of 0% for 6 Months!
Full-Feature Platinum Mastercard*

Monthly Reporting to all 3 Major Credit Bureaus

24/7 Online Access to Your Account
The Assent Platinum Mastercard IS one of the only secured credit cards that feature 0% intro APR on purchases. New accounts enjoy 6 months of 0% introductory APR on purchases. For those planning on making a purchase they want to pay down over time, the $49 annual fee is more than worth the cost.
One of the great features of secured credit cards is that they typically feature a lower purchase APR than credit cards for fair (or average) credit.  According BestCards statistics, the average APR for  Sa secured card is currently around 18%, while the average rate for a credit card for average credit is around 26%. The reason for secured credit cards offering lower rates is because the security despot requirement makes the cardholder less of a risk to lenders than the holder of an unsecured credit card.
Despite the decent rates many secured cards offer, maybe you are looking for an easy credit card with a low APR? Don't worry – there are several excellent credit card options that offer the easy application of a secured card and the low interest rates that make carrying a balance a breeze!
Oakstone Platinum Secured Mastercard®
Full-Feature Platinum Mastercard*

No minimum credit score requirements!
The Oakstone Platinum Secured Mastercard® is an exciting secured credit card that provides a tremendous low APR, no monthly service fees, and monthly reporting to all the major credit reporting bureaus. The card, issued through Synovus Bank, features a modest $49 annual fee and the purchasing power of the Mastercard payment network. 
Other Secured Cards with Low APR
Secured Cards That Offer Rewards
Most secured credit cards offer a no-frills experience. This makes sense, however – after all, secured cards are designed to help cardholders build credit with responsible use and on time payments. If you want credit building and rewards, however, there are options available. These rewards cards provide cash back or points on eligible purchases but with the safety net that comes from a secured credit card.
Surge Secured Mastercard®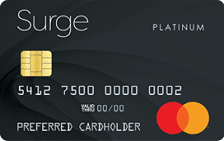 Earn Rewards While Building Credit!
Earn 1% Cash back Rewards on every purchase

Monthly reporting to the three major credit bureaus
The Surge Secured Mastercard® is a secured credit card that offers rewards – and the ability to build credit – in one package. The card differs from most secured cards on the market in that it earns 1% cash back rewards on every purchase and can help users build their credit score at most places in the United States where Mastercard is accepted.
Other Secured Cards with Rewards
Here are a few more secured card options to consider. These products also earn rewards while assisting in building your credit.
Sable Secured Credit Card
The Sable One Secured Mastercard Credit Card is a fintech secured card that helps build a positive credit history in the United States – without any hidden fees and with no credit checks. Greater credit access is just one feature of the Sable Secured Card. The card also offers impressive cash back rewards on every purchase, with 2% back on Amazon, Hulu, Netflix, Uber, and more.
Secured Cards with Credit Limit Increases - No Additional Deposit Required
Having subprime credit doesn't mean you can't earn enjoy the benefits of unsecured credit.  Some cards offer the chance to make the jump from secured to unsecured credit with a credit line increase. These credit limit increases don't require any additional security deposit – meaning they transform for a secured card to a mix of  secured and unsecured. The benefits of cards like these include the chance to gain access to additional credit without having to break the bank. 
Merrick Bank Double Your Line® Secured Visa®
Double Your Credit Line in 7 Months
Double your $200 credit line with on-time payments

Monthly reporting to the three major credit bureaus

Fraud coverage if your card is lost or stolen
The Merrick Bank Double Your Line® Secured Visa® Credit Card is a useful tool for boosting your credit score thanks to its Double Your Line feature. The card requires an initial security deposit of $200. Once  cardholders make each of their first seven months, they will automatically have their credit line raised to $400 – without the need to add more funds through additional security deposits. This credit line increase is the perfect motivational tool on your credit journey – and can help you take the first step towards a brighter future with unsecured credit in as little as seven months.