Last updated on August 4th, 2022
Closed-loop store cards aren't always your best option when making purchases at retailers. That's not to say, however, that there aren't plenty of great retail credit cards from major brands. Here are six of our favorite department store credit cards:
The Best Department Store Credit Cards of 2020
Here are some of our favorite retail store credit card offers for 2020:
There are few department store credit cards as useful as the Walmart Rewards Card from Capital One. Its versatility is in many ways due to that of the Walmart brand itself. Walmart Superstores offer almost anything a shopper could want – from hunting accessories to groceries, to clothing, and more.
The Capital One Walmart Rewards Card maximizes this versatility by offering impressive cash back at the retailer. Cardholders earn 5% back on purchases at Walmart.com (including grocery pickup and delivery) and 2% back in-store. Plus, Murphy USA or Walmart Fuel Stations also earn 2% back. Customers earn 1% back on purchases everywhere else. Cash back is unlimited and never expires.
Other card features include no annual fee, no foreign transaction fees, and the usual Mastercard protections and benefits.
Macy's is one of the country's most popular department stores. The Macy's American Express® Card makes saving (in-store or online) a breeze. The card offers automatic Silver Status in the Macy's Star Rewards Program. Silver tier provides 25% off all purchases with Star Pass at Macy's, plus the ability to choose which day Star Passes apply to.
The Macy's Card also provides value outside Macy's – value that can then be turned into savings at the retailer. The card earns 3% back on dining and 2% back at grocery stores and gas stations. Every other purchase earns 1% back – with no limit to the number of cash back rewards a cardholder can earn.
Other features include:
No annual fee
An annual birthday surprises
Free shipping with no purchase minimums
The TJX Rewards® Platinum Mastercard® provides plenty of value for holders – and not just at T.J. Maxx. The card earns rewards on purchases at all brands under the TJX umbrella. These brands include:
T.J. Maxx
Marshalls
HomeGoods
Sierra
Homesense
The TJX Rewards Card is much more straightforward in its rewards earning than some of the other cards on this list. The card earns 5% back on purchases at TJX brands, and that's it. There are no tiered earnings categories nor savings at external merchants.
While the lack of savings on purchases outside of T.J. Maxx, Marshalls, HomeGoods, etc. may seem like a letdown, the no annual fee and 10% savings on the first purchase are more than enough to justify fans of those brands applying for the card.
The Gap family of brands are perennial favorites for apparel shopping. The Gap Visa Card makes saving with those brands a snap, thanks to 5X points earned at Gap Inc. brands and 1X points per dollar earned on all other purchases. The Gap family of companies includes leading names in fashion, such as Old Navy, Banana Republic, and Athleta, making the Gap Card a valuable tool no matter your budget or style preference.
Other card features include:
No annual fee
10% off purchases at Gap when using the card
Visa credit card protections and benefits
Honorable Mentions
Want some more department store credit card options to consider? Here are two cards that just missed out on our top spots: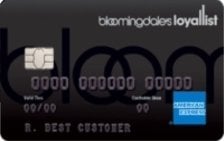 The Bloomingdale's American Express® Card at the Top of the List allows cardholders to enjoy the highest rewards. Namely, 8X points for shoes, cosmetics, and fragrance purchases and 4X points per dollar spent on everything else. This card cannot be applied for directly, and is an automatic upgrade given to current Bloomingdale's American Express® Card owners once they spend $3,500 per calendar year.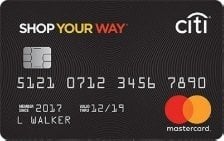 The Shop Your Way Mastercard® is a co-branded retail card that was designed to maximize savings earned through the Shop Your Way® rewards program. It offers rewards on everyday purchases throughout the year, from gas and groceries to purchases at Sears and Kmart. If you're already a Shop Your Way member or plan to become one, this card could take your rewards to the next level – if you know how to use it.