Last updated on February 24th, 2023
Advertiser Disclosure
close ×
Advertiser Disclosure – BestCards is an independent, Florida-based credit card comparison platform. Many of the card offers that appear on this site are from companies from which BestCards receives compensation. This compensation may impact how and where products appear on this site (including, for example, the order in which they appear). BestCards does not include all card companies or all card offers available in the marketplace.
Editorial Disclosure
close ×
Editorial Disclosure – The opinions expressed on BestCards' reviews, blogs, and all other content on or relating to the website are solely those of the content's author. They are not reflective of any card issuer or financial institution and have not been reviewed or approved by these entities unless otherwise noted. Further, BestCards lists credit card offers that are updated daily with information believed to be accurate to the best of our knowledge.
TJX Rewards® Platinum Mastercard®
32.24% variable based on the Prime Rate

Regular Purchase APR

29.99%

Cash Advance APR
At a Glance
The TJX Rewards® Platinum Mastercard® has a good deal of potential for fans of T.J. Maxx, Marshalls, HomeGoods, Sierra, and Homesense. With no annual fee, cardholders will earn 5% back on all store purchases which comes out to $10 off for every $200 spent.
Best Benefits
Rates & Fees
Why Should You Apply?
Receive 10% off your first purchase (in-store or online)

5% back at purchases at all TJX stores

Earn & redeem rewards at T.J. Maxx, Marshalls, HomeGoods, Sierra, and Homesense stores

No foreign transaction fees

No annual fee
Regular Purchase APR: 32.24% variable based on the Prime Rate
Cash Advance APR: 29.99%
Cash Advance Transaction Fee: $10 or 4% of the amount of each cash advance, whichever is greater
Late Payment Penalty Fee: Up to $38
You shop at TJX stores (T.J. Maxx, Marshalls, HomeGoods, Sierra, and Homesense) at least once every month

You spend at least $200 at TJX stores every year

You prefer credit card rewards in the form of store vouchers

You will pay your balance in full every month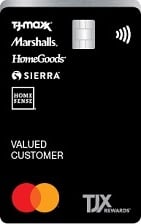 TJX Rewards® Platinum Mastercard® Review
One of two available store credit cards from TJX, the TJX Rewards credit card is the open-loop card issued by major card issuer, Synchrony Bank. Cardholders can earn 5% back at all stores within the TJX family which includes T.J. Maxx, Marshalls, HomeGoods, Sierra Trading Post, and Homesense. Earnings come in the form of points to be used with the TJX Rewards program and can only be redeemed for Reward Certificates for use both online or in-store.
Benefits of the TJX Card: Signup Bonuses & Intro Offers
Unfortunately, there is no intro APR or other type of special financing for TJX shoppers – meaning this card won't be much help if you're hoping to reduce overall credit card debt or ease the financial impact of a, particularly large shopping trip. It also isn't a suitable balance transfer card – but few retail cards are.
The signup bonus is negligible at best, a basic one-time 10% off coupon that can be used in-store or online (but must be in conjunction with a purchase being made using your TJX Rewards credit card).
While the 10% isn't much, this is likely the only coupon that TJX Rewards account shoppers will ever see, as the discount-retailer doesn't have sales or offer coupons – this signup bonus itself is not a compelling reason to open this credit card but the ongoing TJX rewards salvage the card's potential.
Shopping Perks for TJ Maxx Cardholders
TJX makes a vague claim that cardholders will receive invitations to "exclusive private shopping events," but beyond that provides no additional benefits. The TJX Rewards program offers painfully little to its customers and owning the credit card does virtually nothing to enhance that.
There are no anniversary bonuses, discounted shopping days, or even opportunities to earn bonus points for particular items. And despite the fact that all of the TJX stores have strong websites, it's disappointing that the TJX Reward credit card doesn't at least offer free shipping on purchases.
In short, if you were hoping that this card would enhance your shopping experience (or at least provide a few cost-saving freebies) you are out of luck.
Earning TJX Rewards
The only function of the TJX Platinum Mastercard is its ability to earn an unlimited 5% back (in points) on purchases made at any of the five stores housed under the TJX parent company:
T.J. Maxx
Marshalls
HomeGoods
Sierra
Homesense
All purchases made elsewhere will yield a measly 1% return – which means you'd be much better off putting grocery and gas purchases on general rewards card with more flexible redemption options. Still, despite the lack of outside bonus categories, the card has multiple strengths that significantly boost its earning potential.
To begin, points never expire – an ideal feature for someone who doesn't shop at TJX stores at regular intervals and allows them to take their time accruing points.
Next, the card holds a significant practical value since TJX stores don't fall within the department store category (T.J. Maxx is technically considered a General Clothing Store) and thus, are rarely eligible for the 5% in rewards that other credit cards offer. Even shoppers that only shop at TJX stores on occasion will find that they will earn significantly more than what they would earn using a general cash back rewards card.
Example: Spending $100 at T.J. Maxx would yield 500 points –equivalent to a $5 reward; spending the same with a generic cash back card would only yield a $2 return.
Redeeming TJX Rewards
There is only one type of reward available through the TJX credit card: Reward Certificates. Great for frequent TJX shoppers, but not so much for anyone else.
Reward Certificates function as vouchers and can be used both in-store and online in order to lower your total price at check out. Vouchers start at $10 values and are automatically issued for every 1,000 points that are accrued. Because of this minimum for redemption, cardholders will have to spend $200 on the TJX Rewards® Platinum Mastercard in order to earn a $10 reward – a standard rewards rate.
Cardholders can find their Reward Certificates through the Synchrony Bank portal or enroll in electronic statements to have their rewards delivered via email. They can be redeemed at any store within the TJX family for any item except gift cards and cannot be applied towards your statement balance. If you do not use the entirety of the value on your Reward Certificate the remaining amount will remain or may be issued to you in the form of store credit.
Be mindful that reward certificates expire two (2) years from the date that they are earned so check your account often to ensure you're not losing free money.
TJX Point Valuations
TJX points have an above-average value of 5¢ each (25 cents is equal to 5 points) – considerably higher than the valuations you would have from some of the most popular rewards cards on the market which typically range from 1 to 2 cents each.
A Word of Caution
The TJX credit card is issued by Synchrony Bank who is notorious for unexpectedly lowering card credit limits or closing accounts altogether, both of which would negatively impact your credit score. As such, this card isn't recommended with someone whose credit score is sensitive (where a loss of a few points would put them in a lower credit score tier) or whose financial situational would be drastically affected by a decreased score (like an application for a car loan).
The best way to prevent either of these two unwelcome outcomes from happening is to shop at TJX often (at least every month or two) and to keep your card utilization low. Synchrony has been cited to use card utilization as one of the main reasons they shut down accounts, in addition to viewing those with multiple Synchrony accounts unfavorably.
Should You Apply for the TJX Rewards Platinum Mastercard?
The TJX Rewards® Platinum Mastercard® has the potential to be worthwhile for fans of the discount-retailer but is ultimately a pretty barebone retail card. The lack of outside bonus categories, signup bonuses, introductory offers, or shopping benefits for cardholders are disappointing but still, not a deal-breaker. Why? It's actually due to the store's operating model and not the card itself.
The TJX Rewards card offers the only opportunity TJX shoppers will have to get discounts on merchandise since these stores do not run sales or issue coupons. Plus, TJX purchases don't qualify for other card categories (even with revolving bonus categories) so this card is also the only opportunity to get 5% back on your shopping trips.
Ultimately, if you're a fan of T.J Maxx, Marshalls, HomeGoods, or the like, regardless of how slim the card's offerings may be, it's still better than nothing. As long as your card doesn't get shut down due to Synchrony's sudden whims, you could find your account earning a steady rotation of $10 or $20 vouchers – a solid return for a card that costs you nothing.
Browse Other Synchrony Card Offers: