by BestCards Team | Last updated on October 23rd, 2023
Navyist Rewards Mastercard®
31.24% variable based on the Prime Rate

Regular Purchase APR

31.24% variable based on the Prime Rate

Balance Transfer APR

32.24% variable based on the Prime Rate

Cash Advance APR
At a Glance
The Navyist Rewards Mastercard® provides earns cardholders five points for every dollar they spend at Gap Inc. brands. Cardholders also earn one point for every dollar spent on other purchases. You can upgrade to Navyist status and earn all sorts of extra perks when you earn 5,000 points in a calendar year. Moreover, there is no fee for this credit card.
Best Benefits
Rates & Fees
Why Should You Apply?
Earn 5X points for every dollar spent at Gap and Gap Inc. brands (Old Navy, Banana Republic, Hill City, and Athleta)

Earn 1x points for every dollar spent on all other purchases

No annual fee
Regular Purchase APR: 31.24% variable based on the Prime Rate
Balance Transfer APR: 31.24% variable based on the Prime Rate
Balance Transfer Transaction Fee: Either $5 or 5% of the amount of each transfer, whichever is greater.
Cash Advance APR: 32.24% variable based on the Prime Rate
Cash Advance Transaction Fee: Either $10 or 5% of the amount of each cash advance, whichever is greater.
Foreign Transaction Fee: 3% of each transaction in U.S. dollars.
Late Payment Penalty Fee: Up to $41
Return Payment Penalty Fee: Up to $41
You don't want to pay an annual fee

You frequently shop at Old Navy and other Gap Inc. Brands (Gap, Banana Republic, Athleta, and Hill City)

You want to earn rewards you can redeem for discounts off Old Navy and other Gap Inc. merchandise

You plant to earn at least 5,000 points within a calendar year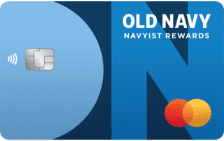 Navyist Rewards Mastercard Review
The Navyist Rewards Mastercard is more than just a single-store retail card. When you sign up for this credit card, you are actually receiving a Gap Inc. card. Gap Inc. is the parent company of Old Navy and several other brands, which include some of the nation's most popular clothiers. Cardholders can earn and redeem their Old Navy rewards points at any of the five Gap Inc. brands. Additionally, cardholders can easily upgrade to Navyist status, which offers an avalanche of additional perks. Keep reading to learn more.
The Power of 5 Big Brands
The big benefit of the Old Navy credit card – the one that is front and center – is the fact that you are basically getting five retail cards in one. Even though this credit card has the Old Navy logo on it, you can earn points at the following brands:
Old Navy
Gap
Banana Republic
Athleta
Hill City
As you can probably tell by looking at this list, Gap Inc. brands include some of the nation's most popular clothing retailers. Many of these brands are ubiquitous, meaning that you can find them almost anywhere. In fact, many of these stores may even be located within the same shopping center.
So, you can rack up a lot of points in a single trip to the mall while buying clothes for almost everyone on your list. Don't live near a physical store? No problem! You can shop online from the comfort of your home or even on your phone, all the while earning points you can redeem for huge discounts off future Gap Inc. purchases. The most rewarding part of this rewards card is the fact that you can also redeem your points at any Gap Inc. brand.
If there's nothing that catches your eye at Old Navy, you can head over to Banana Republic and save on a stylish outfit for a night out. Or you can pick up some fashionable workout clothes to keep up with your New Year's resolution at Athleta or Hill City.
Earning Points
The Navyist Card features a simple two-tiered points system that is super easy to remember (unlike some other complicated retail cards). Basically, you earn five points for every dollar you spend at Old Navy and the other Gap Inc. brands mentioned above. This Visa card also earns you one point for every dollar you spend anywhere Visa is accepted.
As this card's famous slogan states, Visa is everywhere you want to be, so you can be assured that you can pay for almost anything with this credit card almost anywhere in the world. Now, this ratio of points to dollars spent really isn't unique to this credit card. In fact, many credit cards you can apply for through Synchrony (the bank that issues the Old Navy card) offer the same points structure.
Again, the real value with this card is the fact that you can use it at five different brands to earn and redeem points.    
What Do Your Points Get You?
With the Navyist Mastercard you get a $5 merchandise credit for every 500 points that you earn. If you do all your spending at Gap Inc. brands with this card, you are essentially earning a $5 credit for every $100 you spend. Old Navy's price point is typically much lower than many other retailers, which can make it difficult to rack up a lot of points in a single purchase.
However, other Gap Inc. brands have much higher price points on their merchandise. For instance, you can easily spend several hundred dollars on a single outfit at Banana Republic. The money you spend there with your Visa card will earn you rewards points that will convert to store credits you can use at other Gap Inc. brands.
A strategic way to use this credit card is to rack up points at big-ticket retailers (like Banana Republic), and then redeem use your credits at more inexpensive stores, like Old Navy and Gap. If you buy a couple of outfits at Banana Republic, you can earn up to 2,500 points. Those points will earn you $25 dollars in credits. You can use those credits for a small discount off your purchase at a more expensive retailer if you find something you really want. However, if you use your rewards credits at Old Navy, you can come away with a lot of merchandise for practically nothing.
Redeeming Your Points
When it comes to redeeming your points, the Old Navy credit card does place some limits on cardholders. For starters, you don't have a lot of flexibility when it comes to when you can redeem your points for rewards credits. Synchrony will automatically convert your points to rewards certificates every month at the time of your billing statement. These come in denominations of $5, with the maximum being $50. If you have earned 2,700 points, Synchrony will only issue you rewards certificates for 2,500.
The remaining 200 points will roll over to the next month and will be added to any points you earn in that month. Additionally, you can't earn more than $250 in rewards credits per month. This can put a damper on any plans you might have had to rack up a lot of points and then go on a lavish shopping spree courtesy of Gap Inc. What's more, you have a limited window of time in which you can use your rewards certificates.
Each certificate has an expiration date printed on it. If you don't use your certificate by that date, you essentially lose your credits. You also need to remember to use your Visa Card. If your account has been active for 24 months, you forfeit any points you've earned that haven't been converted to rewards certificates. Remember that you will automatically receive a $5 certificate for every 500 points you earn. So, if you have 499 points on your account and haven't used your card for two years, you lose those points.
Using Your Credits
Synchrony also places some restrictions on how you can use your rewards credits. Because you receive certificates with dollar amounts on them, you may think you can use these like cash back or gift cards. However, you won't ever be able to walk out of an Old Navy Store (or any Gap Inc. store, for that matter) with free merchandise.
The value of your purchase must be greater than the certificate amount. In effect, these rewards certificates are more like coupons for a discount off your purchase. Again, if you use your rewards credits strategically, you can end up with piles of clothing for very little money. But you will always have to pay something. Now, the good thing is that you can combine your rewards certificate with one extra offer (like a discount code or coupon). However, employee discounts are exempt from this.
While you can save a lot of money with your certificates, Synchrony tries to ensure that you're not making out like a bandit with your rewards.
Upgrading to Navyist Status
Another great feature about this card is being able to upgrade to Navyist status. This may seem like a separate credit card, but it is actually an elite cardholder status. You must apply to the Visa card in order to be eligible for this. If you earn at least 5,000 points within a calendar year, you will automatically be upgraded to Navyist status and receive a new credit card in the mail.
Now, this isn't like receiving a completely different credit card, even though your new card will look different. You still keep your account, your credit card number, and your credit line. What this Navyist status offers is a slew of additional perks. This is similar to Gap's Silver and Banana Republic's Luxe statuses.
Earning Navyist status gets a 20% points bonus every quarter. If you have earned 3,000 points in a quart, you'll receive 600 extra points. This can add up to a lot of extra rewards credits, depending on how much you use your card. You also get free shipping on online orders from all Gap Inc. brands when you use your Old Navy credit card. If you need to get a fancy outfit from Banana Republic, you're also eligible for free basic alterations at the store. The one thing to keep in mind with Navyist status is that you must requalify every year to maintain this status. This means that your Navyist status expires every year. If you don't earn at least 5,000 points, you lose all of the perks mentioned above.
Nevertheless, meeting the spending requirement to maintain your elite status isn't too difficult. If you love shopping at Gap Inc. brands, that comes out to spending $1,000 in merchandise over a year. You can spend a large chunk of that on holiday purchases, alone.
Additional Cardholder Perks
There are some extra benefits to the Navyist Rewards Mastercard that aren't necessarily deal-makers but more like frosting on the cake. When you first sign up for this card, you get a 20% discount off your first Old Navy online purchase you make within 90 days of opening your account. Cardholders also get a 10% off welcome coupon valid for 60 days from the date of opening an account.
Your Old Navy credit card also gets you access to exclusive cardholder promotions, like sales and discounts. And you also get to shop sales before the general public, so you end up getting first pick of all the best deals. Another great feature of this card comes to play when you shop online. Customers can shop all five Gap Inc. brands at the same time and add items from different retailers to their virtual shopping cart.
This makes it easy to rack up points without having to visit separate stores or websites. Furthermore, you get free shipping on all orders totally $50 or more, and anything under that amount is only a flat-rate $7. Cardholders can also return online purchases for free.
Should You Apply for the Navyist Rewards Mastercard?
The Navyist Rewards Mastercard is essentially a Gap Inc. card with access to five different brands. As such, applying to this credit card depends on how much you love Old Navy over the other brands. There is really only one major perk that only applies to this credit card – the introductory 20% discount. Every other benefit that this card offers is also available on the other Gap Inc. cards.
In fact, some credit cards may offer some additional benefits not present in the Old Navy credit card. For instance, the Banana Republic Visa offers cardholders a surprise birthday gift, bonus points shopping days, and the privilege of being able to return merchandise without a receipt. Additionally, Banana Republic's elite Luxe status allows cardholders to choose their own sale days. If you have the Gap Visa® Card, you get 10% off Gap and Gap Factory purchases for as long as your account is open and in good standing.
This is on top of being able to choose your own sale day and receiving a special birthday gift from Gap. If you like Banana Republic and Gap just as much (if not more) than Old Navy, you may want to consider applying for one of these cards instead. You will have the same interest rate, pay no annual fee, and have access to all of the benefits mentioned above in addition to the extra perks that these other two cards offer.
Browse Other Synchrony Card Offers:
Editorial Disclosure – The opinions expressed on BestCards.com's reviews, articles, and all other content on or relating to the website are solely those of the content's author(s). These opinions do not reflect those of any card issuer or financial institution, and editorial content on our site has not been reviewed or approved by these entities unless noted otherwise. Further, BestCards.com lists credit card offers that are frequently updated with information believed to be accurate to the best of our team's knowledge. However, please review the information provided directly by the credit card issuer or related financial institution for full details.