by Cory Santos | Last updated on September 11th, 2023
Athleta Rewards Mastercard®
31.24% variable based on the Prime Rate

Regular Purchase APR

31.24% variable based on the Prime Rate

Balance Transfer APR

32.24% variable based on the Prime Rate

Cash Advance APR
At a Glance
The Athleta Rewards Mastercard® rewards cardholders with rewards points for all their purchases. Cardholders earn more rewards for purchases made at Athleta and other Gap Inc. brands. This card has no annual fee and includes a bunch of other appealing perks.
Best Benefits
Rates & Fees
Why Should You Apply?
Earn 5X points per dollar spent at Gap Inc. brands

No annual fee

Enjoy member-only exclusive offers
Regular Purchase APR: 31.24% variable based on the Prime Rate
Balance Transfer APR: 31.24% variable based on the Prime Rate
Balance Transfer Transaction Fee: Either $5 or 5% of the amount of each transfer, whichever is greater.
Cash Advance APR: 32.24% variable based on the Prime Rate
Cash Advance Transaction Fee: Either $10 or 5% of the amount of each cash advance, whichever is greater.
Foreign Transaction Fee: 3% of each transaction in U.S. dollars.
Late Payment Penalty Fee: Up to $41
Return Payment Penalty Fee: Up to $41
You are a frequent Athleta shopper

You also often shop at Gap Inc. stores (Gap, Old Navy, Banana Republic, and Hill City)

You want to earn 5x rewards points on Athleta purchases and 1x points on all other purchases

You do't want to pay an annual fee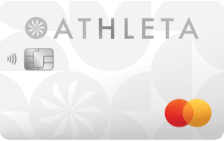 Athleta Rewards Mastercard® Review
The Athleta Rewards Mastercard® is a retail card that rewards cardholders with points for all their purchases. If you do a lot of shopping at this sportswear store, then you may want to take advantage of this card. Your rewards points convert to cash value certificates to use at Athleta stores. This card has a few other advantages, too. Keep reading to learn more.
One Card for Five Brands
The first thing you should know about the Athleta Rewards Mastercard® is that you are actually signing up for a Gap Inc. credit card. Gap Inc. is a large retail company that owns the following brands:
Gap
Banana Republic
Old Navy
Hill City
Athleta
What this means is that your Athleta card will grant you benefits not just at Athleta but at all five of the brands listed above. You can earn extra rewards points at any of these stores and redeem your points at any of these stores. In essence, you get five different retail cards in one.
Because Athleta is a very niche retailer specializing in just athletic wear, many consumers may not shop there often enough to make this a worthwhile card to get. The fact that you can use this card at such a variety of retailers gives cardholders more opportunities to earn and redeem their rewards points.
Most of these brands are ubiquitous, so you won't have any problem finding a retail store. And even if you don't live near an Athleta or other Gap Inc. brand retailer, you can still earn points and redeem points online.
Earning Rewards Points
The Athleta Rewards Mastercard® features a tiered points system. Cardholders earn five points for every dollar they spend at the Gap Inc. stores listed above. In other words, you don't have to shop exclusively at Athleta to earn these extra points. In fact, you can probably rack up quite a lot of points on one single visit to a mall, considering that many of the brands listed in the previous section are often all under one roof.
All other purchases earn cardholders one point for each dollar spent using this card. That being said, the opportunities for earning points with this credit card are nearly limitless.
Redeeming Rewards Points
As mentioned above, cardholders can redeem their rewards points at any Gap Inc. retailer. You don't even have to shop at Athleta to use your rewards points at Athleta. That's probably one of the best features of this card.
Now, the redemption value of this card's points is pretty standard for most retail cards. For every 500 points you earn, you receive a $5 reward voucher to spend at Gap Inc. brands. If you shop exclusively at these stores, that means you earn $5 for every $100 you spend.
This is almost like earning 5% cash back on Gap Inc. purchases. If you compare this rate to other cash back rewards cards, the Athleta Mastercard has one of the most generous rewards programs. The only drawback, of course, is that you can only earn and redeem your points at this rate by shopping at the five retailers listed earlier in this review.
If you don't shop at Gap Inc. stores at all, you would have to spend $500 to receive a $5 reward. The one-to-one ratio for all other purchases is a little meager, but it can help you reach point goals when you are not shopping at these clothing retailers.
20% Discount for Your First Purchase
Because the Athleta Card is part of the larger Gap family of brands, that means that the added perks can be on the generous side. For instance, new cardholders instantly receive 20% off their first purchase at Athleta.
You need to use your Athleta Rewards Mastercard® to make the purchase. If you apply for the card in a store, you can use the discount that same day but only at a physical retail location. If you apply online, you will receive a discount code that you can use online or in-store. That code expires 30 days from the date of credit card approval.
The discount doesn't apply to clearance items, but you can combine this discount with another store offer for even more savings. Now, while you can earn and redeem points at any Gap Inc. store, this discount only applies to purchases at Athleta.
Free Shipping on Online Purchases
Don't feel like leaving the house to shop at Athleta but don't want to have to deal with shipping fees? Well, cardholders get free shipping on all orders of $50 and up. What's best is that your order can include items from any Gap Inc. brand. The online stores let you combine your virtual shopping carts to create one single order. This way it's easy to meet the free shipping purchase requirement.
Free shipping only applies to standard shipping, which takes five to seven days to arrive at the destination. Purchases under $50 qualify for a $7 flat-rate shipping charge.
If you're not satisfied with your order, you can return it free of charge by mail or in store.
Should You Apply for the Athleta Rewards Mastercard®?
Many retail cards restrict cardholders from earning and redeeming points at a single store. The beauty about the Athleta Rewards Mastercard® is that you can earn and redeem points at five different brands either online or in person. You're essentially getting five different rewards cards all in one.
If it weren't for this feature, this credit card would probably only be ideal for die-hard fans of Athleta who go through a lot of athletic wear. This may, for instance, be a good card for a fitness instructor.
However, the fact that you can use this credit card at so many popular retailers means that almost anyone can benefit from this credit card. You can also use this Visa card almost anywhere and still earn points. And there is no annual fee.
The only reason for applying to the Athleta Card and not another Gap Inc. card is to receive the 20% discount on your first purchase. There are a couple of other minor perks that cardholders receive from Athleta, like a special birthday gift, two expedited shipping passes, and early access to sales.
Browse Other Card Offers:
Editorial Disclosure – The opinions expressed on BestCards.com's reviews, articles, and all other content on or relating to the website are solely those of the content's author(s). These opinions do not reflect those of any card issuer or financial institution, and editorial content on our site has not been reviewed or approved by these entities unless noted otherwise. Further, BestCards.com lists credit card offers that are frequently updated with information believed to be accurate to the best of our team's knowledge. However, please review the information provided directly by the credit card issuer or related financial institution for full details.