Last updated on February 24th, 2023
Advertiser Disclosure
close ×
Advertiser Disclosure – BestCards is an independent, Florida-based credit card comparison platform. Many of the card offers that appear on this site are from companies from which BestCards receives compensation. This compensation may impact how and where products appear on this site (including, for example, the order in which they appear). BestCards does not include all card companies or all card offers available in the marketplace.
Editorial Disclosure
close ×
Editorial Disclosure – The opinions expressed on BestCards' reviews, blogs, and all other content on or relating to the website are solely those of the content's author. They are not reflective of any card issuer or financial institution and have not been reviewed or approved by these entities unless otherwise noted. Further, BestCards lists credit card offers that are updated daily with information believed to be accurate to the best of our knowledge.
Techron Advantage® Visa® Card
29.99%

Regular Purchase APR

29.99%

Cash Advance APR
At a Glance
The Techron Advantage™ Visa® Card boasts no annual fee and, for a limited time, cardholders can enjoy up to 47¢ off per gallon in "fuel credits" at participating Chevron and Texaco gas stations (U.S. only).
Best Benefits
Rates & Fees
Why Should You Apply?
Earn 30¢ per gallon during first 90 days

Earn 3-7¢ per gallon based on fuel grade (Limited time offer)

Earn up to an extra 10¢ per gallon in Fuel Credits

No annual fee
Regular Purchase APR: 29.99%
Cash Advance APR: 29.99%
Cash Advance Transaction Fee: Either $10 or 5% of the amount of each transaction, whichever is greater
Foreign Transaction Fee: 3% of the transaction amount in U.S. dollars
Late Payment Penalty Fee: Up to $40
Return Payment Penalty Fee: $29
You spend at least $75 on gas each month

You will spend at least on $300 on non-gas purchases per month

You live or work near a Chevron or Texaco station

Your gas expenses don't exceed $3,000 per year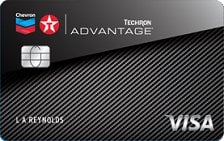 Techron Advantage® Visa® Card Review
The Techron Advantage® Visa is the replacement for the old Chevron credit card, (although older cards wills till work through their expiration date). Issued by Synchrony Bank, this credit card features one of the strongest introductory offers compared to other gas cards, and is ideal for those who have an upcoming road trip or will be doing an extensive number of driving. Cardholders can earn up to 47¢ per gallon in Fuel Credits on qualifying purchases, but once the introductory period has passed most will find their gas station savings significantly lower and contingent on using this card on non-gas purchases (potentially at the cost of using other, more lucrative, rewards card).
The card has no annual fee, which helps to make up for lackluster discounts, but features no additional perks beyond gas station savings such as in-store discounts or special offers.
What are Fuel Credits?
Discounts at the pump at referred to as "Fuel Credits" function as rebates which are retroactively applied to your card balance as a statement credit. There is a maximum of $300 in fuel credits can be earned each calendar year.
Fuel credits from multiple offers can be combined and are automatically applied to at the end of the billing period that they were earned.
Introductory Gas Savings
During the first 90 days of opening an account, drivers can fill their tanks for an automatic 30 cents off per gallon – a significant savings for someone going on road trip with a fuel-heavy vehicle such as an RV or camper or even just commuting to-and-from for work.
Gas Savings Based on Fuel Grade (Limited Time Offer)
For a limited time, drivers can then take another few cents off the gallon depending in which grade of gasoline they are purchasing:
Regular/Diesel: 3¢ off per gallon
Plus: 5¢ per gallon
Supreme/Premium: 7¢ per gallon
Gas Savings Based on Monthly Spend
In addition to the previously stated offers, Techron Advantage® Visa® Cardholders can earn either extra per-gallon discounts depending on their monthly spend on non-gas station purchases. Spending $300 or more will yield an additional 10¢ per gallon, while spending $1000 or more will garner 20¢ off per gallon.
Here's how it works: once your monthly spending reaches a threshold (either $300 or $1,000), all gas purchases (previous and future) within that billing cycle will reflect the new discount.
For example, if you spend $500 with your Techron Advantage Visa card on travel, you will qualify to have all Chevron/Texaco transactions discounted with 10¢ in Fuel Credits. Say you spent $60 in gas during the month, that would be a statement credit of $6.00 back to your card balance. If you had reached the $1,000 spending requirement, you would receive $12.00 in Fuel Credit.
Should You Apply for the Techron Advantage® Visa® Card?
While the introductory gas savings are impressive, the card struggles to provide enough long-term value to make the card worthwhile for the average consumer. The only value that's guaranteed to cardholders after the signup bonus is a paltry 3¢ per gallon (once the fuel type discounts end in December 31st, 2019).
Even if the graduated discounts based on gas type were a permanent offering, they still fail to add any substantial value to owning this card. The nominal scaled discounts do little to shorten the exponential price differences between gasoline types and provide an inconsequential amount of Fuel Credits (you would have to spend $33 in fuel to get a single dollar's worth of Fuel Credits at their regular 3¢ rate).
The only hope of wringing any real value of this card will require spending at least $300 on this card per month – and even then, will only be worth your while if you spend $75 or more on gas per month. If your monthly fuel bills are anything less, you'd be better off with a general flat-rate cash back card. For those looking for a credit card that provides broader
rewards, the Citi Rewards+® Card is another popular gas rewards credit card that earns 2X on groceries and gas, plus 1X on all other purchases.
Say you spend $150 on gas in a month and $300 elsewhere (to qualify for the 10¢ discount). That total monthly spend of $450 would yield $15 in Fuel Credits, compared to $9 in rewards from a general cash back credit card with a 2% return.
Overall, the Techron Advantage® Visa® does have potential to unlock decent earnings at Chevron and Texaco stations but will require a strategic spending strategy to make it worthwhile. Since the card has no annual fee however, there's no harm in owning this card if only to use for months of particularly high gas consumption.
Browse Other Synchrony Card Offers: